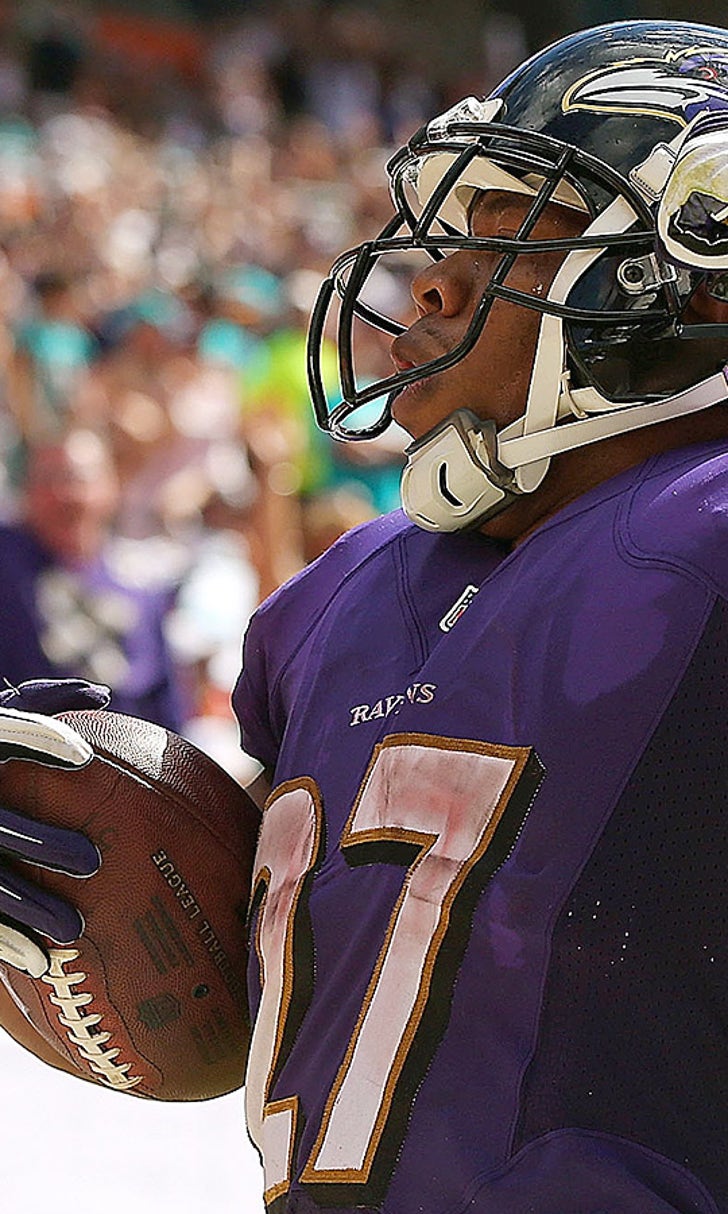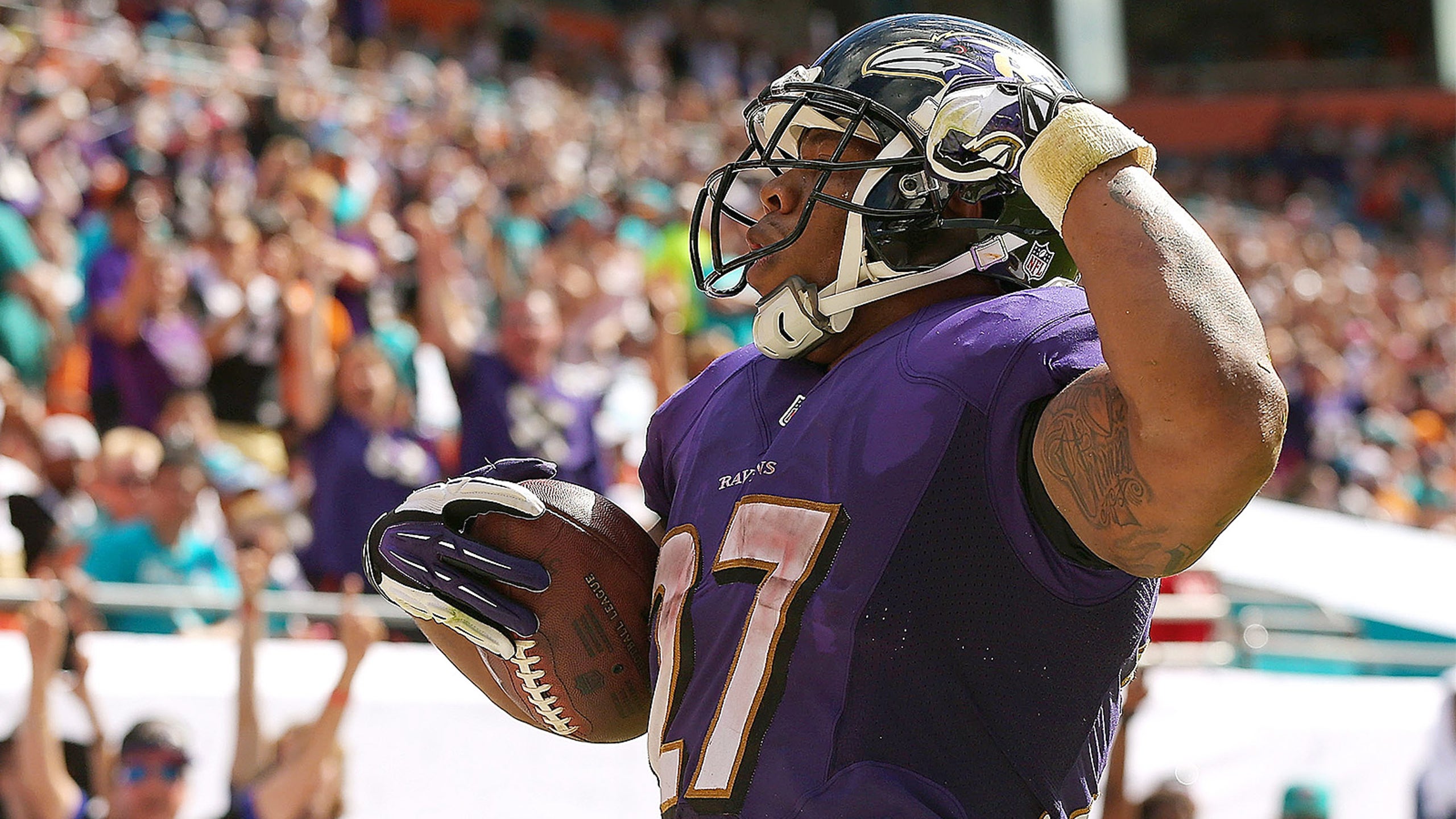 Ray Rice: 'I probably should have thought twice about' playing through injury
BY Ross Jones • February 3, 2014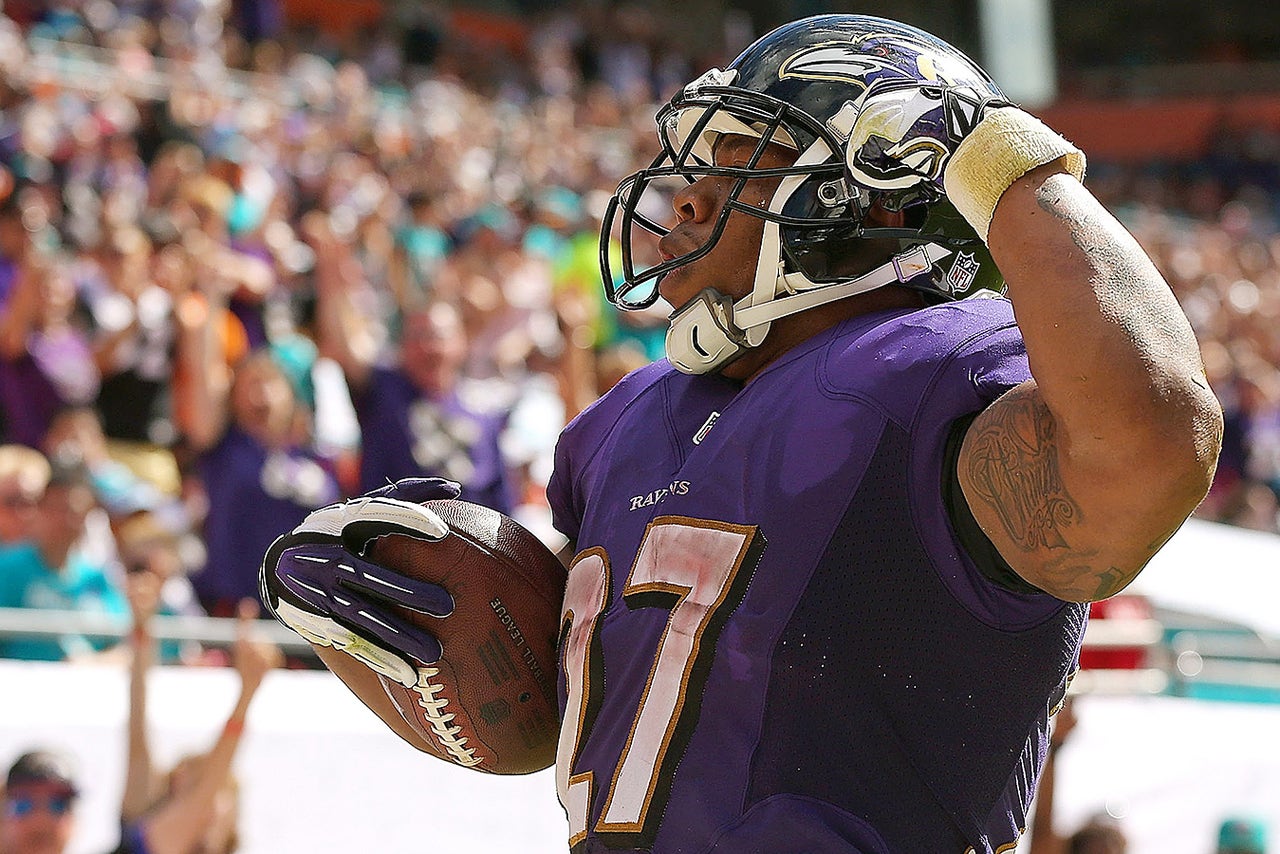 Ray Rice is using last season's adversity as fuel for a redemption campaign in 2014.
The Ravens' running back battled a hip injury, which limited his ability to make cuts and accelerate. The injury persisted all season and hindered Rice's ability to explode for big gains.
"When it first happened it was painful, but if you've dealt with a hamstring or a muscular issue that's a strain, you can't push as hard as you want to go," Rice told FOXSports.com in a telephone interview. "It's sort of like having your transmission messed up in your car where you can't get it in third and fourth gear. First and second gear are good, but if you want to go into overdrive you can't do it. Your body is not going to let you, and that's what muscular issues do."
The 5-foot-8, 212-pound running back was also a victim of running behind an offensive line that ranked 28th in efficiency, according to Pro Football Focus.
Despite the down season, head coach John Harbaugh said in December that he doesn't have any doubt Rice can return to being one of the best at his position.
"That's not a surprise because that's what I expect out of myself," Rice said when asked of his coach's comment. "I'm not old. I'm 27 years old going into my seventh year.
"My resume speaks for itself. I'm not going to let one year put up what my future is going to be. I got a lot of game left in me, and I'm already gearing towards next year."
Rice, who began his offseason workout regimen Monday, has had more than a month to ponder why he posted career lows in yards (660), average yards per carry (3.1) and touchdowns (4). The season-long hip injury severely hampered Rice's play, which he decided to play through -- a decision that the sixth-year veteran continued to ponder.
"I played through an injury and I probably should have thought twice about it, but I'm glad I was able to push through the season and not have any surgical procedures," said Rice, who was speaking at an event promoting BODYARMOR Superdrink. "One thing I know my body needed was rest, and we had a tough turnaround, and we didn't do what we wanted to this year, but I'm positive that things are looking better for next year already. We'll get this thing rolling again.
"As a professional athlete, you're never 100 percent. I was good enough to go, but I was limited with the things that I could do. That's never been me. That's something as a pro you have to weigh the good and the bad. For me it didn't work out in my favor this year, but I'll be smarter."
As questions about his lack of production emerged, Rice moved away from his comments about playing at 100 percent.
For an offense that is built around the run, the Ravens were never able to adapt to Juan Castillo's zone-based schemes. The Ravens' rushing offense finished last in the NFL in yards per carry. Castillo, who was hired to be the team's run game coordinator, has been tabbed as the offensive line coach for next season. The Ravens' running game should be buoyed by the hiring of offensive coordinator Gary Kubiak.
"We've got to be able to run the football to make the rest of it go," Kubiak said at his introductory news conference last week. "Watching John's group throughout the course of the years, what they've done offensively and how they want to move forward, I think it's a very good fit. It's up to us as coaches to put it all together."
Kubiak's stretch-zone scheme suits the Ravens' personnel more naturally. Opposed to relying on the passing game of Joe Flacco, Kubiak prefers balance and using the run to set up the pass. The offensive linemen will be called upon to move laterally, and the running backs must thrive in a one-cut system.
Bernard Pierce, who is recovering from rotator cuff surgery, and Rice should be able to flourish, but it's all about getting familiar with the playbook first.
"Nobody is happy about the way things happened last year," Rice said. "Nobody is content. Nobody is saying we got a break right now. Everybody is pretty upset and pretty pissed off because we hold ourselves accountable and we have high expectations."
---
---