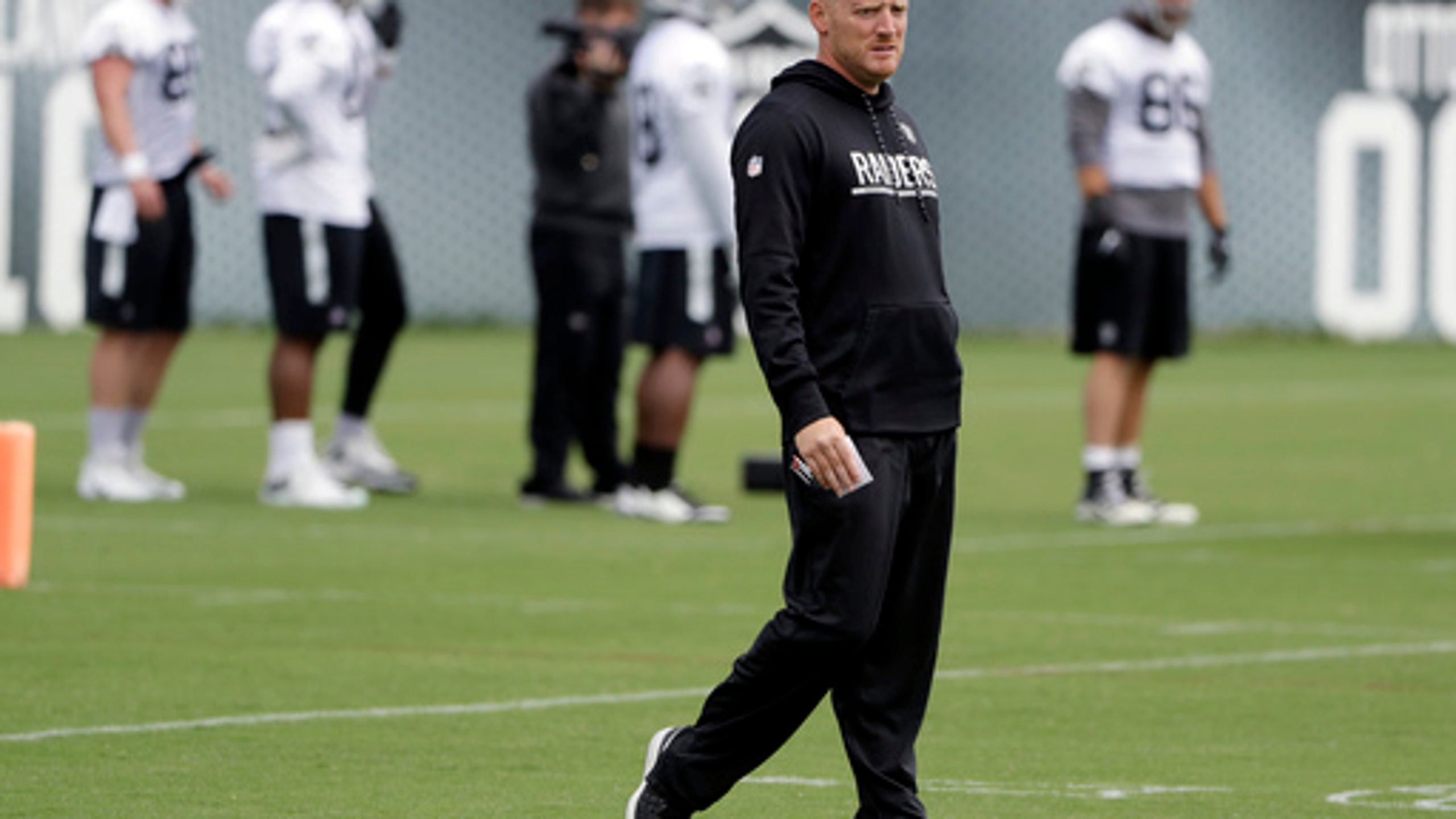 Raiders OC Downing faces LeBeau in 1st game as play-caller
BY AP • September 7, 2017
ALAMEDA, Calif. (AP) Todd Downing has spent the past two years building up a relationship with Derek Carr as his quarterbacks coach with the Oakland Raiders.
The two play golf, talk current events and most importantly immerse themselves in all aspects of football. With Downing heading into his first game as an NFL play-caller following an offseason promotion to coordinator, the hope is the strength of that relationship will pay big dividends on the field.
''It's almost eerie sometimes how he and I can finish each other's sentences,'' Downing said. ''That's something that's really comfortable to have your first time around as a coordinator. You don't have to always be the one to say, `Hey, this is the way we're going to do things,' or `Hey, this is the way I want to see this.' When you get to share that with your trigger man, that's a pretty special thing. So I don't take that for anything less than a blessing.''
While the 37-year-old Downing is almost like another big brother for Carr, his play-calling adversary in Sunday's season-opener at Tennessee brings a far more extensive resume into the game.
Hall of Famer Dick LeBeau turns 80 on Saturday and has spent more than a half-century in the NFL, first as a player who had 62 career interceptions and then as a coach entering his 45th season and known for popularizing the ''zone blitz.''
''He has a gold jacket for a reason,'' Downing said. ''Just an unbelievable football mind and I have a lot of respect for him, so it makes it fun to have the first regular-season game be against a guy like that.''
By the time Downing got his start in the NFL as a public relations intern with Minnesota at age 20 in 2000, LeBeau had already spent more than 40 seasons in the NFL.
Downing got his first coaching job at age 25 when the Vikings made him an offensive quality control assistant. He then spent a few years as a defensive coach in St. Louis before spending five years in Detroit, including three as Matthew Stafford's quarterbacks coach.
After a year in Buffalo as quarterbacks coach, Downing joined the Raiders in 2015 and quickly formed a strong relationship with Carr that helped the quarterback develop into one of the league's top passers.
The Raiders thought so highly of Downing's work that when other teams came calling to hire him as a coordinator this offseason, Oakland got rid of incumbent Bill Musgrave despite ranking seventh in scoring and sixth in total offense a year ago. The Raiders didn't want to lose Downing and made him the coordinator instead.
''He's a man of integrity. He's a loyal person. He's someone that deeply cares about each relationship in that building,'' Carr said. ''Not just the players, not just the coaches, the equipment guys, the front office, he cares about every relationship that he has, so he's not ever going to be someone that you don't think has your back out there. For players to know that when your coordinator has your back no matter what every time you step on that field, if you make a mistake he's got your back. He's going to try to help you get better at it. That is a relaxing thing.''
Downing has been somewhat coy about how his offense will differ from Musgrave's schemes, saying only he plans to tinker with it instead of overhauling it. He has a few more options with the addition of tight end Jared Cook and could have a stronger power running game with Marshawn Lynch replacing Latavius Murray.
He also will give increased responsibility to Carr, who will have more freedom to change plays at the line of scrimmage.
''It is very comforting,'' Carr said. ''It's also a lot to put on a quarterback, but he knows me and he knows that's how I like to play kind of a deal. ... We've had discussions where we finish each other's sentences. Like, `Hey, if you see this, I am going to go to this.' He's like, `Exactly.' As long as we can continue to grow that way. Over the years, obviously, it will get better and better, but for the short time of him now being the OC, I'd say it's pretty darn good because of our relationship before it started.''
NOTES: DE Khalil Mack (knee) returned to practice Thursday after missing Wednesday and WR Amari Cooper (knee) was a full participant after being limited Wednesday. ... FB Jamize Olawale (quadriceps) did not practice. ... TE Lee Smith, who missed practice for a non-injury reason, also was back.
---
More AP NFL: www.pro32.ap.org and www.twitter.com/AP-NFL
---
---