Derek Carr
Derek Carr
Raiders-Lions Preview
Published
Nov. 18, 2015 12:12 p.m. ET

The Detroit Lions remain a team in flux, but at least they have a significant victory to build on.
Coming off their most gratifying moment of a miserable season, the Lions face a visiting Oakland Raiders team Sunday that's moving on from the loss of a key defender to a lengthy suspension.
Following a chaotic few weeks in which the team president, general manager and three assistant coaches were fired, the Lions (2-7) managed to win at Green Bay for the first time since December 1991, hanging on for an 18-16 victory last week.
"You know what, the biggest thing that I wanted our guys to do was just fight through the entire football game," interim GM Sheldon White told the team's official website. "Play every snap like it's the last snap you're going to play in the National Football League.
"It might be, so you have to continue just fighting through."
The victory was hardly a thing of beauty as the NFL's worst rushing attack (66.9 yards per game) gained 45 and the Lions failed to total 300 yards for a third straight contest. Matt Prater missed two extra points and the Lions were unable to recover an onside kick after the Packers pulled within two points with 32 seconds remaining.
However, a Detroit defense that was allowing 30.6 points coming in kept Green Bay out of the end zone until the fourth quarter. The effort was rewarded when Mason Crosby missed a 52-yard field goal attempt as time expired.
''We talked about the sounds in the locker room after a victory like that,'' coach Jim Caldwell said. ''It's unlike anything that you'll ever hear, and that's one of the things I told them that draws guys back to coaching, because you can't find it anywhere else. It's an elation, it's a joy, it's a sense of accomplishment that's very difficult to match in any other forms of life.''
Detroit sacked Aaron Rodgers three times and frustrated the Packers with aggressive, suffocating defense for most of the game, sending Green Bay to its third straight loss.
"It's huge," said defensive lineman Jason Jones, who recorded a sack. "It gets us on the right track and we can look forward to (the next game). We got a win, now we've got to stack them on top of each other and finish the season strong."
Oakland (4-5) appears to be the reeling team this week, having dropped two in a row and announcing Tuesday that outside linebacker Aldon Smith was suspended by the NFL for one calendar year for violations of the league's substance-abuse policy. Smith, who has had various run-ins with the law and league during his five seasons, had 28 tackles and 3 1/2 sacks in nine games - seven starts - for Oakland this season.
''Aldon has been a positive addition to the Raiders,'' the team said in a statement. ''He remains prominently in our long-term plans and we will continue to support this member of our family as he gets the help that he needs.''
Even with Smith in the mix, though, the Raiders allowed 68 points in losses to Pittsburgh and Minnesota the past two weeks. Though Detroit's running game is a mess, Oakland must improve after allowing the Steelers and Vikings to rush for 458 yards - five more than it gave up in the previous six games combined.
The Raiders have also turned the ball over six times in the last two games. They had 371 yards of offense but just two second-quarter touchdowns in last Sunday's 30-14 loss to the Vikings.
''You have to own what was, understand where it needs to be better and work toward it,'' coach Jack Del Rio said. ''There's no time to sit around and feel sorry for yourself. You can't dwell on the positive or negative too long. You have to move onto the next week's work and that's what we're going to do.''
Oakland's Derek Carr has thrown for at least 300 yards in three straight games and two or more touchdowns in each of the last four. However, he was picked off twice last Sunday after coming in with four interceptions on the season.
Matthew Stafford threw for 391 yards and four TDs, Calvin Johnson had nine receptions for 214 and the pair hooked up for a touchdown with 39 seconds left to help Detroit to a third straight win over the Raiders, 28-27 on Dec. 18, 2011.
---
---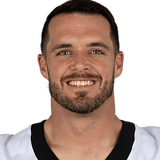 Get more from Derek Carr
Follow your favorites to get information about games, news and more
---