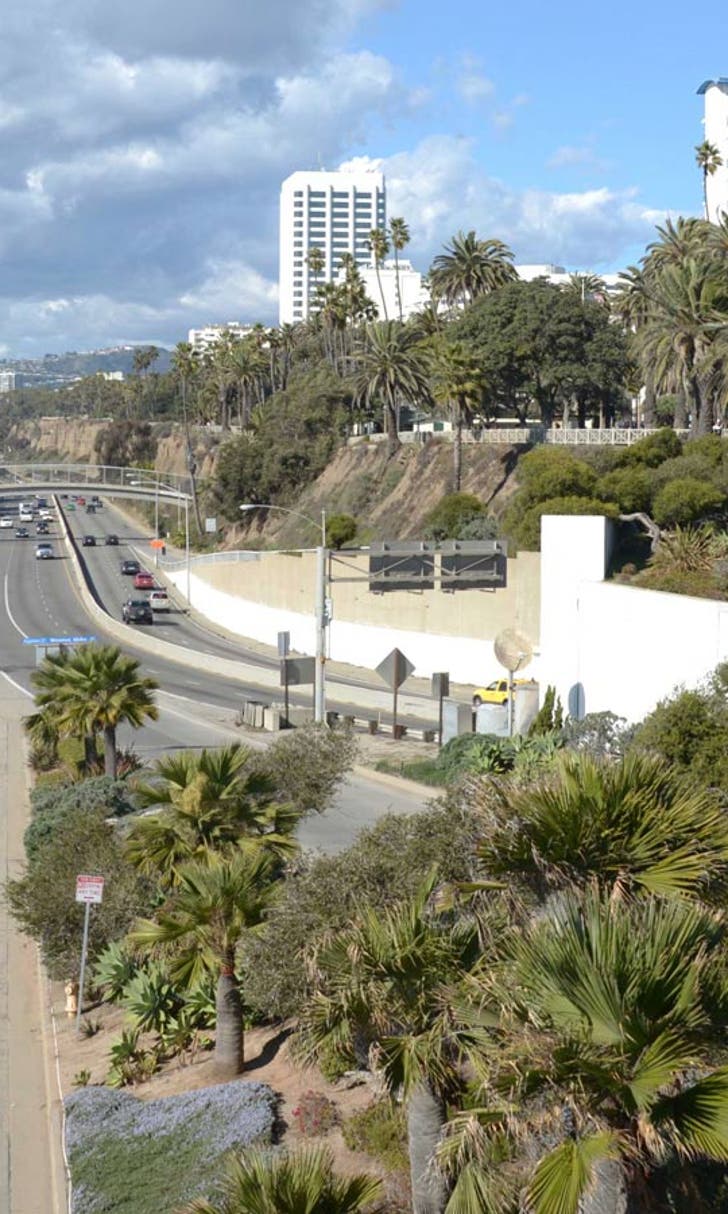 Pro football in Los Angeles: A 90-year timeline
BY foxsports • January 12, 2016
The St. Louis Rams and San Diego Chargers (probably) are about to write a new chapter in the Los Angeles football landscape.
But this pre-relocation phase is by no means a prologue. America's second-largest city has a rich professional football heritage that dates back 90 years. It only feels new because the past 21 of those years have passed without an NFL team.
That'll change in the upcoming seasons. But as the Rams and (probably) Chargers move Los Angeles football forward, let's take a look back on the city's extensive football history:
1926: The Los Angeles Buccaneers of ... Chicago?
The pro first team to carry the Los Angeles name didn't play in Los Angeles at all. That's because the L.A. Buccaneers were just a collection of USC and California alumni who met up in Chicago to play football. They weren't allowed to play at the Coliseum; only amateur teams, college ones, could back then.
1938: Los Angeles, city of All-Stars
That's right -- Los Angeles had a Wrigley Field, too, and it hosted the NFL's first All-Star game. Forty-two years passed before the league moved the game to Hawaii in 1980. It was called the Pro Bowl by then.
The 1956 NFL All-Star game, played in Los Angeles Coliseum.
1946: From Cleveland to Los Angeles Rams
One month after the Cleveland Rams won the 1945 NFL title, they set their sights on Los Angeles, citing financial losses and waning attendance when they set up in their new home for 1946. They'd stay for almost 50 more years as the city's first NFL franchise.
The Chargers might belong to San Diego, but they were born in Los Angeles. Hotel magnate Barron Hilton bought in as one of the AFL's original seven teams, then switched markets after one 10-4 season. The Los Angeles Chargers become the San Diego Chargers in 1961.
1963-64: Rise of the Fearsome Foursome
1967: NFL-AFL hold World Championship Game at L.A. Coliseum
In 1966, Kansas City Chiefs owner Lamar Hunt was brought in to brainstorm the name of a new interleague title game. He blurted out "Super Bowl," a nod to to a toy super ball he bought for his children. The name stuck a few years after the first game was held in L.A. in 1967.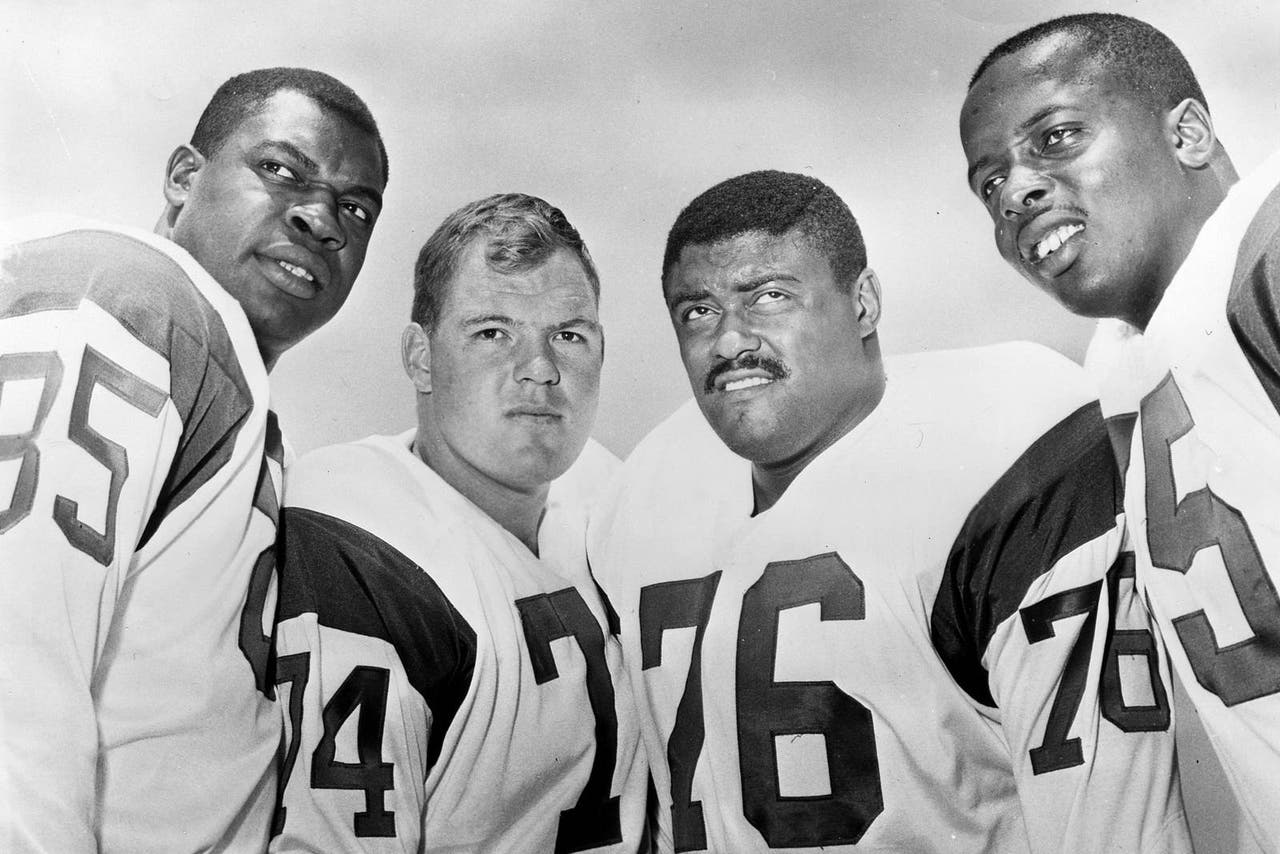 The Fearsome Foursome set individual and team records while leading the Rams, but their crowning accomplishment as a group came in 1968 when they set a record at the time for the fewest yards allowed in a 14-game season.
1980: Rams reach first Super Bowl
The 1979 Rams played in what amounted to a home Super Bowl; they trekked from the Coliseum to the Rose Bowl to play the dynastic Steelers. L.A. held a fourth-quarter lead until Terry Bradshaw drove the Steelers to a second straight Super Bowl win.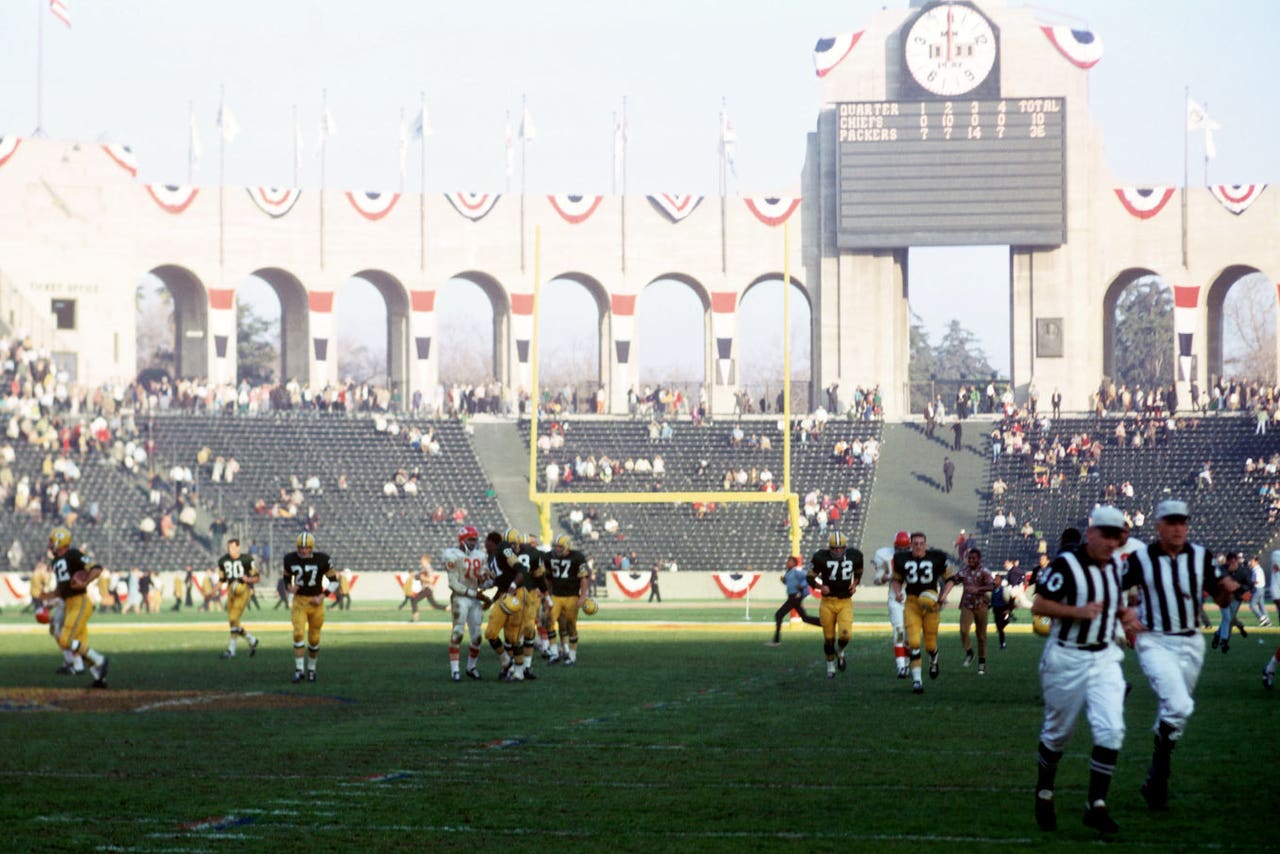 Super Bowl I wasn't quite the spectacle that Super Bowl 50 will be.
1982: Raiders move to Los Angeles
After legal action against the league, owner Al Davis moved his Raiders south before a strike-shortened 1982 season. They posted an 8-1 record to earn the AFC's top playoff seed but fell to the sixth-seeded Jets in the second round.
1983: Los Angeles Express begin springtime play
In its three-year span, L.A.'s springtime pro football team dished out a mega-contract to land Steve Young. It brought a television star -- Six-Million-Dollar Man Lee Majors -- on as part-team owner. The Express were truly ahead of the curve.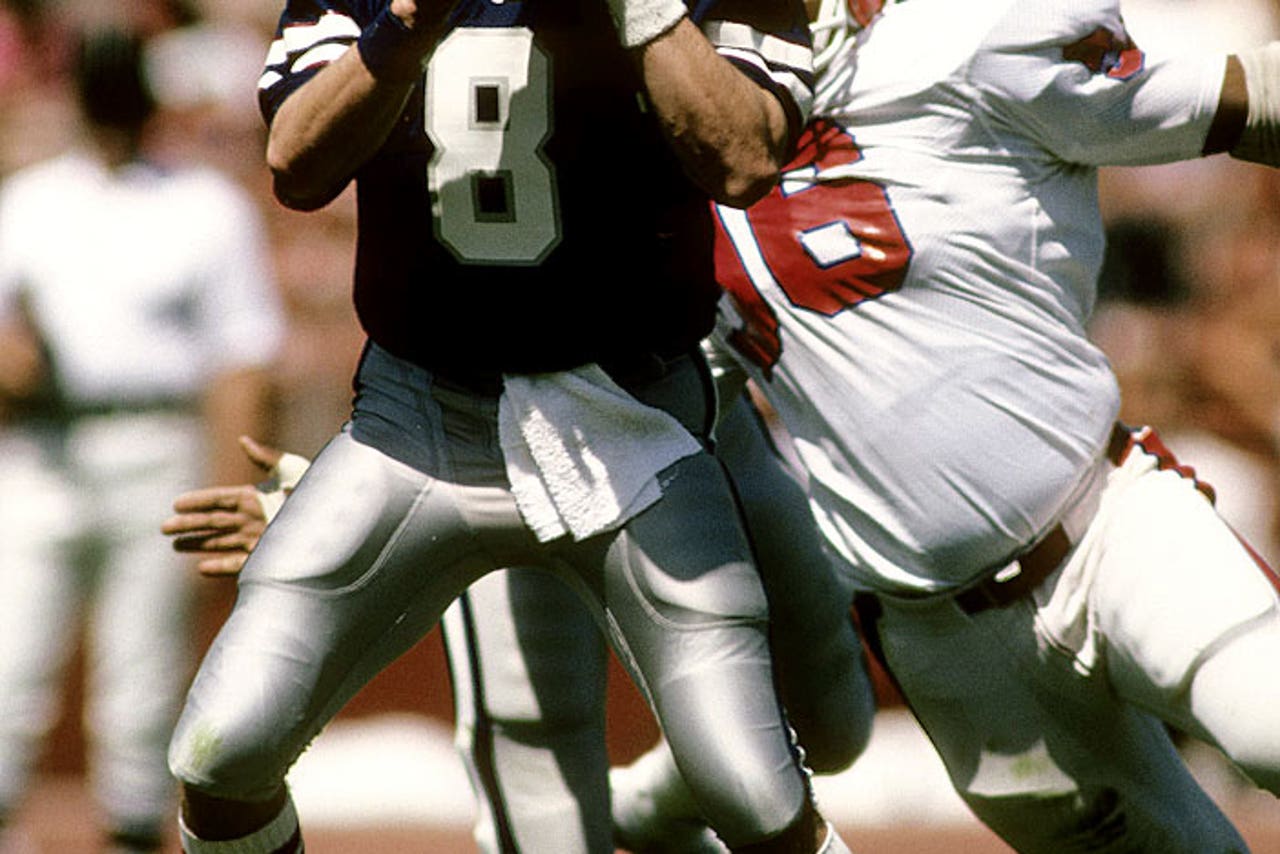 Steve Young got his start with the L.A. Express before becoming a Hall of Fame passer.
1984: Raiders win Super Bowl XVIII
Al Davis' fourth championship was L.A.'s first (and last) in professional football. It came in epic fashion -- with Marcus Allen reversing field to outrun a gang of Washington defenders. Allen earned Most Valuable Player honors and mention in a now-famous phone call with the Commander-In-Chief.
1983-84: Eric Dickerson breaks into the record books
Eric Dickerson set a team record for most rushing yards as a rookie with 1,808. In 1984, he followed that up with the most rushing yards (2,105) in a single season in NFL history. Both records remain intact today.
1994: Rams, Raiders play their last games in Los Angeles 
L.A. football took a nosedive in the ensuing decade; the Raiders fell from power and joined the Rams as cellar-dwellers. The final day of pro football in L.A. took place on Christmas Eve 1994, with both teams losing at home. The Rams moved to St. Louis and the Raiders trekked back to Oakland.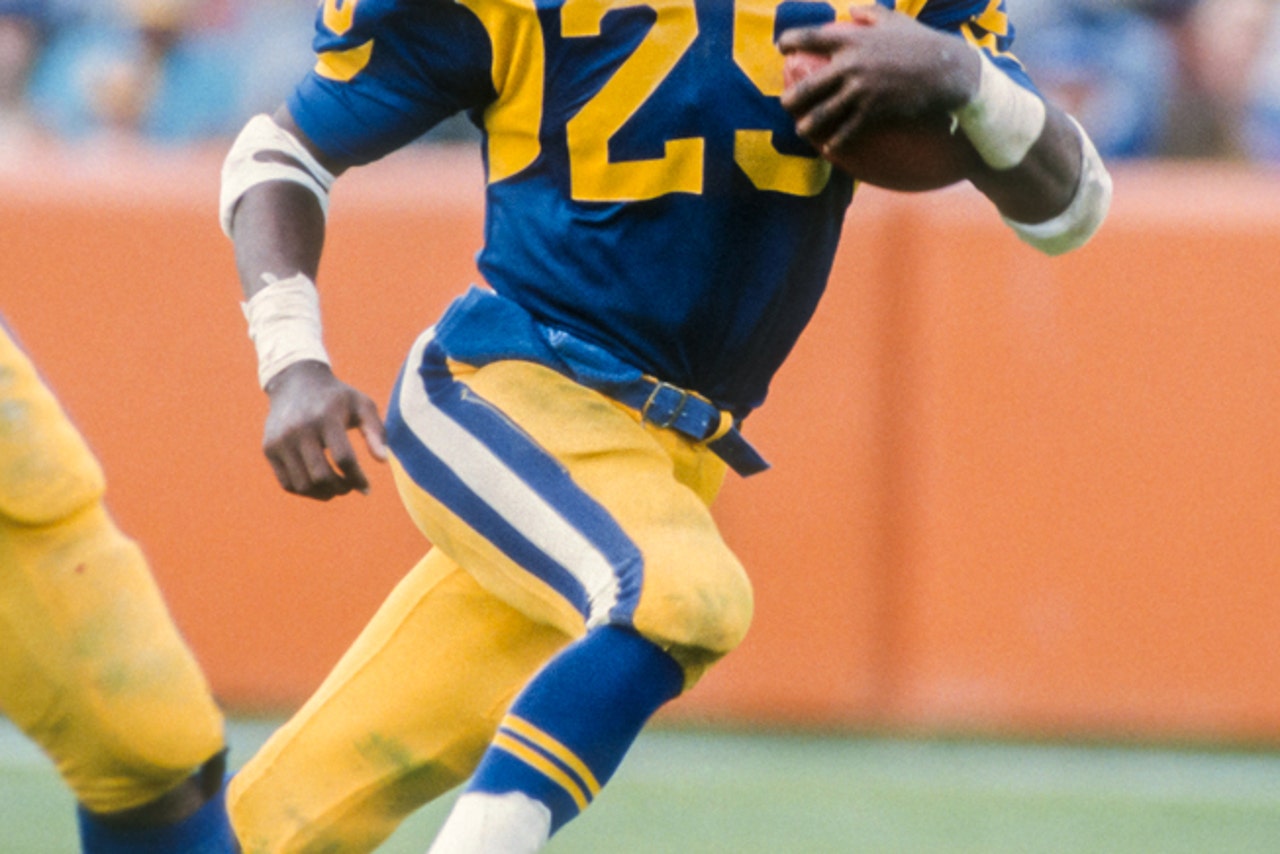 Eric Dickerson set records in Los Angeles that still stand today.

---
---