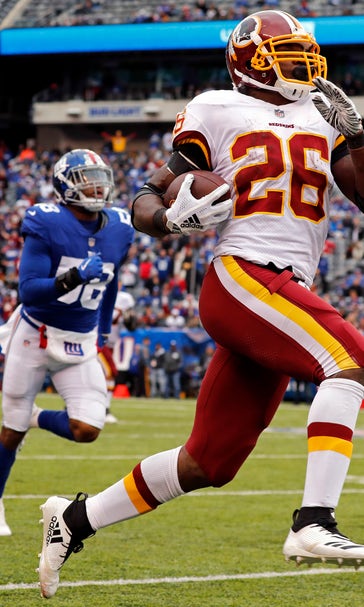 Peterson, Watt, Luck, A-Rod? Who is top comeback player?
November 2, 2018
Of all the NFL seasonal awards, the one shaping up as the closest and most intriguing is for Comeback Player of the Year.
How could it not be with the likes of Aaron Rodgers and Adrian Peterson , who have won league MVP honors, plus three-time Defensive Player of the Year J.J. Watt and Colts quarterback Andrew Luck as front-runners?
Quite a few big names are back in action after curtailed 2017 seasons, among them Carson Wentz, Odell Beckham Jr., David Johnson and Deshaun Watson. Unless they have spectacular second halves of the schedule, though, the attention belongs on that impressive quartet of Rodgers, Peterson, Watt and Luck.
All four have had a significant impact, perhaps most notably Peterson, the previous non-quarterback to win the league's MVP award (in 2012) and the only non-QB to take it since LaDainian Tomlinson in 2006. Remember, Peterson, 33, was available to everyone as a free agent before the Redskins reached out.
He has paid them back by ranking fifth in rushing with 587 yards, has four touchdowns, and is surrounded on the stats sheet by guys who weren't even in high school when Peterson broke in for Minnesota in 2007.
"I think he's embodied kind of a little bit of what we want to be about not only as an offense but as a team," says Redskins quarterback Alex Smith. "I just think the way he's played on that edge — physical, relentless. I think that's what we want to be about, not only as an offense, but a football team playing with that kind of an edge all the time. That kind of physicality certainly helped set the tone for us quite a few times this year."
Washington leads the NFC East at 5-2 even though its passing game ranks 26th. Credit a strong defense and the work of "All Day."
That moniker would certainly fit Watt, too. No one puts in more effort on the field — and Watt has put in the same level of diligence recovering from not one but two major injuries. He played a total of eight games in 2016-17.
His return to the Texans started slowly, as did Houston with three straight defeats. Then Watt began dominating, and the Texans (5-3) began winning. They now lead the AFC South, and Watt is tied for the conference lead with eight sacks while stopping the run as well as any edge rusher around.
"I'm still not where I want to be yet," Watt says; that's a scary thought for opponents. "I still have plenty of growth and plenty of things to work on. But I didn't make it to Game 8 in either of the last two seasons so I'm happy with that ...
"Like I've always said the whole time, I don't blame anybody who didn't know if I was going to be the same again because there were times I didn't know. So, I can't sit here and get too mad at people who thought I might be washed up or thought I might be done. Because I was sitting in that same boat when I was sitting at home with a cast on my leg and not being able to walk, and thinking: 'Man, will I be the same again?'"
Certainly, Luck could have asked that same question after missing 2017 with a shoulder problem. It's never truly been clear if the injury was misdiagnosed or mistreated, or that Indy simply was fooled by the length of time its starting quarterback would need to recover.
But recover he has, and even with a paucity of skill position talent around him, Luck is looking very good. He has thrown for 23 touchdowns, second only to Kansas City's Patrick Mahomes, who has tremendous talent at wideout and running back to work with. Luck is moving well and, most significantly, his arm strength is excellent.
Then there's Rodgers, who might have grabbed last year's comeback award had he returned from his collarbone problems and revived Green Bay's season, getting the Packers into the playoffs. But it didn't play out that way last December, and he finished the season on injured reserve.
So he definitely qualifies in this category, and he has also battled a knee issue most of the season. Yet Rodgers has been at his MVP form even as the rest of the Packers struggle.
"He's still the best or is tied for the best on the planet," 49ers coach Kyle Shanahan says. "He always has been. He's the man. I know he's not 100 percent, everyone knows that, but he seems to be a little bit better each week. He's still the best."
But is he the guy the AP's 50 voters will support for Comeback Player of the Year in such a loaded field?
Tune in Feb. 2 when the award winners are announced.
---
---