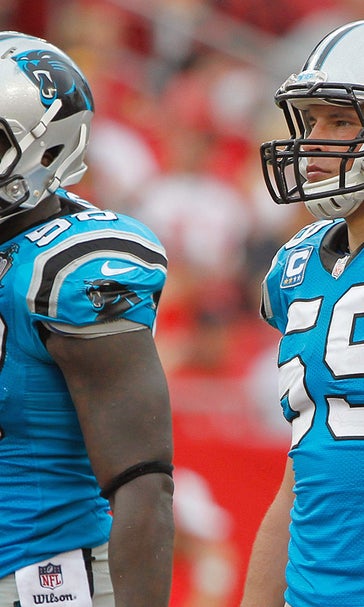 Panthers D strengthened by bond between Thomas Davis and Luke Kuechly
BY foxsports • February 5, 2016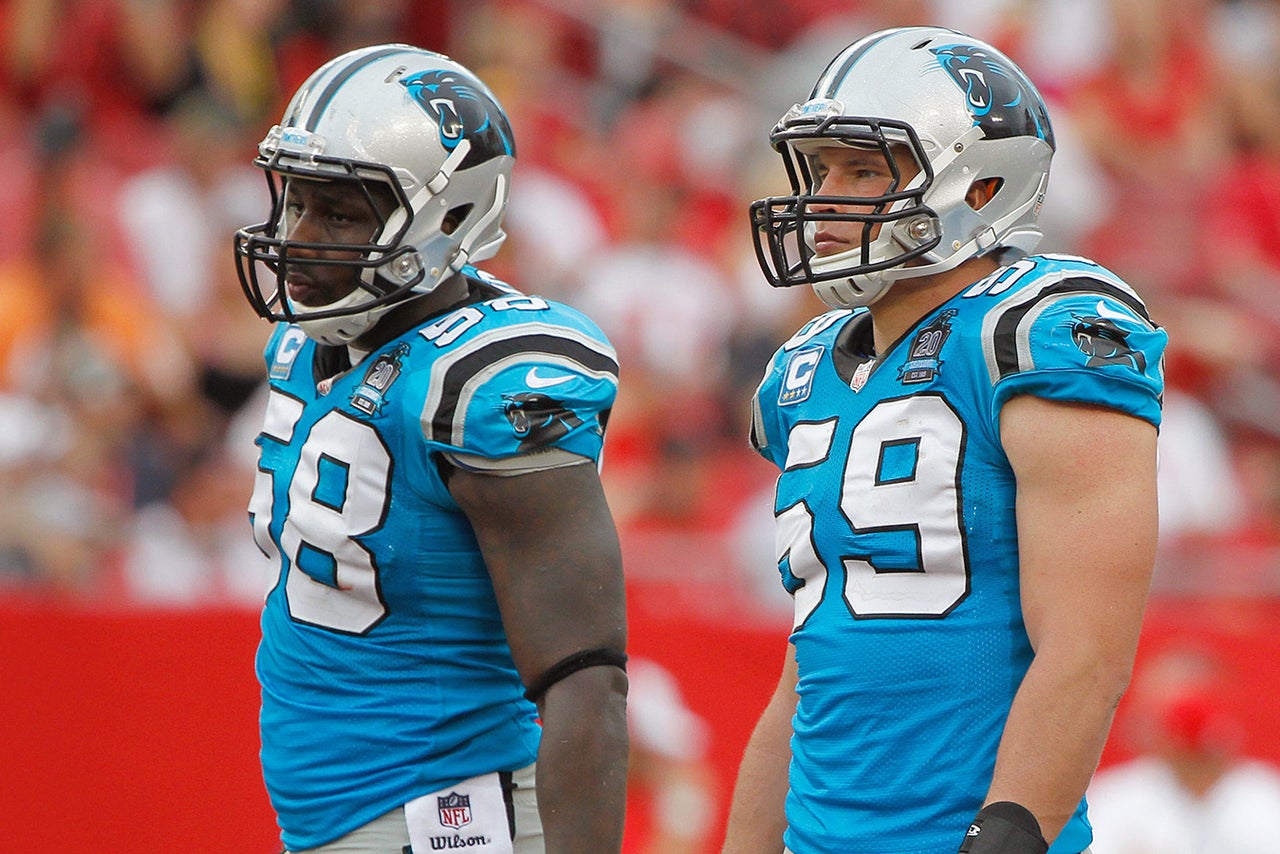 When Thomas Davis woke up following surgery on his broken arm last week, he looked around the room and saw his wife, Kelly, as expected.
Davis then noticed some surprise guests -- teammate Luke Kuechly and a container of wings.
"He said, 'Give me them wings.' I said, 'You're not supposed to have those. You're gonna get in trouble (with the doctor),'" Kelly Davis told FOX Sports on Thursday. "But they went above my head and did their little wing thing."
For all that Cam Newton has meant to the Panthers' offense this season and for all that Josh Norman has done to virtually shut down half of the field for opposing passing games, there's a dynamic on the defensive side of the ball that's one of the biggest reasons Carolina has made it to Super Bowl 50.
It's the relationship between Davis and Kuechly, not only at the facility but also away from it. It's a bond between two players who don't seem to have a whole lot in common. Davis is 32 and a family man who has to do much of his film study at home, while Kuechly is a 24-year-old single guy who spends an inordinate amount of time at the team's facility to prepare himself physically and mentally -- but teammates notice how they're kindred spirits who both support and push one another.
Which is why none of the players were surprised to hear Kuechly was in Davis' hospital room on Monday morning with the wings in tow.
"That's a true brother thing. Never let a man be on his own," rookie linebacker Shaq Thompson said. "They love each other to death. They'll fight for each other and everything. They always have each other's back."
It started when Davis introduced himself to Kuechly soon after Carolina selected him ninth overall in 2012. Davis gave Kuechly his phone number and told the rookie to call him for whatever he needed. Other than football questions, Kuechly didn't take him up on the offer because he wasn't sure that was proper etiquette for a rookie.
But Davis has since shown Kuechly his benevolence is legit. A father of four and the Walter Payton NFL Man of the Year Award winner last year, as well as the NFLPA's Byron "Whizzer" White Award winner this year, Davis welcomes the younger, single Kuechly to family functions and charity events. Kuechly is a regular at the Davis home, where he's known by the kids as "Uncle Luke," Dad's fun friend who plays basketball and video games with them.
"Just the love and compassion those two dudes have for each other, for the younger guys and even some of the older vets, it shows the tight bond and closeness this group has," linebackers coach Al Holcomb said. "A lot of teams preach family but honestly this group of men right here, it has been like family. That's what's kept us together."
Holcomb plays an integral part in the dynamic between his two leaders. The team's linebackers coach since 2013, Kuechly's second season in the NFL, he knows how and when to push both players' buttons.
After the play that nearly robbed Davis of a chance to play in Super Bowl 50, Holcomb was looking for Davis, not to see how badly he'd injured his arm but to correct him after a blown assignment.
Though 15 yards and a first down for the Cardinals' Darren Fells wasn't nearly as big of a deal for the Panthers as the broken bone in Davis' forearm, this is a trio that demands perfection and the mistake had to be fixed.
"I was upset with him because he didn't execute the coverage we were playing. If he had executed it, he might not have been in that position," Holcomb said. "I never got the chance to address him because they took him into the locker room. The other guy, I addressed him on the sideline. They weren't very good in terms of their technique on the play."
With a laugh, Holcomb added: "We joked about that yesterday in practice, in fact: 'If you'd done what I told you to do, you never would've broken your damn arm.' He just rolled his eyes."
It was a playful jab but it was an effective way of correcting a rare mistake. Davis and Kuechly are two of the most intelligent players Holcomb has seen, and Davis' on-field awareness is outstanding. He sniffed out a screen pass against the Cardinals and bolted to the spot before Arizona's blockers could get out in space.
Those kinds of plays are common for Davis and now for Kuechly, who has improved his preparation and awareness thanks to his work with Davis over the years. Holcomb said one of Kuechly's best plays this year was when he recognized the Falcons were about to run a toss, so he bailed on a double-A-gap blitz and instead bolted to the outside.
Before the ball was even snapped.
"The Falcons had to be thinking, 'Is someone in our huddle?'" Holcomb said. "Some of that stuff goes on where it's like, 'How do these guys know?'"
Because they're working together and pushing each other.
In Week 1, Kuechly went down with a concussion that would keep him out of the next three games. Once Davis knew Kuechly wasn't seriously affected, he turned the situation into a competition.
"The first thing he said to me is, 'I'm going to beat you this year' (in tackles)," said Kuechly, who had 53 and 33 more tackles than Davis in the past two seasons, respectively. "It was when I was still kind of banged up. That's what's fun is everyone is giving each other grief and everyone's always competing."
Through four games, Davis led Kuechly in tackles 36 to seven. Three weeks later, the deficit had been cut to 13. By Week 12, Kuechly had passed Davis and never looked back.
"In the Cardinals game, he was whupping me the whole game and he would've whupped me that game if he didn't go down," Kuechly said of Davis, who had six tackles before getting hurt early in the second quarter. "He's going to be juiced up this game because he owes me something."
When Davis returned to the sideline after his injury, he told Holcomb and Kuechly he would be able to "come back." At first, they thought he meant his career wasn't over. They had no idea he was talking about playing two weeks later.
"No, I'm having surgery tomorrow morning," Davis told Kuechly. "I'm playing in the Super Bowl."
"All right," Kuechly replied. "I'm sure you're going to be good to go."
He was right. Via a plate in his arm, the determination that's led him back from three torn ACLs, his friendship with Kuechly and the power of those wings, Davis will be good to go on Sunday, matching wits with Peyton Manning and the Broncos.
"I've never been around such a competitor. He's mentally just like Iron Man," Holcomb said. "Just his will to compete and not let his teammates or anybody down. He's a pleaser, very generous person.
"He just got me fitted for a suit two nights ago. I had no idea. And the suit is going to be ready for Sunday. Just for no reason. He's a great person."
Holcomb paused and realized he couldn't talk about one without complimenting the other.
"They're both good," he said with a grin.
---
---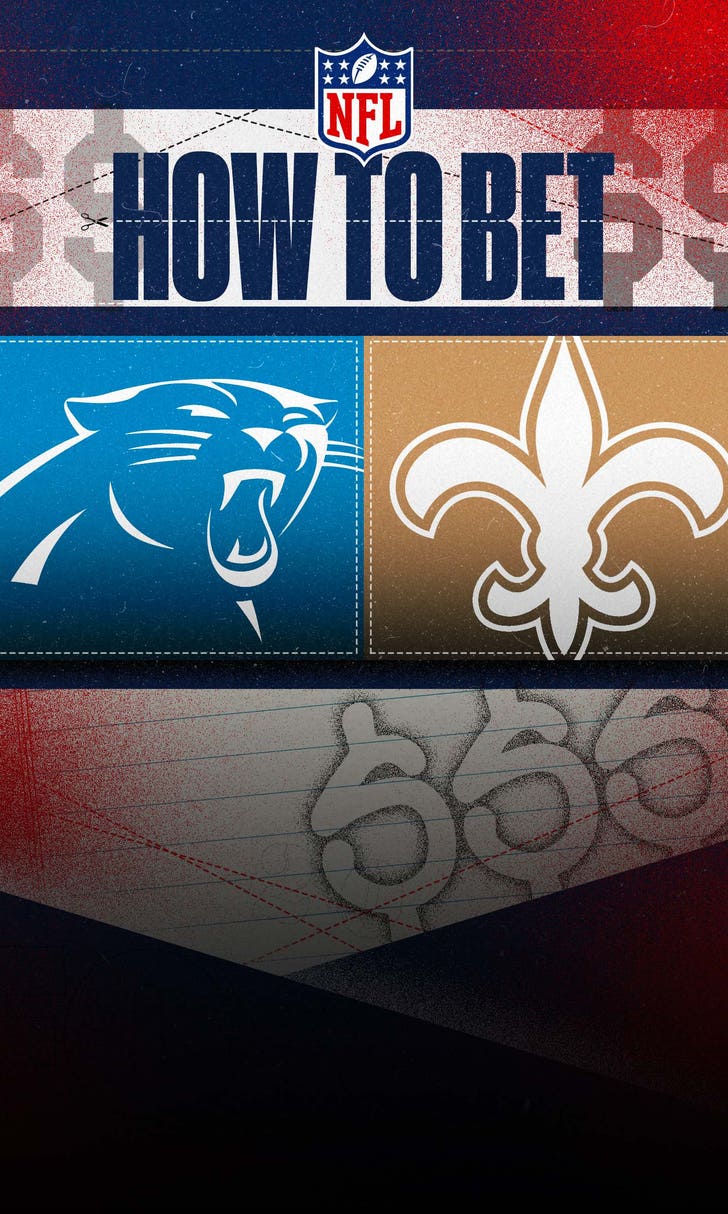 NFL odds: How to bet Panthers-Saints, point spread, more