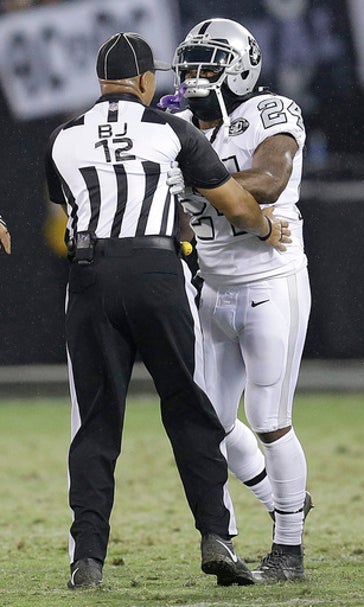 NFL considers possible discipline for Lynch after ejection
October 20, 2017

NEW YORK (AP) The NFL is reviewing possible disciplinary measures for Oakland Raiders running back Marshawn Lynch, who was ejected from the game against the Kansas City Chiefs after he shoved an official when he ran onto the field during a scuffle.
League spokesman Joe Lockhart said the NFL is considering all options and would announce its decision.
''There is a schedule for fines for all offenses. For physical contact with an official, in excess of $30,000. There's entering a fight area, unnecessary roughness,'' Lockhart said. ''On some cases, suspension is in order.''
The scuffle started when Oakland quarterback Derek Carr was hit late on a run by Kansas City's Marcus Peters midway through the second quarter Thursday night. Raiders offensive linemen Kelechi Osemele and Donald Penn immediately confronted Peters.
Lynch then sprinted onto the field from the bench to join the fray. Line judge Julian Mapp tried to break up the fight but Lynch pushed him and grabbed his jersey . Lynch got a personal foul and was ejected for making contact with the official.
---
For more NFL coverage: http://www.pro32.ap.org and http://www.twitter.com/AP-NFL
---
---