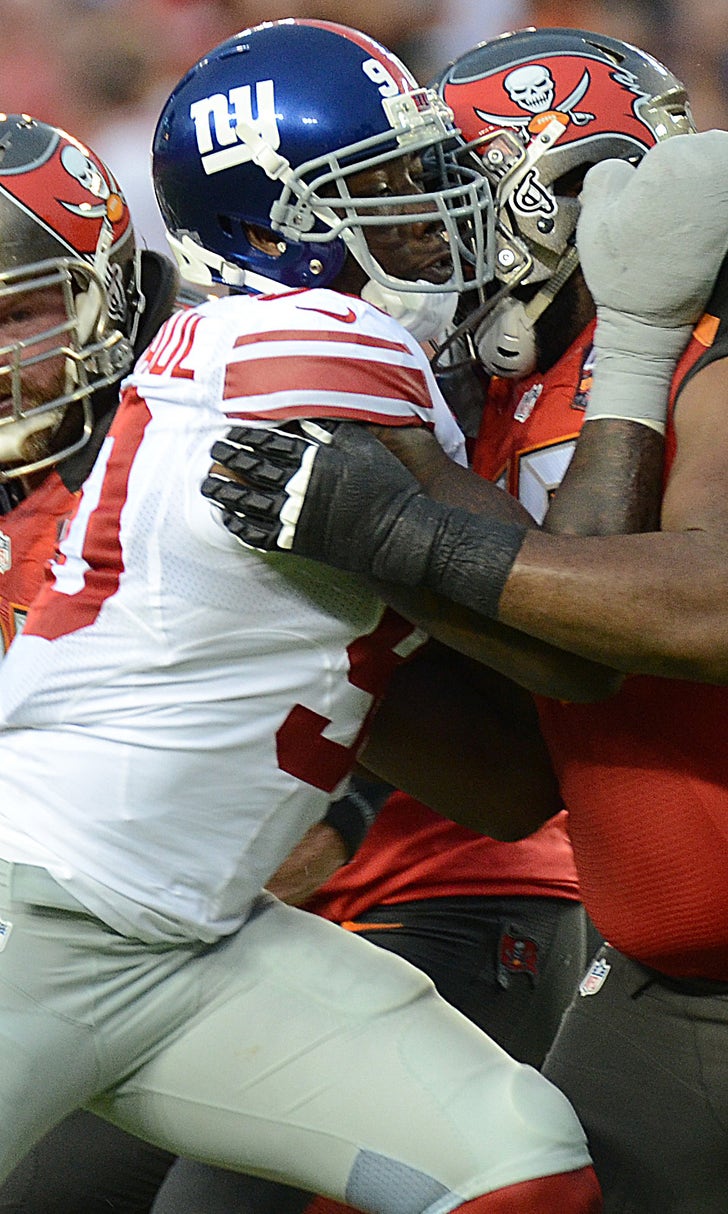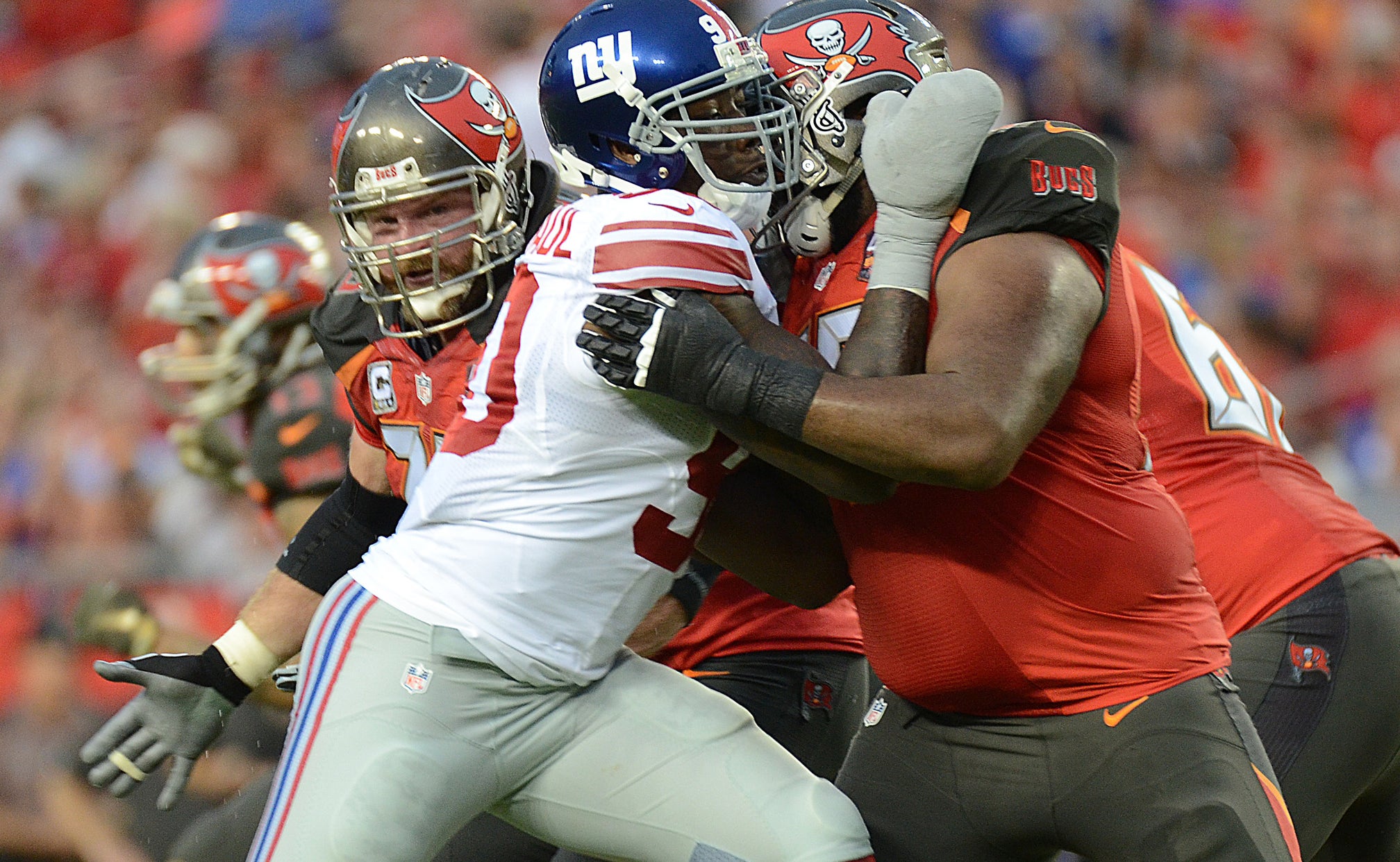 New York Giants: Should They Trade Jason Pierre-Paul?
BY Fansided and Zac Wassink/FanSided via NFL Spin Zone • June 30, 2017
The New York Giants could theoretically trade defensive end Jason Pierre-Paul, but doing so likely wouldn't be worth what they'd receive in return.
Take a quick spin around New York Giants Twitter, team-related forums and other social media avenues, and you'll find some interesting topics regarding potential moves Big Blue could make now that the new NFL year has begun. Some of this speculation has to do with the reality that the Giants likely won't make a major splash in free agency after acquiring veteran wide receiver Brandon Marshall.
The status of defensive end Jason Pierre-Paul is another reason. When the Giants wisely and understandably placed the franchise tag on Pierre-Paul, he assumed a salary cap hit of over $16 million, per Spotrac. This limited what the Giants would and wouldn't be able to do at the start of free agency considering all of the holes on the team's roster. While the Giants couldn't risk losing Pierre-Paul, attaching such a large amount of cap space to him as of March 10 is a burden.
It is not on Pierre-Paul to award the Giants with any sort of hometown discount between now and July. The 28-year-old currently in his physical prime needs to do what is best for him and those around him, as logic suggests the next contract he signs will be the biggest he'll ever receive as an NFL player. Don't forget Pierre-Paul theoretically lost millions of dollars after that regrettable fireworks accident that occurred over July 4 weekend back in 2015.
More from NFL Spin Zone
With that said, Pierre-Paul is undeniably doing more harm than good to the Giants right now. By not coming to terms on a long-term deal that would guarantee him financial security for the rest of his life and also free up some cap space for the 2017 season, Pierre-Paul is unintentionally preventing the Giants from acquiring necessary pieces, most notably an offensive lineman, needed to advance past the opening round of next January's playoffs.
All of these factors have led some Giants fans to wonder: Should New York seriously consider trading Pierre-Paul at any point before the start of the 2017 NFL season?
It should be pointed out first that the Giants probably aren't trading Pierre-Paul. As James Kratch of NJ.com wrote for a piece published on March 10, it's on the Giants and Pierre-Paul to come to an understanding on a new deal before July 15. The two entities are married to each other for the foreseeable future whether they like it or not, and one would think both would desire to make the relationship as friendly as possible for the good of the team's title hopes.
Say, for the sake of argument, Pierre-Paul is not interested in giving the Giants any financial leverage this season. While the club could afford to keep him on his franchise tag for the remainder of the year, an extra few million dollars could go a long way. That type of money could be utilized paying a playmaker at tight end, a running back or a linebacker.
The Giants could also use extra cash to pay defensive tackle Johnathan Hankins. Hankins would already have a roster spot if salary cap wasn't an issue, and he turns only 25 years old later this month. On paper, Hankins may actually have a higher overall value than Pierre-Paul as it pertains to looking past the upcoming season. Of course, the Giants could retain both Hankins and Pierre-Paul with a bit of clever bookkeeping, but dumping the latter would make life easier.
Money aside, the biggest reason the Giants may want to take a flier on trading Pierre-Paul is the physical state of the player. The numbers would indicate Pierre-Paul is somewhat of an overrated presence on the New York defensive line, as he's accumulated double-digit sacks only twice during his career (16.5 in 2011 and 12.5 in 2014), and he's never been considered to be an NFL MVP candidate as has J.J. Watt of the Houston Texans. While his run-stopping abilities are often discounted by too many observers and fans, tackling running backs is not why he will be paid the big bucks moving forward.
Most worrisome is that Pierre-Paul missed 12 regular season games and a playoff contest over the past two seasons. Yes, the fireworks incident that occurred in the summer of 2015 was a freak accident, but that accident cost him and the Giants half a campaign. His 2016 season ended in early December because of a sports hernia, and it shouldn't be ignored he has only started all 16 games of a season once over the past four years.
Maybe the biggest negative in the Giants trading Pierre-Paul is knowing the club wouldn't receive equal value for his services right away. A Pierre-Paul-for-Watt swap isn't happening. At best, the Giants would, in such a speculative deal, receive draft picks and a hope the club could locate and acquire the next version of JPP. That's wishful thinking at best, especially for a team that is in a "win-now" mode.
Every player, a Beckham, a Manning or a Pierre-Paul, carries trade value, but knowing that value and receiving it in a transaction aren't the same thing. That is why the Giants shouldn't trade Pierre-Paul unless those in the front office are blown away by an offer that, more likely than not, isn't coming from any organization between now and July.
---
---