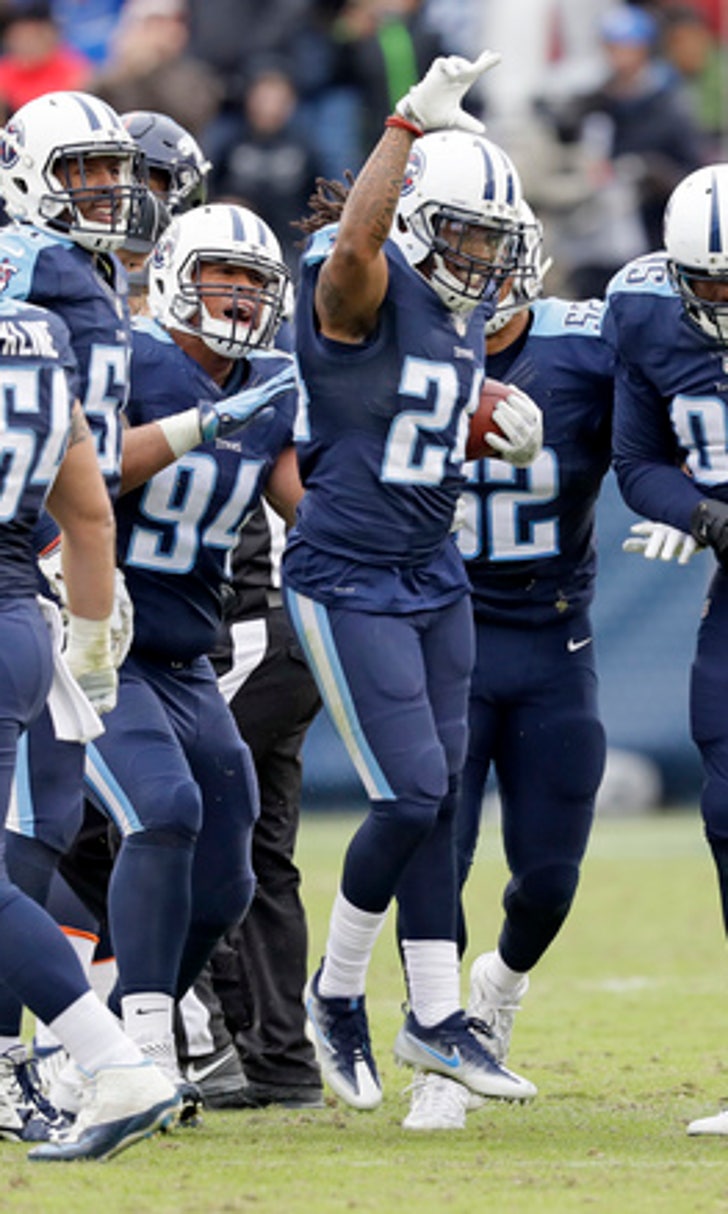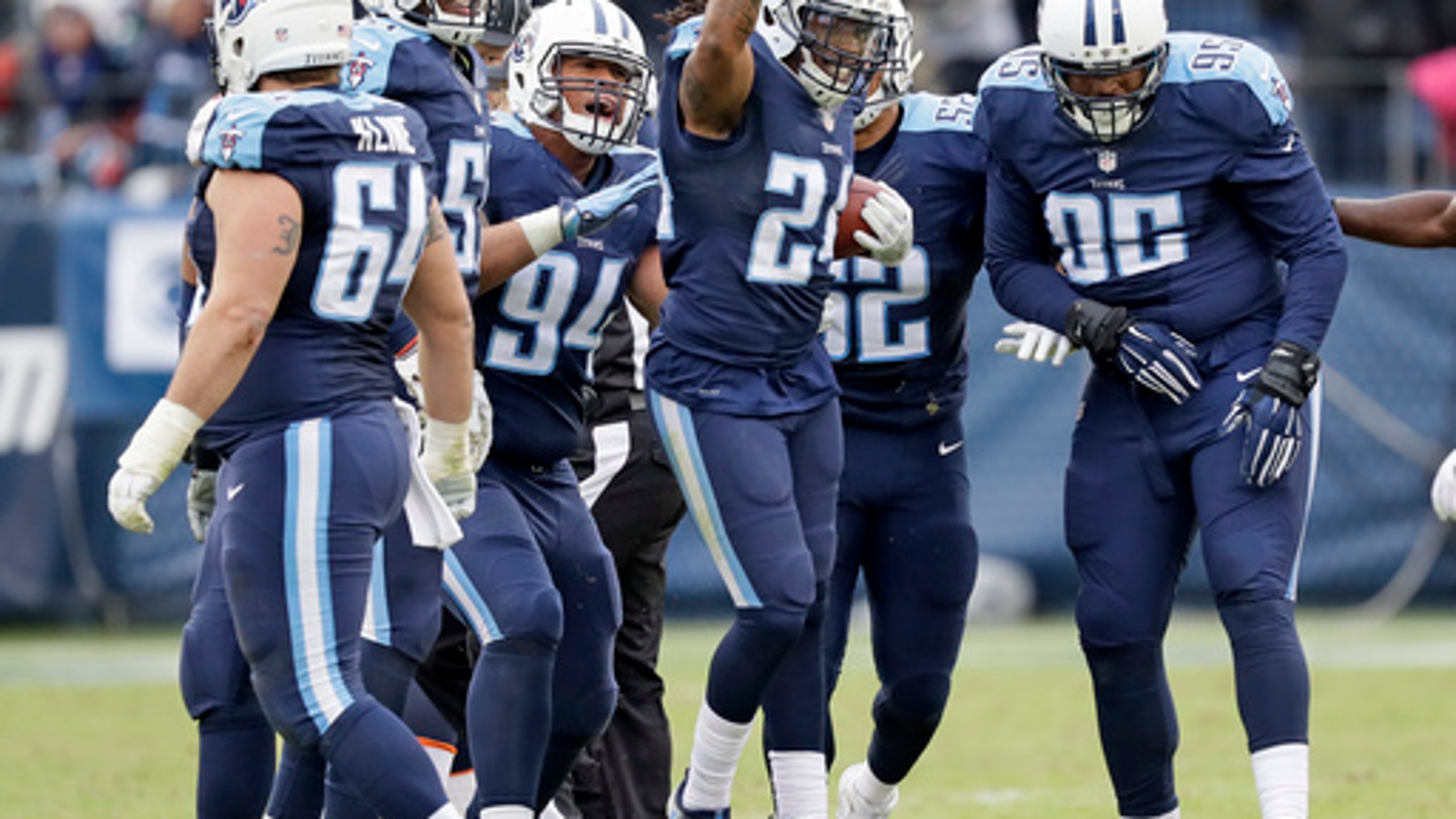 Murray, Titans run to early lead, hold off Broncos 13-10 (Dec 11, 2016)
BY AP • December 11, 2016
NASHVILLE, Tenn. (AP) A year ago, the Tennessee Titans lost their way in the race for the No. 1 overall draft pick. Now they find themselves tied atop the AFC South and coming off a very big upset of the defending Super Bowl champions.
DeMarco Murray ran for 92 yards and a touchdown, and the Titans held on to beat the Denver Broncos 13-10 Sunday and keep a piece of the lead in their division.
''We're definitely a team that's on the rise,'' Titans linebacker Brian Orakpo said.
With the win, the Titans (7-6) also climbed above .500 for the first time all season. They are tied atop the AFC South with Houston, a 22-17 winner over Indianapolis. Tennessee hosts Houston in the regular-season finale Jan. 1.
''All it does is just reconfirm what we're doing, that we can play with anybody in this league,'' Titans coach Mike Mularkey said.
The Titans came in with the NFL's third-best rushing offense and the AFC's top runner in Murray, and they ran right over a Denver defense that came in 28th in that category. By halftime, the Titans led 13-0 having run 26 times for 138 yards - the second-most rushes by any team in the first half this season and most allowed in the first half by Denver since 2014.
Tennessee then had to hold on as Trevor Siemian tried to rally Denver (8-5) despite a sprained left foot that kept him out last week. He threw a 3-yard TD pass to Emmanuel Sanders with 9:58 left and drove the Broncos to first-and-goal at the Tennessee 7 before rookie Aaron Wallace sacked him.
Coach Gary Kubiak settled for a 34-yard field goal by Brandon McManus on fourth-and-goal at the 16 with 4:28 left.
Siemian was driving the Broncos again when A.J. Derby fumbled after a catch. Safety Daimion Stafford recovered with 53 seconds left, and the Titans finished off their biggest win in years.
''We had our chances down the stretch and we didn't make the plays, but the start sure as heck didn't help us,'' Siemian said.
DROUGHT ENDED
Siemian threw for 334 yards and finally helped a team that leads the NFL in three-and-outs snap an 0-of-17 drought on third down conversions late in the third quarter. Siemian found Demaryius Thomas on third-and-14 with a 15-yard pass.
MARIOTA'S DAY
Marcus Mariota, taken by Tennessee the second overall selection in 2015 after Tampa Bay drafted Jameis Winston, threw for only 88 yards for his worst game passing in his two-year career in a game he finished. He did become the first Titans quarterback with at least 3,000 yards passing in a season since Matt Hasselbeck in 2011. Mariota also ran eight times for 38 yards.
Denver outgained Tennessee 348-253, but the Titans held the ball for more than 32 minutes.
''We completed enough to win the game, and that's all you can really ask for,'' Mariota said.
FOURTH-DOWN TRICKERY
Broncos rookie punter Riley Dixon passed to Cody Latimer on fourth-and-2 late in the third quarter for 14 yards. But the Titans took over on downs after Denver had first-and-goal at the 4 after Siemian's big pass to Thomas. Titans rookie cornerback LeShaun Sims helped break up a pass on third down, and Siemian threw incomplete on fourth down at the start of the fourth quarter.
OOPS
Denver picked up running back Justin Forsett off waivers Monday to help a banged-up unit, and he got the first carry of the game on the Broncos' second possession. Forsett picked up 9 yards before Titans safety Rashad Johnson poked the ball out with cornerback Jason McCourty recovering. Tennessee took a 10-0 lead when Ryan Succop kicked a 53-yard field goal. Succop added a 41-yarder in the second quarter.
SCUFFLING
Denver cornerback Aqib Talib was flagged for unnecessary roughness after tangling with Titans wide receiver Harry Douglas on the Tennessee sideline late in the second quarter. Talib was angry at Douglas for his low block on Denver cornerback Chris Harris Jr. on the previous play that left Harris on the ground for a couple minutes. The penalty came during a 19-play, 74-yard drive by Tennessee that took 8:04 off the clock.
''Man, that was so illegal,'' Harris said of Douglas' hit. ''I've never had a player just try to end my career like that. That was dirty. He should be fined.''
UP NEXT
Broncos: Host Patriots on Dec. 18
Titans: at Chiefs on Dec. 18
---
For more NFL coverage: http://www.pro32.ap.org and http://www.twitter.com/AP-NFL.
---
Follow Teresa M. Walker at www.twitter.com/teresamwalker
---
---