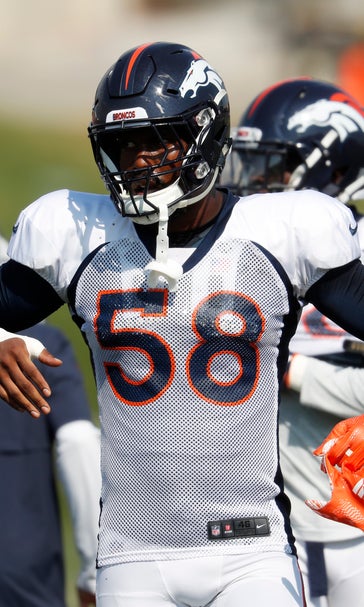 Miller says he's not upset over sitting out preseason game
August 15, 2018
ENGLEWOOD, Colo. (AP) — Von Miller is preparing to make his preseason debut this weekend against the Chicago Bears.
Of course, the star linebacker was all set to play last weekend against Minnesota when he said "the call came from upstairs" that he'd be held out.
Coach Vance Joseph had insisted all week that Miller would play in the preseason opener, explaining, "he's had a great camp and we have no reason not to play Von. Von is in good health and good spirits, so why not?"
Because he could get hurt in a meaningless game and put a damper on their 2018 season, which apparently was the reason general manager John Elway nixed the notion of Miller playing against the Vikings.
So, Miller was helpless to keep Kirk Cousins from driving 75 yards for an opening touchdown in the Vikings' 42-28 win .
After the game, Joseph said, "Obviously, Von is valuable to our football team. He's a guy who we can't lose, so we didn't play him, simple as that."
Because the call was made so late, Miller was already taped up and didn't get a chance to work out with strength coach Loren Landow before the game like other players who weren't going to play.
"I wouldn't say that I was upset. I was just ready to play," Miller said Wednesday after the Bears-Broncos joint practice . "I hadn't played since the Pro Bowl. ... So, I was pretty excited to play. I was ready to go out there with my brothers."
Miller said he was pumping up first-round draft pick Bradley Chubb and other rookies only to learn he would be rooting them on instead of leading the way.
"Me and Chubb, we talked about sacks before the game," Miller said. "With the rookies, it's a hard deal to get the rookies right. So, I was getting Chubb right and the other guys right and I'm getting ready to go out there on the field and they said I wasn't going to play."
Defensive coordinator Joe Woods said he expects Miller to play Saturday night, but when asked what he thought, Miller said, "I don't know."
Either way, it won't change his preparation.
"I just approach it the same way every week," Miller said. "I just go into it like I'm going to play."
The Broncos usually throttle back Miller in practice because, in the words of his coach, he can "wreck practice" he's so good.
That's not a concern when he's facing another team like the Bears, though.
"No, I'm definitely trying to wreck it," Miller said with a laugh.
Bears coach Matt Nagy said facing Miller for two days of joint practices — and maybe again Saturday night — can only help his young team.
"What a great challenge for our offensive linemen, to be tested by some of the best in the league," Nagy said.
Unlike past years when the Broncos got into scuffles during joint practices, things didn't get too chippy with the Bears.
"We just want to come out here and get better," Miller said. "Both organizations, we didn't have the type of season that we (wanted to) last year. So, I think coming out here and fighting each other and making it into a Battle Royale is the last thing on both teams' minds."
CAMP SCARE: The Broncos got a scare when rookie receiver and training camp sensation Courtland Sutton was slow getting up after diving for a pass and then went to the trainer's room. But Joseph said, "He's OK. It was a knee. But he's fine. Yep, good news there."
Also, cornerback Chris Harris Jr. (strained oblique) and edge rusher Shaq Barrett (minor hamstring pull) sat out practice in hopes of getting better by game night, Joseph said.
HIDEOUS HAIRCUTS : Miller, who said his job description is sacking quarterbacks and telling jokes, is known as the Broncos' biggest prankster. But he said he had nothing to do with the hideous haircuts the veterans gave the rookies this week.
"I like to mess with the rookies, of course, but haircuts are not my thing," Miller said.
Notes: WR Carlos Henderson, who was placed on the Broncos' reserve/did not report list, has been suspended without pay by the NFL for the season opener over his offseason arrest for marijuana possession in Louisiana.
---
---