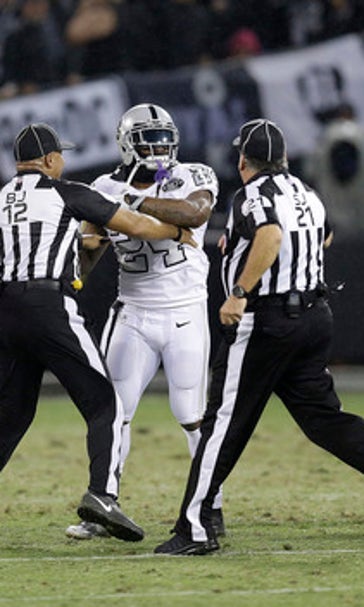 Marshawn Lynch's appeal of 1-game suspension denied
October 24, 2017

ALAMEDA, Calif. (AP) Marshawn Lynch's appeal of his one-game suspension for shoving an official was denied Tuesday and the running back will miss Oakland's game this week at Buffalo.
Appeals officer James Thrash, who was appointed jointly by the league and the NFLPA, upheld the one-game ban without pay.
Lynch will not be allowed to be with the Raiders until Oct. 30, clearing the way for second-year backs Jalen Richard and DeAndre Washington to carry the load for the Raiders (3-4) against the Bills (4-2).
''We're going to miss him but it's the next-man-up mentality,'' Richard said. ''It's the NFL. We can't whine about it because if that's the case we'll go out this week and end up losing because we're not being focused. Me and D-Wash are confident in ourselves and the offense and our teammates have confidence in us so we'll do everything we can to impact the game against Buffalo.''
Lynch was suspended for coming off the sideline during a scuffle in the second quarter and then shoving a game official during Oakland's 31-30 victory over Kansas City last Thursday night. The ban will cost him more than $100,000 in salary and per game roster bonuses.
The incident started when Oakland quarterback Derek Carr was hit late on a run by Kansas City's Marcus Peters midway through the second quarter. Several of the Raiders offensive linemen, including Kelechi Osemele and Donald Penn, immediately confronted Peters, and Lynch sprinted onto the field from the bench to join the fray. Line judge Julian Mapp tried to break up the fight, but Lynch pushed him and grabbed his jersey. Lynch was ejected and got a personal foul.
While several players have only been fined for making contact with an official, Lynch also left the sideline to join the fray, making his infraction worthy of a suspension, according to NFL vice president of football operations Jon Runyan.
Lynch and Peters are both Oakland natives and are so close they consider each other family. Some of Lynch's teammates said he came out on the field as a peacemaker looking to separate Peters from the Oakland players.
Lynch came out of retirement this season and was traded from Seattle to the Raiders. Lynch said he wanted to make a comeback so he could give something back to his hometown of Oakland before the Raiders move to Las Vegas in 2020.
After a promising start, Lynch hasn't provided much production for Oakland. He had just two carries for 9 yards before his ejection and has rushed for 266 yards on 72 carries (3.7 yards per carry) with two touchdowns so far this season.
After gaining 121 yards the first two weeks, he is averaging just 29 yards per game the past five weeks.
With Lynch sidelined, the Raiders will rely heavily on the smaller backs Richard and Washington. Richard has rushed for 158 yards on 35 carries this season, while Washington has 53 yards on 23 runs and scored a touchdown last week after Lynch was ejected.
''We feed off each other's energy, big play after big play, we get juice off that,'' Washington said. ''I get juiced up seeing him go out and make plays. Last year we had a couple of times we had to carry the load. I think we'll be fine.''
Washington and Richard were the primary backs for two games last year when Latavius Murray was injured and give the Raiders better threats in the passing game even if they may lack the power running that Lynch provides.
''We'll be able to spread out the defense and defenses won't know what's coming,'' Richard said. ''We'll use that to our advantage.''
NOTES: The Raiders signed CB Tevin Mitchell to the practice squad.
---
More AP NFL: www.pro32.ap.org and www.twitter.com/AP-NFL
---
---