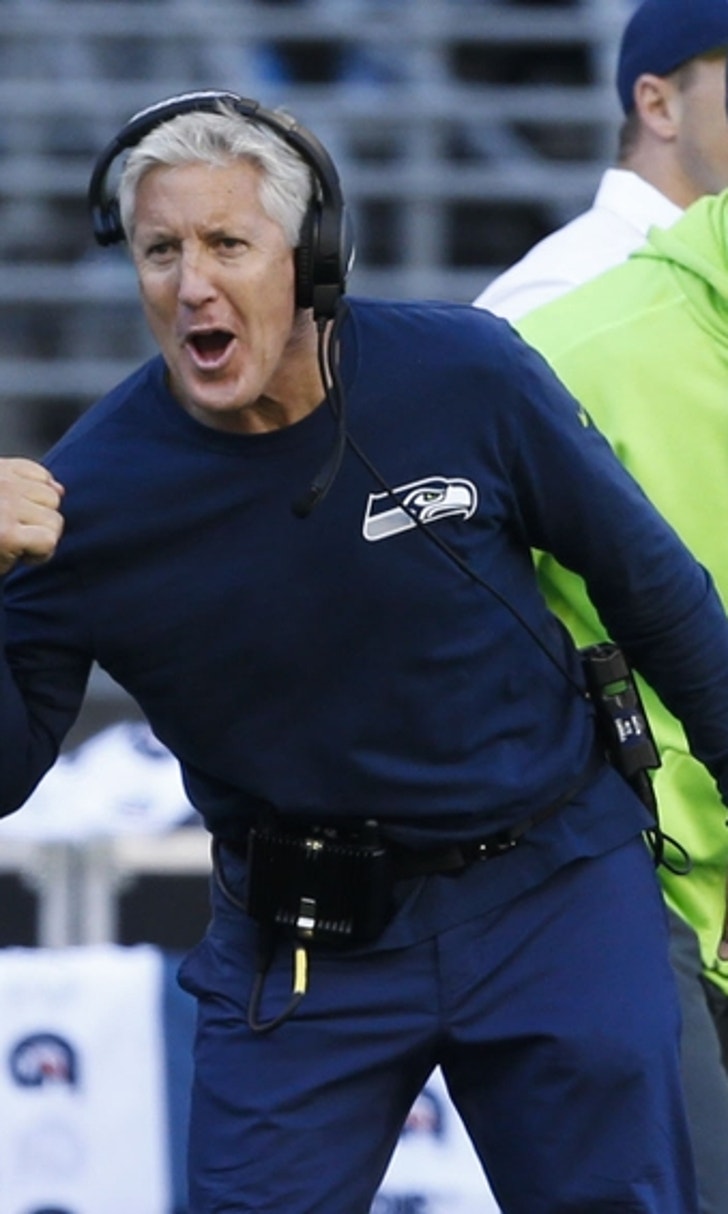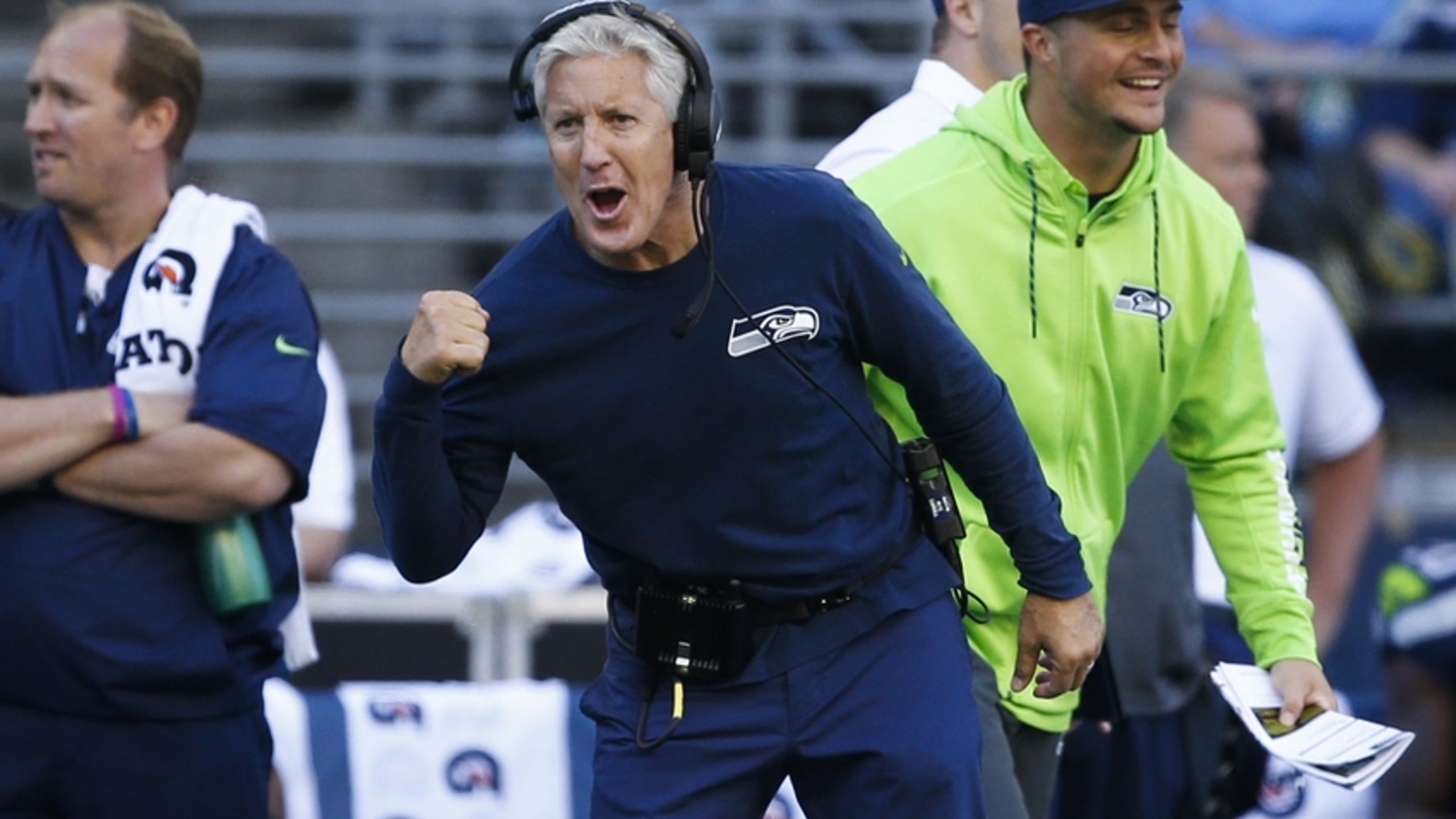 Marcel Reece's Sample Size is Small but Encouraging
BY Fansided and Jacob Sosler/FanSided via 12th Man Rising • December 24, 2016
Marcel Reece, the 31-year-old fullback, could be exactly what the doctor orderered for the offense of the Seattle Seahawks.
The Seahawks are one of the few NFL teams left that still use a traditional fullback in their offensive scheme. From Leonard Weaver to Michael Robinson to Will Tukuafu, the position is vital in an offense that values versatility and loves to physically punish their opponents into oblivion.
Will Tukuafu is massive and powerful, but he's a one-dimensional fullback with limited athleticism and pass catching ability. This season was a rocky one for Tukuafu, as he bounced in between Seattle and the street. After he went on IR with a concussion, the Seahawks signed the four-time Pro Bowl FB and notorious fantasy football vulture Marcel Reece to a one-year contract.
Compared to other Seahawk fullbacks, Reece is more Michael Robinson than Will Tukuafu. In fact, the former receiver and Washington Husky ran a 4.42 40 yard dash at his pro day. Granted, it was eight years ago, but Reece still showcases his speed and wide receiver background on occasion. In addition, he has drastically improved as a blocker throughout his career.
Like Tukuafu, Reece has also had a slightly tumultuous year. Fresh off his fourth straight Pro Bowl appearance, he served a four games suspension PED's, then promptly got the ax from Oakland. After going through numerous tryouts with several teams, Reece had yet to find a suitor until the Seahawks signed him on December 6th.
According to all indications, Reece was able to seamlessly transition into the Seahawks system. He was active five days after being signed. Aiding to his transition was the fact that Reece played under Seahawks offensive line coach Tom Cable when Cable was the head honcho in Oakland.
Marcel Reece has only played 22 snaps in two games, which is partially due to the Green Bay debacle and the Rams dismantling, but his small sample size is incredibly encouraging for the Seahawks offense. Reece isn't anywhere near as explosive as CJ Prosise, but until Prosise returns, the Seahawks can use Reece as a swiss army knife on offense. Not only is he a dynamic talent, but he's also proven to be a pretty good in a traditional fullback role. Let's take a look at some particular instances in which Reece's versatility and playmaking ability is on display.
Play 1: (8:30) T.Rawls left tackle to GB 11 for 7 yards (M.Burnett).
In this play, Reece showcases his toughness and improved blocking skills. The Seahawks come out in 21 personnel with Doug Baldwin and Jermaine Kearse as the wideouts and Brandon Williams in at tight end. Reece is lined up in the backfield alongside Thomas Rawls. Baldwin goes in motion as Wilson receives the ball. Center #68 Justin Britt gets beat off the snap, but recovers in time to open a fairly large hole for Rawls. As Mark Glowinski advances toward the second level, he whiffs while trying to block the linebacker, but Reece saves the day. He displays his physicality by attacking Jake Ryan head on, driving him away from the play and opening a crease for Rawls to cut it back outside for a seven yard gain.
Play 2: (:48) (Shotgun) R.Wilson pass deep right to M.Reece pushed ob at GB 45 for 31 yards (M.Hyde).
Due to the dormant Seahawks offense, this may have been the highlight of the game for the unit. The Seahawks come out in an empty set, a look that has been used by Seattle to great success in the past. Reece is split out wide in place of a wide receiver. The Packers decide to rush four guys, which proves incredibly effective against Seattle's horrendous offensive line. #52 Clay Matthews steals Bradley Sowell's lunch money and beats the right tackle within seconds with a violent club move. Next to him, #76 Mike Daniels generates some interior push against #63 Mark Glowinski.
Wilson is forced to evacuate the pocket after he senses the pressure. He delivers a dime on the run to a wide-open Reece, who displayed his wide receiver background by running an outstanding route to beat the linebacker. Reece's crisp route running and veteran football IQ also feature prominently, as Reece exploits a hole in Green Bay's coverage. After hauling in the ball, Reece exhibits extraordinary awareness by barely tapping his feet in bounds before being smashed by Green Bay safety Micah Hyde.
Play 3: (12:30) R.Wilson pass short right to M.Reece to GB 35 for 7 yards (J.Thomas).
Here Reece shows his versatility and dynamic skill set once more. He lines up as the fullback in 21 personnel. Wide receivers Jermaine Kearse and Doug Baldwin are lined up on the right side, with tight end Brandon Williams' hand in the dirt on the left side. As Thomas Rawls cuts the free defender, Reece runs a nice route into the flat out of the fullback position.
Russell Wilson throws a ball off his back foot (*screams loudly*) to an open Reece, who beats the linebacker with a nice route. Then, Reece secures the football, turns and runs for a 7 yard gain. He displays fantastic effort by extending the ball out to try and pick up the first down.
Conclusion and What's Next:
When Will Tukuafu went down with a concussion, the Seahawks brought in the veteran Reece for the rest of the year. While he may be just a temporary stop-gap, he can replace some of the dynamic playmaking and creative versatility that was lost when CJ Prosise went down.
More from 12th Man Rising
This article originally appeared on
---
---