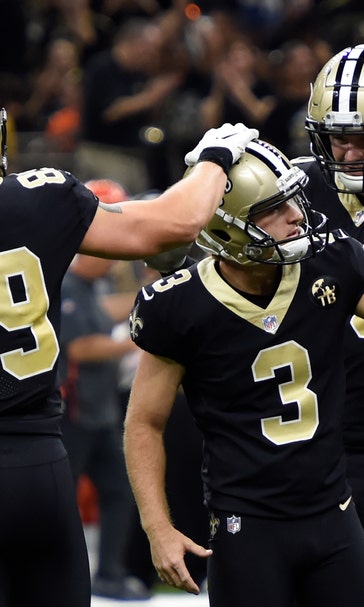 Lutz's 44-yard field goal lifts Saints past Browns 21-18
September 16, 2018
NEW ORLEANS (AP) — Wil Lutz kicked a 44-yard field goal for New Orleans with 21 seconds left, Cleveland kicker Zane Gonzalez pushed the second of his two missed field goals wide right in the final seconds, and the Saints held on for a 21-18 victory that extended the Browns' winless streak to 19 games.
Gonzalez also missed two extra points, one week after his potential winning field goal was blocked in a season-opening tie with Pittsburgh.
Cleveland (0-1-1) carried a two-score lead into the final nine minutes before its latest collapse.
Receiver Michael Thomas had two fourth-quarter touchdowns for the Saints (1-1), who scored 40 points in a Week 1 loss to Tampa Bay, but didn't find the end zone against Cleveland until 8:41 remained.
Thomas' 2-yard catch cut Cleveland's lead to 12-10.
Marcus Williams' interception of Tyrod Taylor with just less than five minutes remaining set up Thomas' leaping 5-yard touchdown catch with 2:40 to go, and Alvin Kamara's run for a 2-point conversion put the Saints up 18-12.
That conversion made all the difference after Taylor found Antonio Callaway with a 47-yard, all-or-nothing heave on fourth-and-5 with 1:16 to go. Gonzalez missed a point-after kick for the second time, and Drew Brees' 42-yard completion to Ted Ginn Jr. set up Lutz' go-ahead kick.
GREEN BAY, Wis. (AP) — Daniel Carlson missed two field goals in overtime, including one from 35 yards as time expired, and the Vikings had to settle for a 29-29 tie after rallying from a late 13-point deficit.
The rookie pushed his final kick wide right, just like his attempt from 49 earlier in overtime.
Packers kicker Mason Crosby matched a career high with five field goals, but his potential game winner from 52 went wide left as time expired in regulation.
Both teams are 1-0-1.
The tie overshadowed memorable performances from both quarterbacks.
Green Bay star Aaron Rodgers played with a brace on his injured left knee and threw for 281 yards and a score.
Minnesota's Kirk Cousins threw for 425 yards and four touchdowns, including three in the fourth quarter.
PITTSBURGH (AP) — Patrick Mahomes tied a franchise record with six touchdown passes. The 22-year-old Mahomes finished 23 of 28 for 326 yards in his third career start as the Chiefs (2-0) won in Pittsburgh for the first time since 1986. Mahomes has 10 touchdown passes through two weeks, the most ever by a quarterback through two games.
Trevor Kelce caught seven passes for 109 yards and two scores. Tyreek Hill, Chris Conley, Kareem Hunt and Demarcus Robinson also hauled in touchdown passes as the Chiefs recovered in the second half after blowing an early 21-pont lead.
Pittsburgh's Ben Roethlisberger shook off an achy right elbow that limited him in practice during the week, completing 39 of 60 passes for 452 yards and three touchdowns. The 36-year-old also leapt into the end zone for a 3-yard score with 1:59 to go that got the Steelers (0-1-1) within five.
Rather than attempt an onside kick, Pittsburgh sent it deep. Two runs by Hunt gave Kansas City a big first down and Steelers linebacker Tyler Matakevich was flagged for roughing the punter as the Chiefs ended a six-game losing streak in Pittsburgh.
BUCCANEES 27, EAGLES 21
TAMPA, Fla. (AP) — Ryan Fitzpatrick threw for more than 400 yards and four touchdowns for the second straight week.
Filling in for suspended quarterback Jameis Winston, the 35-year-old Fitzpatrick completed 27 of 32 passes for 402 yards and has the suddenly explosive Bucs off to a 2-0 start for the first time since 2010.
DeSean Jackson scored on a 75-yard reception on the first play of the game. O.J. Howard also had a 75-yard TD catch in the first half for Tampa Bay, which stunned New Orleans 48-40 on the road in its season opener.
Nick Foles threw for 338 yards for the Eagles (1-1), who rallied from a 20-point, third-quarter deficit.
The Super Bowl MVP's 2-yard TD pass to Nelson Agholor on fourth down trimmed Tampa Bay's lead to 27-21 with 2:46 remaining. The Bucs didn't give the Eagles' injury-decimated offense a chance to finish the comeback.
Fitzpatrick, a 14-year veteran and one of four players in NFL history to throw TD passes for seven franchises, produced a couple first downs on Tampa Bay's ensuing possession to drain all but 19 seconds off the clock.
JACKSONVILLE, Fla. (AP) — Blake Bortles threw four touchdown passes, three in the first half, and the Jaguars(2-0) beat Tom Brady and the Patriots in a rematch of last season's AFC championship game.
Bortles connected with Donte Moncrief, Keelan Cole and Austin Seferian-Jenkins for scores in the first 30 minutes, the second time he's done that in his NFL career. Bortles completed 29 of 45 passes for 377 yards, with the four TDs and an interception. It was the best game of his five-year career.
The Patriots (1-1) trailed 24-3 in the third quarter before finally showing signs of life. But Dante Fowler, returning from a one-game suspension, stripped Brady for one game-changing play, and second-year receiver Dede Westbrook added another to seal the victory.
Westbrook took a short pass on a crossing route, made one defender miss and then outran another down the sideline for a 61-yard score. He got a key block from Cole.
Cole finished with seven receptions for 117 yards and a score. He made a spectacular, one-handed catch on Jacksonville's second drive and beat Eric Rowe for a 24-yard touchdown three plays later.
DENVER (AP) — Brandon McManus kicked a 36-yard field goal just inside the right upright with 6 seconds left, denying Jon Gruden his first win as a head coach since 2008.
With no timeouts and 18 seconds left, Case Keenum hit Tim Patrick for a 26-yard gain to the Oakland 18. Cornerbacks Gareon Conley and Leon Hall couldn't tackle him inbounds and McManus came on to give the Broncos (2-0) their first lead.
The Raiders (0-2) lost despite a stellar outing by Derek Carr, who completed 29 of 32 passes for 288 yards and a score four days after Gruden called him out for passing up throws to Amari Cooper in Oakland's opener.
Cooper caught 10 passes for 116 yards Sunday.
LOS ANGELES (AP) — Todd Gurley ran for three touchdowns, Jared Goff threw for 354 yards and a touchdown.
The Rams have won their first two games for the first time since 2001, when they started 6-0 en route to the third Super Bowl appearance in team history.
It was the second time in Gurley's four-year NFL career that he had three rushing scores in a game. The other time was Week 15 at Seattle last season. Gurley finished with 42 yards on 19 carries as he played only three quarters due to cramps.
Goff, who has six 300-yard games, completed 24 of 32, marking the third time in 24 starts he has completed more than 70 percent of his passes when making 25 or more attempts. The 354 yards were only a yard off of his career high, set last season against Houston.
Brandin Cooks had seven receptions for 159 yards.
The Cardinals didn't cross midfield until the final minute and managed only five first downs as they fell to 0-2 for the first time since 2005. Sam Bradford, the first overall draft pick by the Rams in 2010, was 17 of 27 for 90 yards in his first start against his former team.
SANTA CLARA, Calif. (AP) — Jimmy Garoppolo threw two touchdown passes, Matt Breida ran for 138 yards and San Francisco's longest TD run in four seasons , and the 49ers bounced back from a season-opening loss.
Garoppolo nearly made a costly mistake when he threw a late interception to Tracy Walker that was returned to the San Francisco 7. But Quandre Diggs was called for a defensive holding away from the play to give the 49ers (1-1) a first down.
Garoppolo played turnover-free ball a week after throwing three interceptions in a 24-16 loss at Minnesota that led to his first defeat as a starter following seven straight wins.
He threw a 4-yard TD pass to Kendrick Bourne in the second quarter and an 11-yarder to Garrett Celek in the third to hand Matt Patricia, his old friend from their New England days, a second straight loss to begin his tenure as coach of the Lions (0-2). Garoppolo finished 18 for 26 for 206 yards, but was sacked six times.
ATLANTA (AP) — Matt Ryan ran for a pair of scores for the first time in his career and threw a pair of TD passes.
After scoring on a 1-yard sneak that pushed Atlanta (1-1) to a 24-10 lead early in the third quarter, Ryan delivered the biggest blow with a brilliant scamper midway through the fourth quarter. On third-and-5 from the Carolina 8, he looked around futilely for an open receiver, spotted a running lane to the left and took off for the end zone.
There were three Carolina players waiting for him at the goal line — including 346-pound former teammate Dontari Poe — but Ryan leaped in the air and bowled them all over for the TD that gave Atlanta a two-touchdown lead over the Panthers (1-1).
Ryan finished 23 of 28 passing for 272 yards.
Cam Newton was rocked early on by cheap shot from Damontae Kazee , who was thrown out of the game for the helmet-to-helmet hit while the Panthers quarterback was sliding at the end of the run. Newton was able to stay in the game, throwing a pair of touchdown passes, and he had one last chance to send the game to overtime.
From the Falcons 31, Newton lofted a pass into the end zone for D.J. Moore, who was double-covered and let the ball slip through his hands as time expired.
EAST RUTHERFORD, N.J. (AP) — Ryan Tannehill threw two touchdown passes, Kenyan Drake ran for a score and the Dolphins took advantage of several mistakes by Sam Darnold and the Jets.
T.J. McDonald and Xavien Howard each intercepted the Jets' rookie quarterback, helping the Dolphins to their first 2-0 start to a season since 2013.
Tannehill finished 17 of 23 for 168 yards and also ran for 44 yards on eight carries for the Dolphins, coming off a win in the longest NFL game since 1970 merger by outlasting Tennessee in 7 hours, 8 minutes last Sunday.
With the Jets (1-1) holding on to hopes for a late comeback, Frank Gore — who passed Curtis Martin for fourth on the NFL's career rushing list — took a short pass and gained 19 yards on third-and-19 to effectively seal the win.
Darnold was 25 of 41 for 334 yards and a touchdown with the two INTs in his second NFL start, but struggled to get the offense moving throughout the day.
ORCHARD PARK, N.Y. (AP) — Melvin Gordon matched a career high by scoring three touchdowns, and the Chargers manhandled the anemic Bills during rookie quarterback Josh Allen's debut as a starter.
Gordon scored on a 20-yard run and added two touchdowns receiving before limping off the field after appearing to hurt his left leg early in the fourth quarter.
Gordon finished with just 28 yards rushing and six catches for 38 yards in his second three-TD game. He had two touchdowns rushing and one receiving in a 33-30 win at Atlanta on Oct. 23, 2016.
Philip Rivers finished 23 of 27 for 256 and three touchdowns as the Chargers (1-1) rebounded from a 38-28 loss to Kansas City. The Bills (0-2) also have a concern at running back after LeSean McCoy missed the entire fourth quarter with a rib injury.
The Chargers took control in building a 28-3 lead when Rivers hit Gordon for a 2-yard touchdown pass. That capped a run in which Los Angeles scored touchdowns on four consecutive possessions.
Allen did produce two touchdown drives in the second half and finished 18 of 33 for 245 yards with a 3-yard touchdown pass to Kelvin Benjamin with 38 seconds remaining, and two interceptions.
NASHVILLE, Tenn. (AP) — Ryan Succop kicked a 31-yard field goal with 1:00 left, and the battered Titans held off the Texans 20-17 to give Mike Vrabel his first victory as an NFL head coach.
Succop also kicked a tying 42-yarder in the fourth quarter as Tennessee (1-1) pulled out the win with quarterback Marcus Mariota watching from the sideline. The Titans also were missing their top three offensive tackles.
Deshaun Watson and Houston (0-2) had the ball last. With 17 seconds left, Watson ran around the field looking for a receiver. He found DeAndre Hopkins for a 31-yard completion to the Tennessee 21, but time expired before the Texans could run another play.
Blaine Gabbert, starting for his fourth NFL team, threw for 117 yards and a touchdown.
With Mariota watching because of an elbow injury that created numbness in his throwing hand, Vrabel and the Titans (1-1) got creative. They dipped into the playbook for some wildcat with Derrick Henry on offense, and All-Pro safety Kevin Byard set an NFL record when he tossed a 66-yard touchdown pass on a fake punt.
On Tennessee's opening drive, Byard hit a wide-open Dane Cruikshank down the right sideline. Byard's TD pass was the longest by a defensive player in the Super Bowl era , easily topping the mark set by Rams defensive back Ed Meador on Nov. 19, 1967.
ARLINGTON, Texas (AP) — Dak Prescott threw a 64-yard touchdown pass to Tavon Austin on the third play of the game and the Cowboys sacked Eli Manning six times in a 20-13 victory over the Giants.
The Dallas defense was strong again, just as in an opening loss at Carolina, as the Cowboys (1-1) avoided the first 0-2 start in seven seasons under coach Jason Garrett.
Manning and the Giants have started 0-2 for the fifth time in the past six seasons.
Dallas running back Ezekiel Elliott outgained Saquon Barkley in the first meeting in the pros between the former college rivals and high NFL draft picks. Elliott, who starred at Ohio State, rushed for 78 yards with a touchdown. Barkley, from Penn State, had just 28.
Even Prescott outrushed Barkley, finishing with a career-high 45 yards on the ground while throwing for 160.
LANDOVER, Md. (AP) — Andrew Luck threw for two touchdown passes, shook off two interceptions and engineered a game-sealing drive.
Luck was 21 of 31 for 179 yards and had a TD pass in a 25th consecutive game, the longest active streak in the NFL. He was 7 of 8 for 62 yards on a methodical 13-play, 75-yard drive that culminated in a Luck-to-T.Y. Hilton score that put Indianapolis (1-1) up 21-9 early in the fourth quarter.
Executing first-year coach Frank Reich's creative play-calling scheme, Luck also found Eric Ebron for a touchdown on the game's opening drive. The balanced attack with 27 rushing and 31 passing attempts kept the Redskins' defense off-balance and allowed Luck to pick apart a secondary that struggled in coverage and tackling.
After putting up a Week 1-best 182 rushing yards, the Redskins (1-1) gained 65 yards on 22 carries. Adrian Peterson was limited to 20 yards on 11 carries, and receiver Jamison Crowder was actually Washington's leading rusher with 29 yards on two sweep plays.
---
---