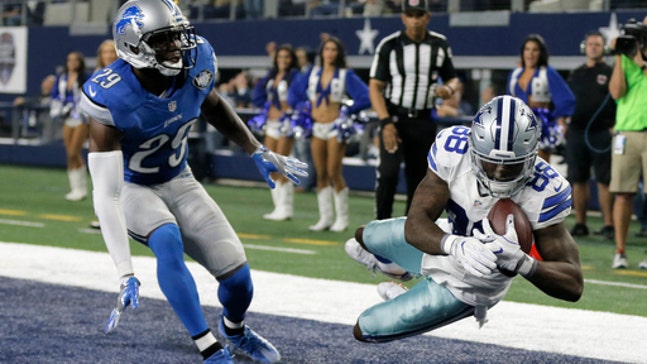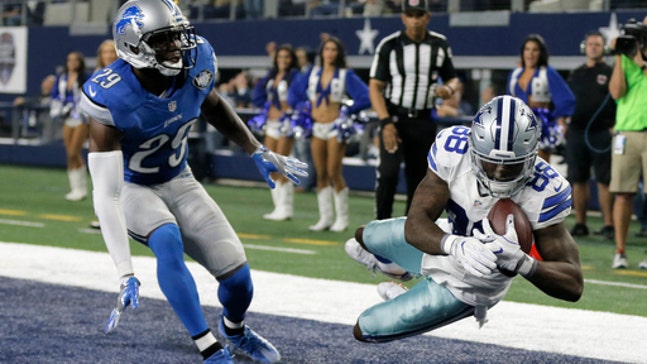 Lions' playoff hopes on hold after 42-21 loss to Cowboys (Dec 26, 2016)
Updated
Mar. 4, 2020 11:20 p.m. ET

ARLINGTON, Texas (AP) Matthew Stafford lost to his hometown team again, and the playoff plans are on hold for the Detroit Lions.
Dez Bryant threw his first career touchdown pass between a pair of scoring catches, Ezekiel Elliott ran for two TDs and the Dallas Cowboys kept the Lions from clinching a postseason spot with a 42-21 win Monday night.
Despite a second straight loss following five consecutive victories, Detroit (9-6) still controls its postseason fate. The Lions will be at home against Green Bay (9-6) with the NFC North title at stake in the finale Sunday.
''It's a one-game season,'' Stafford said. ''If you told me in Week 17 we would have a game at our place and got a chance to win the division, I'd take it all day.''
Stafford, a championship-winning high school quarterback in the Dallas area, had a 1-yard scoring plunge , but was sacked four times - matching a season high - almost two years after losing a wild-card game at the Cowboys.
He was 26 of 46 for 260 yards, including an interception that set up Elliott's 1-yard touchdown early in the third quarter to break a 21-all halftime tie.
With home-field advantage already wrapped up, the Cowboys (13-2) didn't let up in their seventh straight home win while matching their franchise record in victories, reached two other times.
''There's just one way to play,'' coach Jason Garrett said. ''You can't put different meaning on different competition, like all of a sudden this is less important than that. That's not how we operate.''
The biggest sign they were serious about this one came late in the third quarter, when Bryant took a reverse pitch from Dak Prescott and tucked the ball as if planning to run before pulling up and tossing a lefty lob to Jason Witten for an easy 10-yard score and a 35-21 lead.
Witten, the normally stoic 14th-year tight end, flashed Bryant's celebratory ''X'' and was soon mirrored by the often-exuberant receiver.
''We've been working on that about five or six weeks, maybe a little longer,'' Bryant said. ''You know how you practice plays and sometimes you don't run them? I did not think we were going to call that play. And we did, and we made it happen.''
Elliott, the NFL rushing leader, had a 55-yard touchdown run in the first half and finished with 80 yards on 12 carries. He has 15 touchdowns rushing, two behind league-leading LeGarrette Blount of New England.
The first-year sensation known as ''Zeke,'' who is 177 yards shy of Eric Dickerson's 33-year-old rookie rushing record of 1,808 yards, was almost upstaged by Detroit's ''double-Z'' - Zach Zenner.
The little-known undrafted back in his second year out of South Dakota State, filling in with Theo Riddick sidelined for a third straight game with a wrist injury, had a career-high 64 yards and two touchdowns at halftime. But Zenner faded in the second half, finishing with 67 yards.
''Found some creases, made some nice runs,'' Stafford said. ''We've got to have more of it. We've got to find a way in the second half to get a couple more yards here or there on the ground.''
Prescott tied Pittsburgh's Ben Roethlisberger (2004) for the most wins by a rookie quarterback in the Super Bowl era with 13. He was 15 of 20 for 212 yards with three touchdowns, including Bryant's juggling 25-yard grab in the end zone when he fought off pass interference by Johnson Bademosi.
MILESTONES
Bryant broke a tie for second with Hall of Famer Michael Irvin on Dallas' career TD receptions list with his 66th in the first half. The club record of 71 belongs to another Hall of Famer, Bob Hayes. ... Elliott is up to third on the rookie season rushing list, behind Dickerson and New Orleans' George Rogers (1,674 in 1981). He passed teammate Alfred Morris, who held third at 1,613 yards with Washington in 2012.
HIGHLAND PARK REUNION
Los Angeles Dodgers ace Clayton Kershaw, who graduated from Highland Park High School in Dallas with Stafford in 2006, attended the game. Nine days earlier, Highland Park celebrated on the same field after its first state title since Stafford led the way in 2005.
GREGORY'S RETURN
Dallas defensive end Randy Gregory made his season debut after serving a 14-game suspension for violating the NFL's substance-abuse policy. The second-year player almost sacked Stafford in the fourth quarter and had two tackles.
INJURIES
Dallas' already-depleted defensive line sustained two more injuries in the first half, to Terrell McClain (ankle) and Ryan Davis (knee). Starting end Tyrone Crawford missed his first game of the season with shoulder and hamstring injuries. ... Dallas cornerback Anthony Brown left in the first half with a possible concussion. ... Detroit defensive tackle Stefan Charles didn't return after a knee injury in the second half.
UP NEXT
Lions: Home against Green Bay.
Cowboys: At Philadelphia in a game that likely will feature plenty of backups for the Cowboys.
---
For more NFL coverage: http://www.pro32.ap.org and http://www.twitter.com/AP-NFL
---
Follow Schuyler Dixon on Twitter at https://twitter.com/apschuyler
---
---