Tom Brady
Tom Brady
Judge continues to poke holes in NFL's Deflategate case, urges settlement
Published
Aug. 19, 2015 1:28 p.m. ET

NEW YORK — Last week, before the first public hearing in the Tom Brady-NFL federal court case, Judge Richard Berman cautioned those in attendance not to read too much into his questions and statements because his role was to serve as Devil's Advocate.
This week, there was no such disclaimer, and Berman then proceeded to poke holes in the NFL's case while openly stating his opinions on where it case has fallen short.
With the sides far from a settlement, Berman seemed to be ramping up on the pressure on the league to come off its position that Brady must accept the Wells Report and admit guilt to bring the sides closer to some kind of agreement before the start of the regular season.
"There are enough strengths and weaknesses on both sides ... that would lead all the more to a settlement," Berman said. "That seems like the logical and rational outcome. It doesn't mean it's going to happen."
Brady and NFL commissioner Roger Goodell were not in attendance on Wednesday after both participated in a settlement conference with Magistrate Judge James Francis on Tuesday. Both will be required to attend the next scheduled hearing on Aug. 31 if there's no settlement by then. Berman vowed to make every effort to meet the scheduled deadline of Sept. 4 for a legal ruling, though he quipped the sides "can't hold me to it."
Wednesday's hearing lasted just over two hours and included Jeffrey Kessler, the lead attorney for the NFL Players Association, reiterating the four overarching points the union has made in defense of Brady: There was no notice of a four-game suspension for tampering with footballs and not cooperating with an investigation, the penalty wasn't fair and consistent, it was an unfair appeal process and Goodell was not an impartial arbitrator.
"If we win on any one of the four grounds, we believe the arbitration should be set aside," Kessler said.
Daniel Nash, an attorney for the NFL, attempted to counter Kessler's claims, but met some resistance from Berman on a few issues, namely the reasoning for a four-game suspension. In fact, Berman peppered Nash with repeat questions on how the suspension breaks down.
"Which of the four games was attributed to ball tampering and which to failure to cooperate?" Berman asked.
Nash responded by saying there's no requirement under the collective bargaining agreement to specify how the length of a suspension was determined and that NFL VP of football operations Troy Vincent initially, and Goodell on appeal, came to their conclusions by "taking the record as a whole."
Berman then tried a different angle, asking Nash why Goodell compared tampering with footballs to taking steroids as grounds for justifying a four-game suspension. Nash cited the "integrity of the game clause" but was interrupted by Berman, who echoed one of Kessler's arguments by saying "everything goes back to integrity of the game," meaning that could merely be an excuse to impose a lengthy suspension.
"Clearly, it's a fair question to pose. Mr. Goodell felt he had to explain (the penalty)," Berman said. "But it only raised more questions because I still don't see how four games compares to a player using steroids or masking agents."
Berman's attempt to get the NFL to state for the record how many games of the suspension were due to the alleged tampering with the balls and how many were because of his lack of cooperation was surely his way of trying to find a middle ground here.
If, for example, he could get the league to admit it was two and two, he could then turn to the NFLPA and see if they'd agree to a reduced suspension of two games. After all, Kessler stated last week and reiterated Wednesday the union agrees Brady didn't cooperate to the best of his ability, though Kessler said that was because Brady received no warning from Ted Wells there would be a suspension for lack of cooperation.
Then, there's still the issue of "more probable than not" and "generally aware." Those were the phrases used in the Wells report that the NFLPA has consistently attacked.
Berman, who noted Wells didn't explicitly state in his report he found evidence of Brady nudging Patriots employees to tamper with footballs on the day of the AFC Championship Game, joined the chorus on Wednesday.
"It's a quantum leap," he said, "from 'generally aware' to 'scheme.'" (The latter was a word Goodell used in his award to uphold the suspension on appeal.)
Berman also noted to Nash that the NFL denying Kessler the chance to interview lead NFL attorney Jeff Pash during Brady's appeal could be a legal issue. He said courts have vacated some arbitration decisions because the arbitrator denied a request for one person to testify by claiming the testimony would have been "cumulative" (translation: redundant). Kessler and the NFLPA wanted to interview Pash because he was named as a co-author of the Wells Report.
Nash stated Goodell told the NFLPA they could request Pash on the day of the hearing but never did. Berman didn't seem to buy it.
"I didn't say (Pash) wouldn't be involved (in the investigation), but there are some basic procedures of fairness," Berman said. "I'm trying to figure out what the objective was. It's not sufficient to conclude without specifying why the testimony would have been cumulative."
It's not as simple as reading into Berman's pointed questioning and concluding he's siding more with Brady than the NFL right now. However, it's clear he's been more critical of the league's case than the union's in the two public hearings that have been held to this point. And that might very well be due to the fact he senses the league is digging in and unwilling to concede there are holes in its case.
Berman will continue to push the sides for a settlement. Short of that goal, he'll then have to let his decision be known.
And then, perhaps, it won't be the one the NFL was hoping to receive.
---
---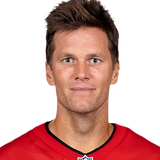 Get more from Tom Brady
Follow your favorites to get information about games, news and more
---