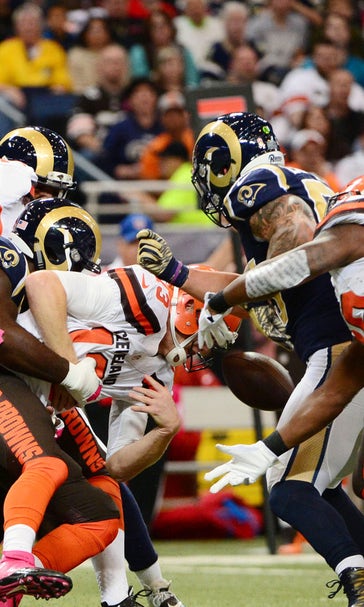 Josh McCown has taken a beating in 2015
October 28, 2015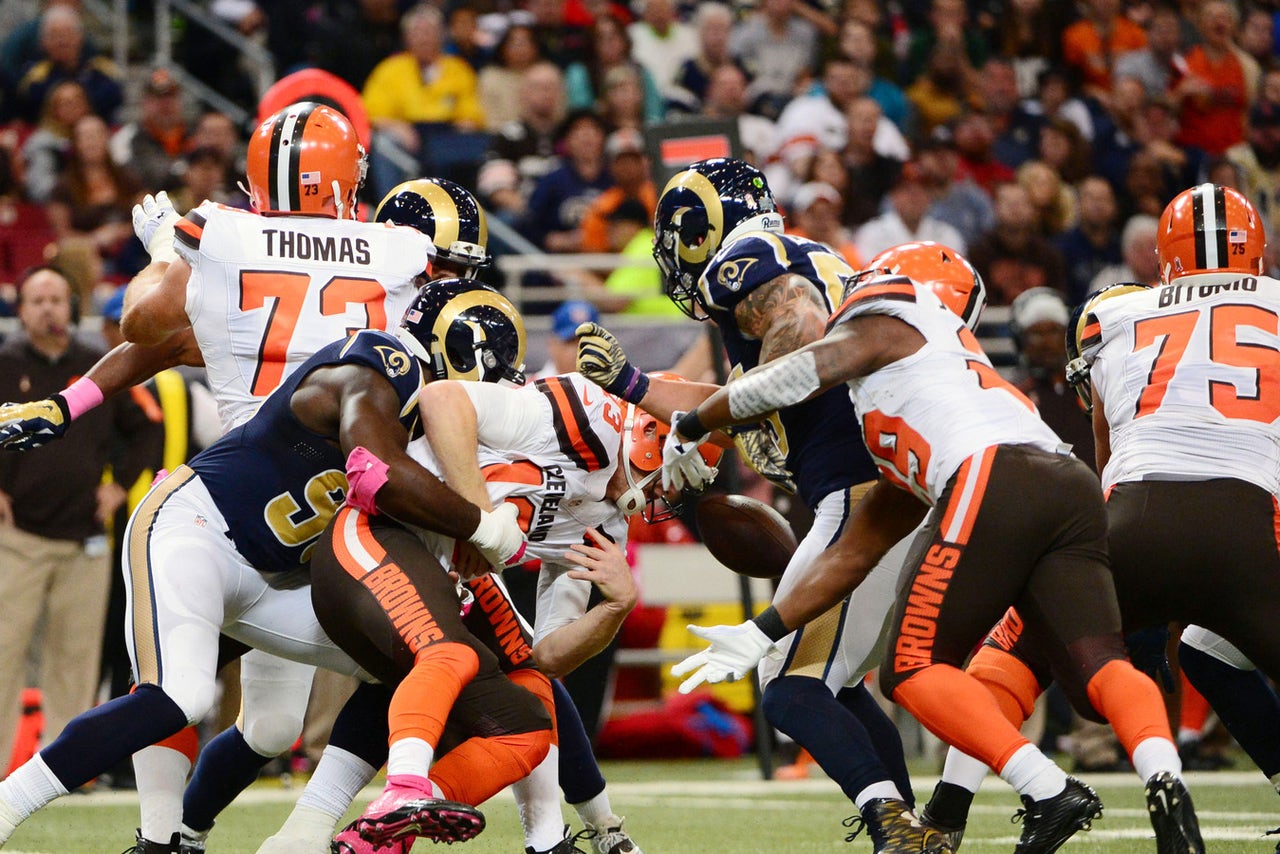 By Craig Lyndall
After watching Josh McCown exit the game against the St. Louis Rams on Sunday with what appeared to be a dead right arm, it's somewhat shocking that he might only miss some practice time this week. The way Josh McCown was holding his arm on the way to the locker room he was a brisk jog away from doing a Kevin Love impression. It's a time like this when it really occurs to me just how much Josh McCown has been beaten up this season.
It started rather quickly with McCown's helicopter at the goal line against the New York Jets. Even after missing some time and seemingly learning his lesson about running into contact, McCown has found himself under fire. But first, here's my favorite edit of McCown's famous helicopter against the Jets thanks to Reddit.
Josh McCown has taken the fourth-most sacks in the league. He's been put on the ground 21 times; only Russell Wilson (31), Colin Kaepernick, and Alex Smith (25 each) have been sacked more. Interestingly enough, despite the totals, McCown ranks only eighth in terms of sack yardage lost. That means that guys above him — like Drew Brees, Marcus Mariota, Teddy Bridgewater, and Ryan Tannehill — must have some really big yardage sacks next to their names in the stat sheets.
In addition to the stats and sacks, McCown has seemed to take some shots to the head that went uncalled. Even on his empty-handed fumble throw against the Rams, the Browns quarterback had his facemask yanked and then was blatantly tripped after giving the ball away. Neither was called on behalf of the elderly Guile-from-Street Fighter look-a-like.
I had trouble coming up with other examples off-hand, and maybe these are things that happen in all NFL games, but it seems like quarterback is the one place left where the NFL is like the NBA in terms of refereeing. Maybe it's my own Cleveland Browns inferiority complex, but it seems like some of the shots or grazing blows that Josh McCown takes to his helmet and facemask would get called for his more famous quarterback counterparts.
It's especially frustrating when McCown is doing such a decent job for the Browns this year. Most fans had reasonable expectations for Josh McCown, but so far he's ninth in terms of passer rating across the NFL. McCown is currently seventh in terms of passing yards per game and ninth for yards per pass attempt. Despite the fumble issues, McCown is fifth in terms of pass interception percentage, which is particularly important. Of all the things the Browns hoped Josh McCown could do for them, it's this kind of statistic that proves he's doing it.
That's the rub: The Browns have failed to do so many of the things you really think they planned to do well. They don't run the ball like we expected them to be able to with the return of a healthy Alex Mack. They certainly don't play defense the way we thought they might be able to, namely in terms of stopping the run. That leaves special teams, where they've performed to expectations, and passing, where they've probably exceeded expectations. Josh McCown is obviously a big part of that passing success, but at the rate he's getting beat up, it's hard to imagine it continuing for much longer.
More from Waiting For Next Year:
---
---