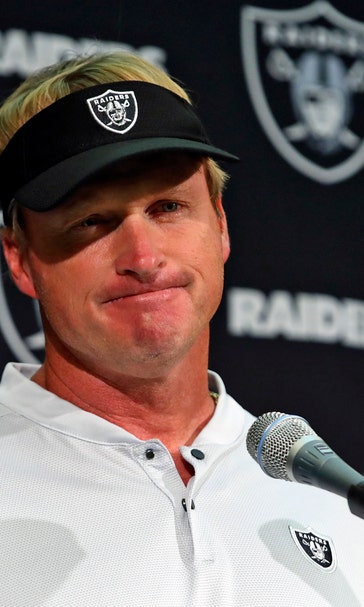 Jon Gruden feeling heat after 0-3 start with Raiders
September 27, 2018
ALAMEDA, Calif. (AP) — The message Jon Gruden delivered when he was introduced at a celebratory news conference announcing his second stint as Oakland Raiders coach has changed.
After promising in January to deliver Oakland fans two of the best years of football he could before the team leaves for Las Vegas in 2020, Gruden is now preaching patience after three straight losses to open the season. Gruden is feeling the heat that comes with a rough start on the field for a coach with a 10-year contract worth a reported $100 million.
"It's justifiable," Gruden said. "I have a pretty good idea of what this business is all about. But I'm also realistic. I'm also very optimistic. I'm going to continue to work hard. I think I have as good a coaching staff as there is in football. The results will happen. It might not happen this week. It might not happen this month, next month, but we're going to get results here and we're going to get this Oakland Raider football team back on track. We just have to prove it."
The only thing the Raiders have proven so far in three weeks is that they can stay close even if they can't win. Oakland has led at halftime in all three games before ending up on the losing side, becoming just the second team in 20 seasons to start 0-3 despite leading every game at the half.
The Raiders haven't trailed for a single second in the first three quarters all season, falling behind on the final play of the third in the opener against the Rams and then blowing late leads in back-to-back weeks on the road at Denver and Miami. Oakland hosts Cleveland on Sunday.
That inability to finish has only been heightened because of Gruden's biggest decision yet as coach. He traded away star pass rusher Khalil Mack to Chicago for a package of draft picks after Mack held out in a contract dispute.
That decision only looks worse each week as the Raiders rank last in the league with one takeaway and three sacks, while Mack has four sacks, three forced fumbles, one fumble recovery and an interception return for a touchdown all on his own.
"It's hard to trade one of your best players. One of the best players on a franchise," Gruden said. "It's hard. It's hard on the players. We didn't get anything for him that's going to help us out this year. ... We have a lot of guys on the defensive line that are out. We have had to replace basically the entire secondary, some of the linebackers, and we're in the process of putting the pieces back together."
When owner Mark Davis lured Gruden out of the broadcast booth, the hope was that better coaching was all it would take to get the Raiders back to the level they were at when they won 12 games in 2016 — their only winning season since 2002, the year after Gruden was traded to Tampa Bay by late owner Al Davis.
But Gruden clearly believed the roster wasn't that close to winning. He spent much of the offseason cutting ties with recent high draft picks made by general manager Reggie McKenzie, and brought in several veterans to fill the holes created by those wasted draft classes he has been quick to bemoan.
The results from those veterans have been mixed, with a few good performances like Jordy Nelson's big receiving game in Miami but not much impact overall.
The Raiders had been spending the past few years trying to build their team around Mack and quarterback Derek Carr. With Mack traded, Carr is the only pillar remaining and the big step forward the team hoped he'd take under Gruden's tutelage has yet to materialize.
Carr is completing 76.6 percent of his passes and averaging 312 yards passing per game. But he is also tied for the league high with five interceptions and has failed to lead the offense to more than 20 points in any game.
Carr has been criticized by Gruden for not taking some deep shots to Amari Cooper in the opener, and being overly aggressive on a fourth-quarter interception in the end zone that thwarted a comeback attempt last week in Miami.
"We're figuring that out together," Carr said of striking the right balance of aggressiveness and prudence.
All is not hopeless in Oakland as evidenced by the fact the Raiders have actually been in the lead nearly two-thirds of the time this season. Gruden's offense has some new wrinkles he's taken from closely watching the rest of the league from his time as a broadcaster.
He has frequently been able to develop schemes that have receivers open downfield, and the Raiders have moved the ball consistently even if it hasn't led to points. Oakland has the sixth-most yards but the fifth-fewest points this season, a dichotomy that stems from the worst starting field position in the league and some red-zone struggles.
The defense has looked sound most of the time, but has been burned by a handful of big plays that have proved decisive.
Gruden has been around long enough to know that progress means little without results.
"We have to start putting some wins in the column and that's what Raiders fans want," Gruden said. "That's what we want and that's what we are after."
---
---