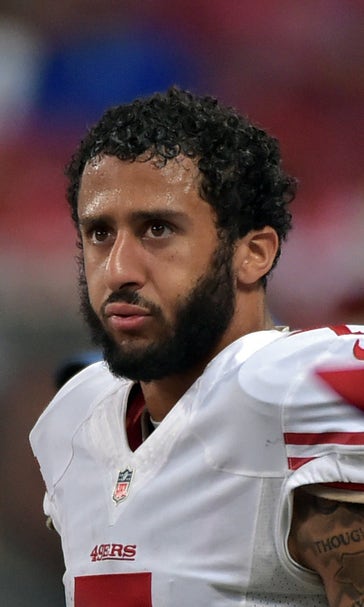 Jim Tomsula doesn't say who 49ers quarterback will be this week
November 2, 2015

SANTA CLARA, Calif.  -- Jim Tomsula has always said that Colin Kaepernick is his quarterback and has made that commitment almost weekly during San Francisco's struggles this season.
Not on Monday.
The 49ers coach said every player is being evaluated after his team lost 27-6 at St. Louis and failed to score a touchdown for the second straight game and third in five, and he didn't name his starter for a home game Sunday against Atlanta.
"We're evaluating everything right now, we're in the middle of it right now. I don't have any comments on any position on our field right now," Tomsula said. "We're evaluating everyone. I'm not going to have any further comment, I'm just telling you we're evaluating everyone."
Kaepernick's status is suddenly uncertain heading into another week of re-evaluation for a San Francisco franchise searching for any possible spark after another dismal day on offense. The Niners are 0-3 in the NFC West.
"It needs a jolt, and needs it from every position," fullback Bruce Miller said. "I know that we can play better at all 11 spots and until we do that and play together as a group, I think it's fair to say that every position is under review because we've got to play together as a group, not as individuals."
Kaepernick has passed for just 286 yards the last two games for the Niners (2-6), sparking questions about whether a big change needs to be made. Perhaps more than just the quarterback, too.
Tomsula wouldn't say when a decision would be announced, only that, "We'll make those decisions when we've got those things done at every position, every position ... Colin didn't play good enough, neither did the team, the San Francisco 49ers didn't play good enough."
Is backup Blaine Gabbert ready if called upon Sunday? He had a strong preseason for San Francisco and is a former first-round draft pick by Jacksonville in 2011.
"I know where we're going with this questioning. I'm not going down that road," Tomsula said. "I've got a lot of respect for Blaine Gabbert."
Gabbert completed 23 of 28 passes in the preseason -- for an 82.1 completion percentage -- for 203 yards, one touchdown and no interceptions and a 108.8 passer rating.
Whatever happens, the defense appreciates what Gabbert brings every week on the scout team to prepare the Niners for the upcoming opponent's quarterback.
"That's coach's decision. Every position is under evaluation each and every week. That motivates every guy at every position to go out and work a little bit harder ... and can be held accountable," defensive lineman Quinton Dial said, then noted of Gabbert: "He definitely goes about his business as a professional. He shows up, works hard each and every day and gives us a great look on the scout team."
Tomsula said he is comfortable with his coordinators -- Geep Chryst on offense and Eric Mangini on defense -- going forward. The coach also noted he is meeting weekly with CEO Jed York and general manager Trent Baalke.
"I'm not at a self-doubt place now," Tomsula when asked about his own frame of mind.
NOTES: Some RBs are expected to come in for tryouts given all the injuries at that spot. Carlos Hyde missed Sunday's game with a stress fracture in his left foot while Reggie Bush was receiving an MRI exam for his injured left knee that he hurt slipping on concrete out of bounds. "Trying to stay healthy has been an issue this season," he said. Mike Davis also was receiving an MRI exam Monday for what could be a broken hand. ...TE Garrett Celek is going through the league's concussion protocol.
---
---