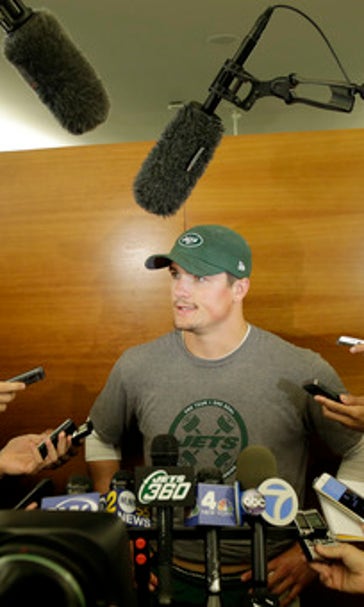 Jets trade QB Hackenberg to Raiders for 7th-round pick
May 22, 2018
FLORHAM PARK, N.J. (AP) Christian Hackenberg spent his final day with the New York Jets much as he did in his first two seasons.
As a spectator.
The Jets traded the 23-year-old quarterback to the Oakland Raiders on Tuesday for a conditional seventh-round draft pick next year, ending Hackenberg's tenure with the team before he ever took a regular-season snap.
''Some players, it takes a while for them to get going,'' said coach Todd Bowles, who announced the trade after his post-practice news conference was delayed for two hours as the deal was being completed.
''We did everything we could to try to help him as best we could,'' Bowles added. ''Sometimes it just works out somewhere else.''
Hackenberg was a second-round pick out of Penn State in 2016, but never played a regular-season snap for the Jets. The 23-year-old quarterback was clearly No. 4 on New York's depth chart, behind veterans Josh McCown and Teddy Bridgewater and first-rounder Sam Darnold.
''We've got three quarterbacks and obviously we drafted Sam in the first (round),'' Bowles said. ''We like Teddy and we like Josh. We just had one too many to get all of them reps.''
Hackenberg stood back and merely watched as McCown, Bridgewater and Darnold took their snaps during 11-on-11 and 7-on-7 team drills during the first practice of organized team activities. Hackenberg threw during position drills, but that was it - and, as it turned out, that was by design.
''We held him out today because we had things in the works,'' Bowles said, ''in case something happened.''
Hackenberg joins a quarterbacks room with the Raiders that includes Derek Carr, EJ Manuel and Connor Cook. Oakland coach Jon Gruden worked with Hackenberg for his ''Gruden's QB Camp'' series before the 2016 draft, so he has some familiarity with the young signal caller.
With the Jets, Hackenberg was considered a project when he entered the league and has been an enigma so far in the NFL. His mechanics have been the subject of much debate and criticism.
So, he went back to the basics this offseason, working on shortening his motion and trying to become more efficient. After two years with no results, Hackenberg was asked a few hours before the trade why it took so long to take that step.
''I don't know,'' he said. ''I think there were some times where I threw it really good throughout my first two years here. That was the frustrating part for me, is the ups and downs and not knowing why, if that makes sense, and not really getting any information from anybody on how to fix that and how to address it.''
That immediately raised some eyebrows, and came off as a veiled shot at the Jets' coaching staff.
''No, I don't put the blame on anyone,'' Hackenberg said. ''I think my thing is I'm happy I got the opportunity and someone stepped up outside of me to help me give me the tools to do it. So, being able to take that by my control, if that makes sense, being able to handle that and do it myself, I think is really cool.''
Bowles insisted that Hackenberg's critical comments had nothing to do with the deal.
''No, Hack's a great guy,'' Bowles said. ''He's 23 years old - he should want to play. He's a competitor, so I understand.''
After last season ended, Hackenberg sat down with Jeremy Bates, the Jets' quarterbacks coach and new offensive coordinator, about things the youngster needed to work on. Hackenberg acknowledged that he developed ''some inefficiencies, some bad habits'' and discussed shortening his throwing motion.
Hackenberg met with former NFL quarterbacks coach David Lee and went over several things before Lee pointed him in the direction of personal coach Jeff Christensen. The two worked together for 60-plus sessions since the end of January in Chicago, Los Angeles and Kansas City with other NFL QBs such as EJ Manuel and Kevin Hogan.
''For the first time in a long time, right now, I feel that I have a solid foundation from a fundamentals standpoint,'' Hackenberg said. ''And the cool thing is, it only started about two months ago and it's only going to keep on getting better and better and better. So, I'm excited about it.''
But it won't be with the Jets, and Hackenberg will go down as one of the biggest draft disappointments in recent team history. New York spent a second-round pick on a player who never took a snap - and one who was considered, at one time, a possible future franchise quarterback.
''Any time a pick doesn't work out, I guess you can look at it as a waste,'' Bowles said. ''But when a pick does work out, it's not a waste. You learn lessons from everything you do in life. It's not just football and draft picks, so if anybody's got a four-leaf clover up their butt and that's going to work out every time, please let me know that person because it didn't work out here.''
---
For more AP NFL coverage: www.pro32.ap.org and www.twitter.com/AP-NFL
---
---