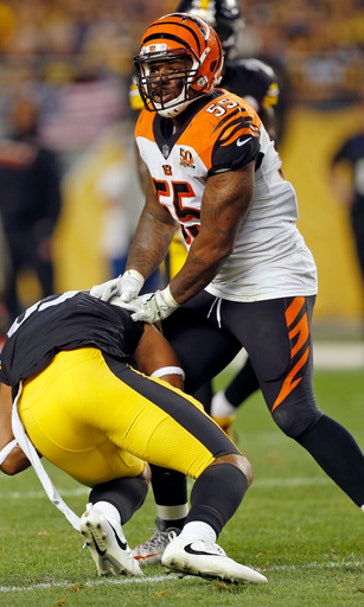 Jets' Lee fined $45K, Bengals' Burfict docked $12K for kick
October 27, 2017

NEW YORK (AP) Jets linebacker Darron Lee was fined $36,464 by the NFL on Friday for a roughing the passer penalty and another $9,115 for a facemask call in New York's loss at Miami last Sunday.
Lee, in his second season, has been fined four times this year for a total of $72,925. His late hit in Week 1 at Buffalo cost him $9,115, while an unnecessary roughness penalty against the Dolphins in Week 3 resulted in him being docked $18,231.
After the game last Sunday, Lee disagreed with the roughing the passer penalty and thought it should have been a sack of Jay Cutler, who was knocked out of the game with cracked ribs on a later hit by Jordan Jenkins. Coach Todd Bowles was asked Friday about whether Lee is a bit overaggressive at times.
''I think Darron's fine,'' Bowles said. ''He had two (penalties) and he's got to cut back. It's not like he has two every week. A lot of people had a bad day at the office, coaches included. We'll get better.''
Jets wide receiver Robby Anderson was also fined $12,154 for tossing his helmet in frustration toward the end of the 31-28 loss.
Also from that game, Miami defensive lineman Ndamukong Suh was fined $9,115 for a facemask penalty.
Cincinnati linebacker Vontaze Burfict added to his lengthy list of infractions, receiving a fine of $12,154 for kicking at the head of Pittsburgh fullback Roosevelt Nix.
Burfict avoided a suspension, but this marked the 10th time he has been disciplined by the league - resulting in more than $2.6 million that the linebacker has had to pay.
Kansas City cornerback Marcus Peters was fined $9,115 for the unnecessary roughness hit that caused the flare-up last week against Oakland, and resulted in Raiders running back Marshawn Lynch being suspended for a game.
Tampa Bay cornerback Robert McClain has to pay $24,309 for his helmet-to-helmet hit on Buffalo wide receiver Deonte Thompson in the fourth quarter last Sunday. McClain ended up with a concussion and won't play this weekend as a result of the hit, which also was called for a 15-yard penalty on the Buccaneers.
Indianapolis' Jon Bostic and Green Bay's Kentrell Bruce were each fined $18,231 for horse-collar tackles in their games, while Atlanta's Adrian Clayborn was docked the same for a roughing the passer penalty against New England's Tom Brady.
New Orleans defensive lineman David Onyemata was fined $12,154 for unsportsmanlike conduct after he tried to pull Green Bay receiver Randall Cobb off a pile of players after Cobb fumbled.
Also each fined $9,115 this week were: Seattle's Mark Glowinski (unnecessary roughness), Indianapolis' Antonio Morrison (facemask), Chicago's Akiem Hicks (facemask), the Chargers' Russell Okung (unnecessary roughness) and Denver's Zaire Anderson (facemask).
---
More AP NFL: http://www.pro32.ap.org and https://www.twitter.com/AP-NFL
---
---