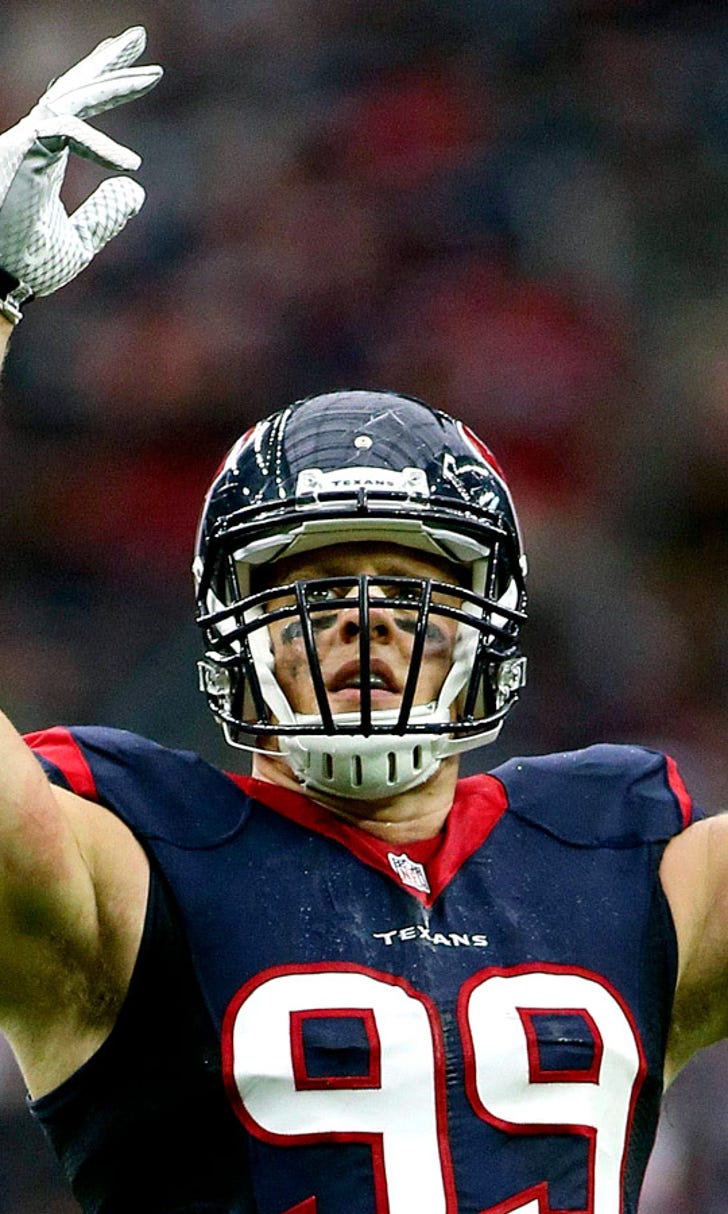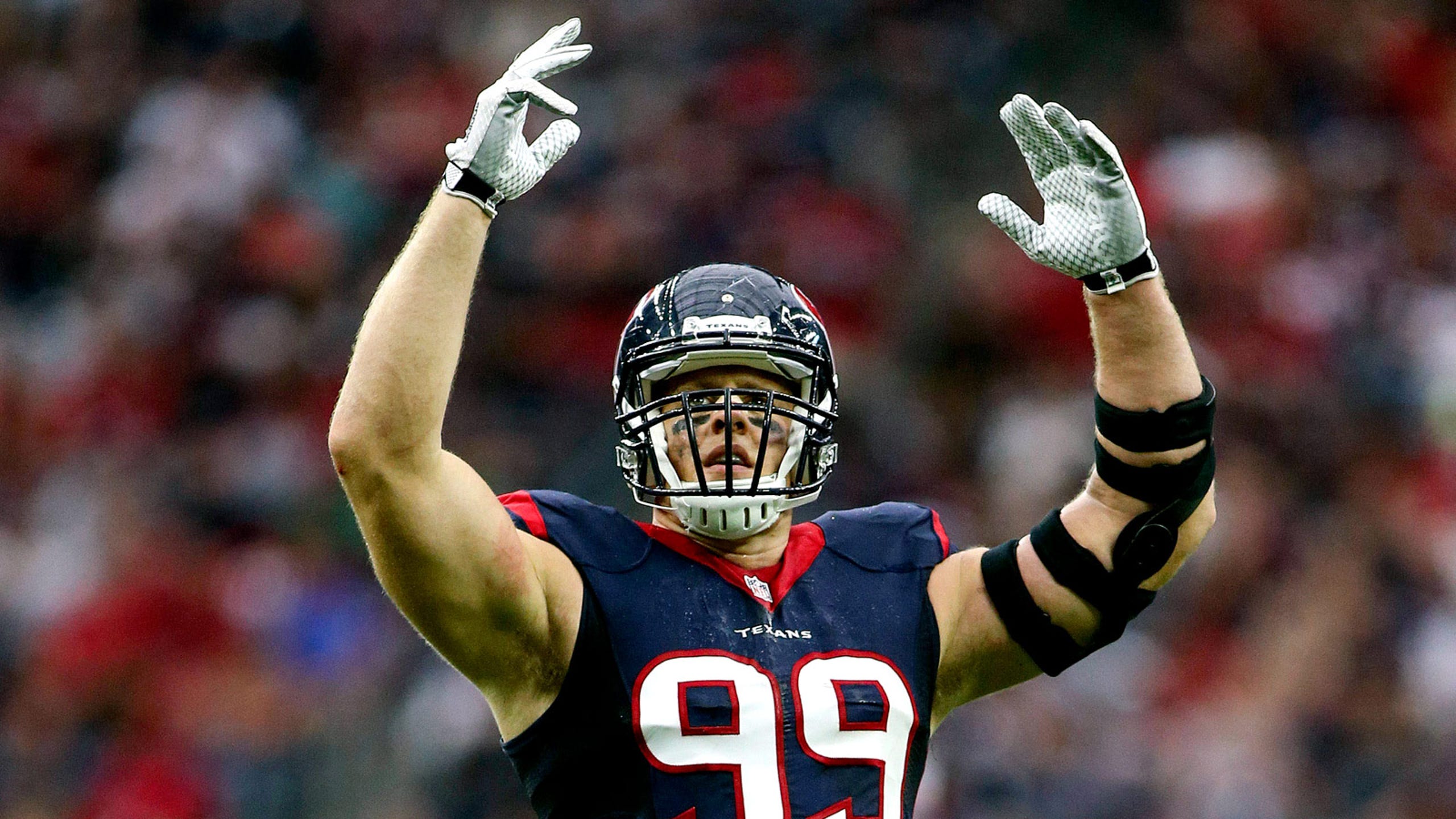 Jets face huge test in keeping Texans' J.J. Watt in check
BY foxsports • November 20, 2015
FLORHAM PARK, N.J. (AP) Ryan Fitzpatrick saw enough of J.J. Watt last season with the Houston Texans to know why he's such a force to be reckoned with.
The high motor. The athleticism. The desire to win every play in every game.
''He plays hard every snap in practice, too,'' said Fitzpatrick, traded by the Texans to the New York Jets in March. ''But it was a big difference when you're wearing a red (no-contact) jersey and he's not allowed to hit you versus when you're out there and the lights are on.''
That's what Fitzpatrick faces Sunday when the Jets take on the Texans in Houston.
No longer is he protected by practice rules. It's on New York's offensive line to keep Watt away from Fitzpatrick.
And that's certainly easier said than done. Ask just about any other team that has played against him.
''He's one of a kind,'' Jets right tackle Breno Giacomini said.
Watt was the AP Defensive Player of the Year last season after one dominant, game-wrecking performance after another. The defensive end thinks he's off to just as dynamic a start this season.
''You can go ahead and look at the stats,'' Watt said during a conference call. ''I mean, you tell me.''
Well, he has 9 1/2 sacks - one behind NFL leader Chandler Jones of New England - 42 tackles, five passes defensed and 28 quarterback hits. According to the Texans, Watt's numbers through nine games are higher for sacks, total tackles and tackles for loss (16) than at this point last season.
That's a lot of time being spent in the backfield making things miserable for quarterbacks and offensive coordinators.
''He's a high-effort player,'' said Giacomini, who will be largely responsible for keeping Watt away from Fitzpatrick. ''His pad level is great. He does a good job of reading the tackle's set. If you give him something, he's going to take it.''
Jets offensive coordinator Chan Gailey acknowledged that the Texans have been moving Watt all around the defensive line, setting up largely over the right tackle and guard, but sometimes over the left tackle and even moving inside at times.
That creates an almost manic approach to the in-game planning, just making sure there's a blocker on Watt before every snap. There's a lot of guesswork when a team has to play the percentages on where he usually lines up - but even that isn't foolproof.
''He's one of the premier defensive players in the league, if not the premier defensive player in the league,'' Gailey said. ''We were talking about it the other day and he reminds me of the way we used to have to handle Howie Long - same type of player. You have to know where he is and you have to account for him every play.''
And not only on defense. Watt has no catches this season on offense, but he caught three touchdown passes last season - and the Jets know he could add that element to Houston's goal-line attack at any time.
''We have to leave no stone unturned,'' defensive coordinator Kacy Rodgers said.
Jets coach Todd Bowles played safety with Washington and San Francisco from 1986-93, and can't recall anyone he played with or against in that era who compares to Watt.
''Before, when I watched football, he's probably a faster version of Randy White from the Cowboys,'' Bowles said. ''Maybe lighter, but probably faster.''
Bowles was then asked about Gailey's comparison to Long, a Hall of Famer who was one of the NFL's premier pass rushers with the Raiders from 1981-93.
''Howie had a motor as well,'' Bowles said. ''He may be a little more athletic than Howie and probably a little faster than Howie, but similar. You could go either way.''
Watt needs a half-sack to record his fourth consecutive 10-sack season, and 3 1/2 would give him 70 for his career - in just five seasons.
''It's not just him on that defense,'' Giacomini said. ''The whole front seven is really good. That being said, he's a hell of a player.''
Meanwhile, the Jets have allowed an NFL-low 10 sacks all season. Three of those came against Geno Smith, who filled in for Fitzpatrick after he injured his left thumb against Oakland on Nov. 1. Fitzpatrick, who had surgery last Friday to repair a torn ligament in his non-throwing hand, has shown some good ability to escape pressure and avoid sacks.
He could be on the run quite a bit Sunday - and without that red jersey on.
''I don't know if he has any weaknesses,'' Bowles said of Watt. ''He's just one of those rare players that doesn't come around very often.''
---
AP NFL website: www.pro32.ap.org and www.twitter.com/AP-NFL
---
---