Kirk Cousins
Kirk Cousins
Jay Gruden, Redskins would love to avoid past bad habits
Published
Nov. 16, 2015 4:04 p.m. ET

For the first time since 2010, the Washington Redskins have managed to avoid being 3-6 after nine games.
Not that they are a whole lot better; they're 4-5.
Still, Kirk Cousins and Co. want to try to set aside some other recent patterns, too.
''I am getting some gray hairs, that's for sure,'' coach Jay Gruden said Monday. ''We haven't been the most consistent team.''
One example: As they head into next weekend's game at Cam Newton and the Carolina Panthers (9-0), the Redskins' road record is 0-4 this season, 1-10 under Gruden.
Another example: Coming off a 47-14 walloping of the New Orleans Saints on Sunday - a victory built on Cousins' career-high four touchdown throws and perfect passer rating, along with strong defensive play to shut down Drew Brees - the Redskins are well aware that they have followed each of this season's victories with a loss.
Indeed, they haven't won two games in a row since midway through last season.
''Now it's a matter of us taking this victory and building off a victory. We've had a bad habit around here of not being able to follow up a victory with another victory,'' Gruden said after Sunday's game.
''So it's very important for us to get our frame of mind set that, `Hey, this is what we can do. We're capable of doing this.'''
From the outset of the season, it's been clear that in addition to trying to improve game plans and roster talent, the Redskins needed to change the franchise's culture.
There has been a lot of losing done by the Redskins in recent years: They've finished six of the past seven seasons last in the NFC East.
That's when happens when you keep arriving just past the halfway point of a season with twice as many losses as wins.
''For about as long as I can remember, we've been 3-6,'' Pro Bowl left tackle Trent Williams said. ''It feels great to get over that hump. We've got a long way to go. We've got a tough schedule ahead of us. This is only the tip of the iceberg. We've got to all come together and continue to play at this level.''
On Sunday, the three other division members - the Giants, Eagles, Cowboys - all lost, so Washington is tied with Philadelphia for second place, a half-game behind New York.
''There's just something going on around here,'' said cornerback DeAngelo Hall, who played for the first time since injuring his right big toe in Week 3. ''Guys (are) really starting to buy into it.''
Said Gruden: ''We're still in that process of trying to prove ourselves to everybody - and to ourselves - on a consistent basis. So Carolina will be a great, great, great test for us.''
As is usually the case in the NFL, a lot depends on the quarterback.
Cousins had his best game as a pro - 20 for 25, 324 yards, the four TDs and zero interceptions - and Gruden's news conference Monday included a series of questions connected to whether it might be time for the team to negotiate a long-term deal with the fourth-year QB.
''Obviously Kirk's a guy we'd like to keep around, no doubt,'' the coach said. ''But that'll be up to (GM Scot McCloughan) and Kirk's agent and Kirk.''
Note: LB Junior Galette was suspended without pay for two games by the NFL for violating the league's personal conduct policy. Galette will serve the ban immediately, while he is on injured reserve and ineligible to play, the league announced Monday. Galette was arrested in January after an alleged domestic dispute. Charges were dropped, but the episode remained under review by the NFL, which also reviewed a video that shows a man resembling Galette in a fight on a beach. Said Gruden: ''We were expecting something here pretty soon.''
---
Online:
AP NFL website: www.pro32.ap.org and AP NFL Twitter feed: www.twitter.com/AP-NFL
---
Follow Howard Fendrich on Twitter at http://twitter.com/HowardFendrich
---
---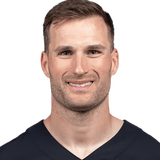 Get more from Kirk Cousins
Follow your favorites to get information about games, news and more
---