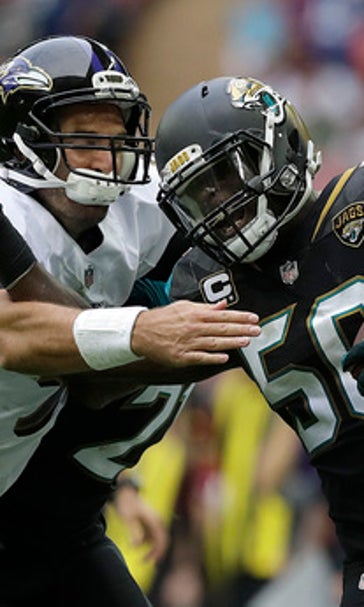 Jaguars sign LB Telvin Smith to 4-year contract extension
October 25, 2017

The Jacksonville Jaguars signed speedy linebacker Telvin Smith to a four-year contract extension Wednesday night, acknowledging that the defensive captain is an integral part of the team's turnaround.
Smith leads the Jaguars (4-3) with 58 tackles, three pass breakups and two interceptions. The fourth-year pro has been named AFC Defensive Player of the Week a franchise-record three times, including once this season after his Week 5 performance at Pittsburgh. Smith had a game-high 10 tackles and a 28-yard interception return for a touchdown.
''Telvin has been a productive player and an important part of our defense, and he has earned this second contract,'' Jaguars czar Tom Coughlin said in a statement. ''We want to identify the players who will contribute to help this team win going forward and reward those who can do that. Telvin is certainly one of those players for us.''
Since being selected in the fifth round of the 2014 draft, the former Florida State standout has 408 tackles, 22 pass breakups, 6 + sacks and six interceptions. He has started 47 of 53 games.
He currently ranks sixth in the NFL in tackles.
''It's been a privilege these last four years, and there is so much that I want to accomplish as a teammate and as an individual in this league,'' Smith said. ''We have created a bond in that locker room, and everyone is committed to our goal of winning football games. I am honored to be a part of that culture and help continue to lead this team in the right direction.''
Smith is the second Jacksonville starter to sign an extension this year, joining center Brandon Linder. The Jaguars gave Linder a five-year extension worth a little more than $50 million on the eve of training camp in late July.
---
For more NFL coverage: http://www.pro32.ap.org and https://www.twitter.com/AP-NFL
---
---