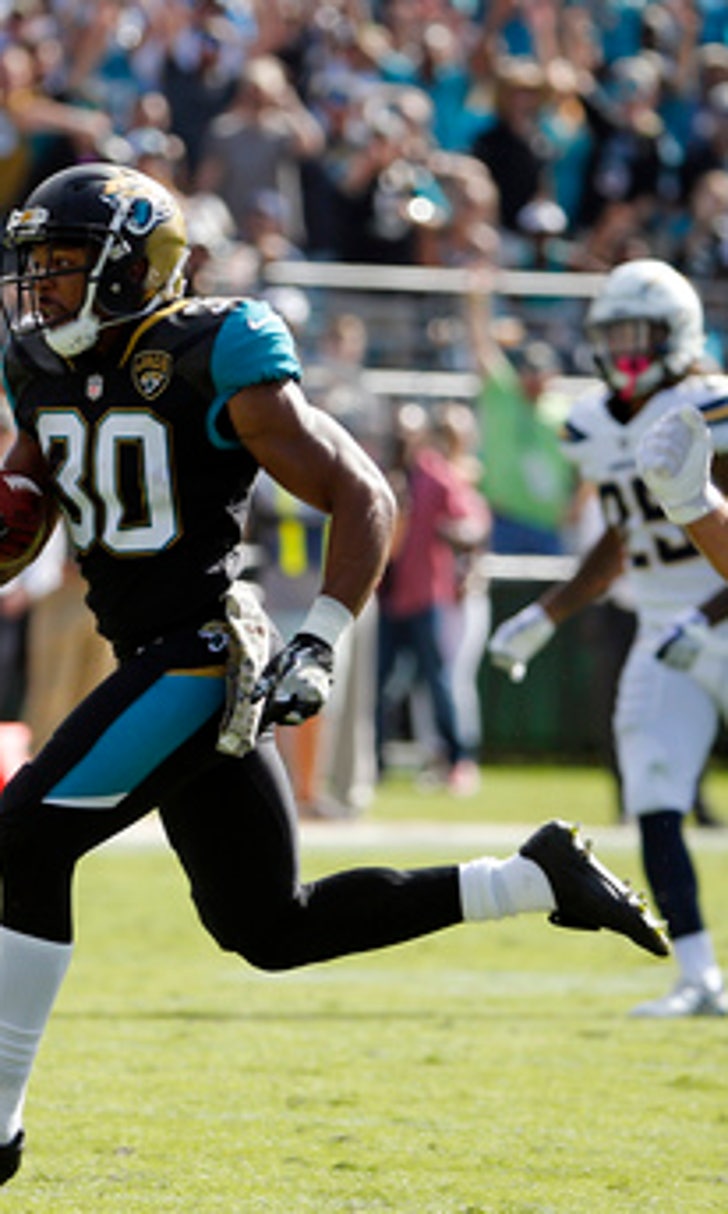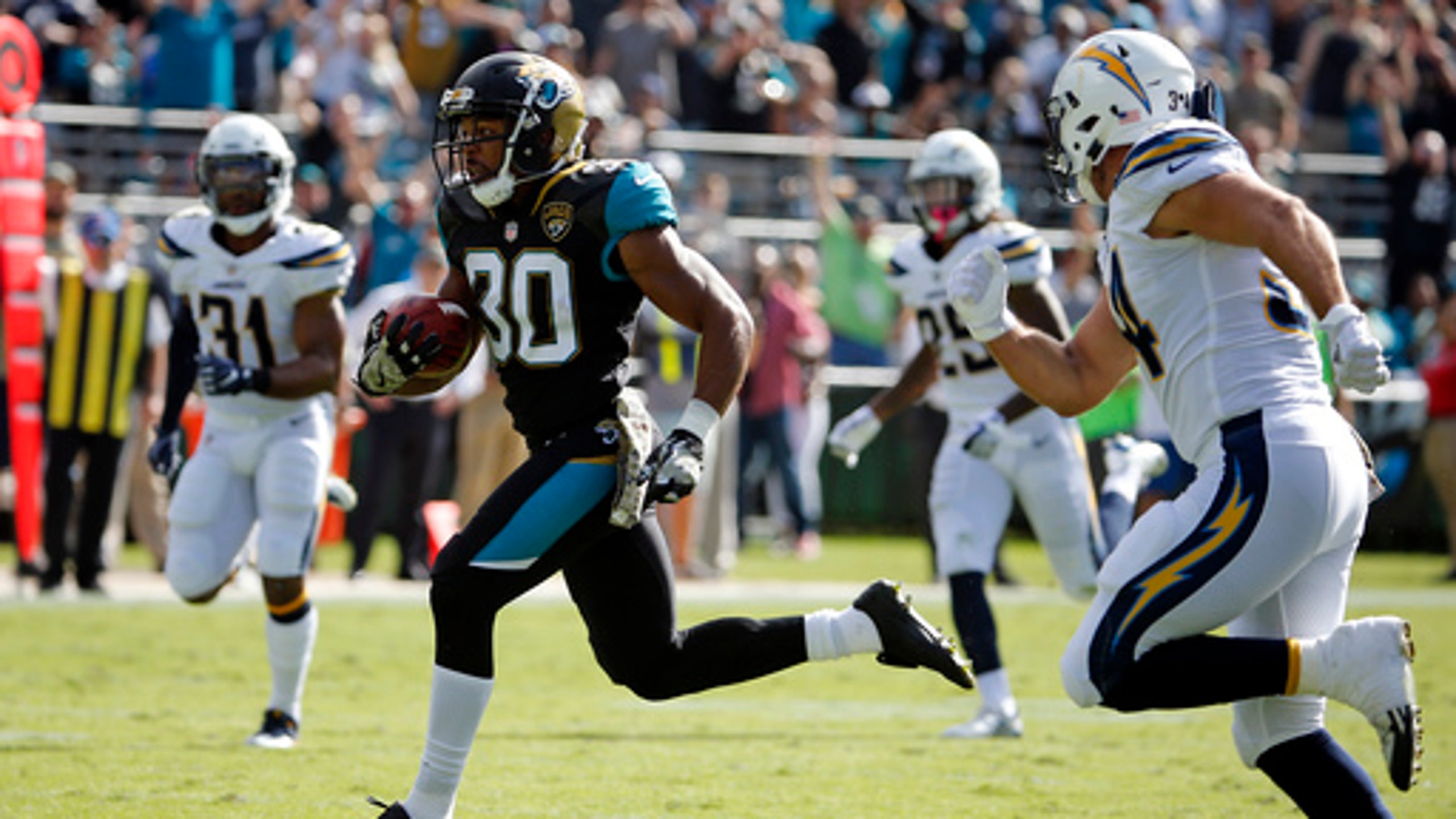 Jaguars overcome errors, rally to beat Chargers 20-17 in OT
BY AP • November 12, 2017
JACKSONVILLE, Fla. (AP) The Jacksonville Jaguars never would have been able to overcome this kind of misfortune in recent years.
Mistakes, turnovers, adversity, they had no chance.
But with soaring confidence stemming from sustained success in all three phases, the Jaguars have seemingly found a way to deal with difficult situations. There was plenty of evidence following a 20-17 overtime victory against the Los Angeles Chargers on Sunday.
The Jaguars (6-3) trailed 17-14 at the two-minute warning, threw two interceptions down the stretch and still managed to eke out a win against the Chargers (3-6).
''If any of those things, half of those things, happen two years ago, we fold and it's over,'' quarterback Blake Bortles said. ''The guys we have in the locker room that we have now, the leadership, for guys to be able to overcome adversity, overcome mistakes, overcome turnovers and lead us and do all that is pretty impressive.''
The Jaguars probably needed a victory such as this to take the next step in their development.
After all, all five of their previous wins had been by 16 or more points and decided long before the closing minutes.
''That's a difference between this team, honestly,'' receiver Marqise Lee said. ''The last 50 seconds, I wasn't worried. And not just me, the whole team. ... That's the biggest thing about this team is the last couple of years we would have one or two turnovers and things like that and we would shut down. This year's a lot different.
''We get ourselves into situations like we did and find a way to get out.''
The game went to overtime after a weird final two minutes of regulation that included a fumble, two interceptions, a taunting penalty and a costly flag for roughing the passer.
Jacksonville punted to start overtime, but the Chargers gave the ball right back - along with the game.
A.J. Bouye wrestled a deep pass away from Travis Benjamin on third down and returned it to the 2-yard line. A taunting call on cornerback Aaron Colvin pushed the Jaguars back 15 yards, but still well within Josh Lambo's range.
''I just look at it like you're trying to take food out of my daughter's mouth,'' Bouye said.
Lambo's 30-yarder gave the Jaguars a third straight win and ended a six-game losing streak in the series.
''Your true character shows when you have adversity and we had a lot of adversity today,'' Jaguars defensive end Calais Campbell said. ''Nothing's going our way, but nobody blinked. We believed and we made it happen.''
Here are some other observations from the Chargers-Jaguars game:
WHERE'S GORDON?
Melvin Gordon, who entered the game with an NFL-leading eight touchdowns, was on the sideline in crunch time. And it cost the Chargers.
Rookie Austin Ekeler fumbled while trying to run out the clock with a three-point lead in the final two minutes.
Ekeler, who turned two short receptions into touchdowns earlier in the game, had better numbers than Gordon. But having a rookie handling the ball in a crucial situation raised questions.
''I'm sure he's beating himself up over that fumble,'' coach Anthony Lynn said. ''But he made some great plays, too. He was one of the reasons why we were in the game. So he's just going to have to learn from it and keep it moving.''
FOR GRANTED
Jaguars running back Corey Grant had a 56-yard touchdown run on a fake punt in the first quarter. It was his second huge gain on a fake punt this season and put him in elite company.
Grant has two runs of at least 50 yards on fourth down this season, which is as many as all other active players have combined in their careers. Buffalo's LeSean McCoy and Kansas City's Albert Wilson have one such run each.
DEFENSIVE MELTDOWN
Lynn was frustrated with safety Tre Boston, who inexcusably ran out of bounds at the 10-yard line following his second interception late in regulation. Jacksonville had three timeouts and got the ball back in good field position.
''That was one of the dumb things,'' Lynn said. ''Never seen it before.''
PERRYMAN RETURNS
Chargers linebacker Denzel Perryman played his first game of the season following an ankle injury and did some good and some bad.
He finished with a team-high nine tackles, but also whiffed trying to stop Jaguars rookie Leonard Fournette on one play early.
''I made some plays and missed a couple of tackles, and I got to get that down,'' Perryman said.
BRADLEY RETURNS
Former Jaguars head coach and current Chargers defensive coordinator Gus Bradley returned to Jacksonville 11 months after being fired. Bradley, who went 14-48 in three-plus seasons in Jacksonville, saved most of his reunions for after the game.
He had a lengthy embrace with Jaguars linebacker Telvin Smith afterward and spent time with a number of players and coaches.
---
For more NFL coverage: http://www.pro32.ap.org and http://www.twitter.com/AP-NFL
---
---