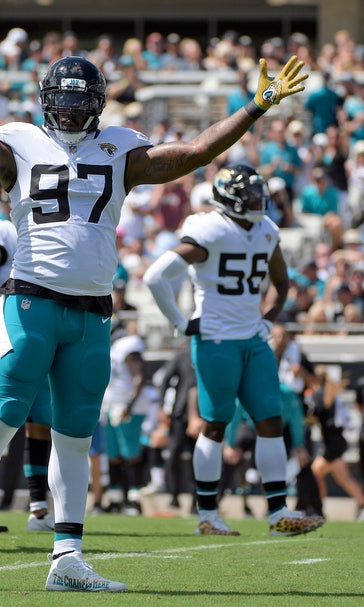 Jags D 'licking our chops' for matchup with rookie Darnold
September 27, 2018
JACKSONVILLE, Fla. (AP) — Tashaun Gipson says the thought of facing rookie quarterback Sam Darnold has Jacksonville defenders "licking our chops."
The Jaguars (2-1) host Darnold and the New York Jets (1-2) on Sunday, and Jacksonville's brash defenders expect the matchup to be a mismatch.
"It's a fun time," said Gipson, a safety who made the Pro Bowl in 2015. "The scary part about it is he's going against a very experienced secondary, the best in the league. The greatest part about it is if we don't get to him, the D-line will get to him. We're all licking our chops."
The Jaguars have one of the best defenses in the NFL, a star-studded group that finished second in points, yards, interceptions and sacks in 2017. The unit currently leads the AFC in scoring, giving up three touchdowns and allowing 14.6 points a game.
Darnold, the youngest quarterback to start a season opener in the league's modern era, has thrown five interceptions and been sacked seven times in three games. He also has three touchdown passes.
"I'm pretty sure fantasy (owners) are going to be drafting our defense this week," defensive tackle Malik Jackson said. "It's up to us to go out there and do what we need to do."
Gipson and Jackson also praised Darnold for his poise, especially in the season opener against Detroit. Darnold's first NFL throw was intercepted and returned for a touchdown . He bounced back with two touchdowns in a 48-17 victory.
"He looked like an eight-year vet in that game," Gipson said. "Cleveland and Miami, they were able to get after him a little bit, get him rattled a little bit. At the end of the day, he's a young guy. It's growing pains. It's part of the game. I feel like if we can get him off his mark, kind of get him rattled, whether it's on pressure or tight coverage, I think we'll have a good day."
Added Jackson: "You can sit here and say, 'On paper, we look good.' But we all saw last week when the (Minnesota) Vikings went out there and played (Buffalo). It doesn't matter."
Bills rookie quarterback Josh Allen accounted for three scores in a 27-6 win at the Vikings.
The Jags faced just two rookie quarterbacks during coach Doug Marrone's first season, winning both.
Cleveland's DeShone Kizer completed 16 of 32 passes for 179 yards, with a touchdown and two interceptions in a 19-7 loss. He also was sacked five times and lost two of three fumbles.
Houston's Deshaun Watson came off the bench in the 2017 opener and completed 12 of 23 passes for 102 yards and a score in a 29-7 loss.
"Rookies throw interceptions. They hold the ball a little longer. They just do things that a savvy quarterback that's been in the league three, four years doesn't do," Jackson said. "They just do things that they don't know any better of doing."
Jacksonville's defense has done plenty of talking all season , but also has been a little slow to pile up numbers.
The D returned an interception for a touchdown in the season opener at the New York Giants, but has been relatively quiet since. Pro Bowl defensive end Yannick Ngakoue is still looking for his first sack, and the highly touted secondary — A.J. Bouye, Jalen Ramsey, Barry Church and Gipson — has yet to notch an interception.
"Any secondary that's been catching picks this year, I just got to tell them, 'Calm down,'" Gipson said. "Their ceiling can only be the second-best secondary in the National Football League no matter what. ... "It's time for us to get our hands on the rock. We're all itching for that opportunity. Once that first one comes, they're just going to continue to come and they come in bunches, man, as we seen last year.
"We're not pressing about it. We know our opportunity is going to come."
Maybe it happens against Darnold.
"If you go in looking at he's young, he's this, he's that, the guy will come out and blast you," Jaguars linebacker Telvin Smith said. "You've got to understand that we don't have much tape on him. You've got college tape and stuff like that. Again, respect any man that lines on the other side of that ball. But at the same time, there better be respect on that side of the ball."
---
---