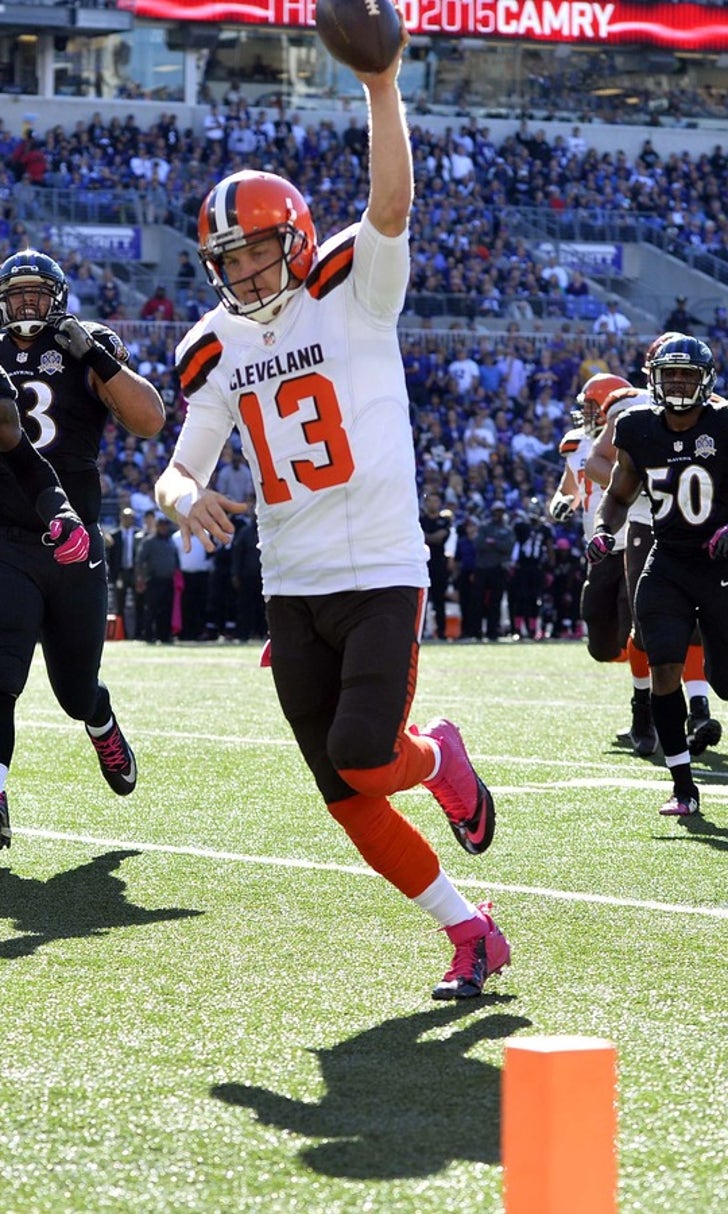 It's more fun to win, but Browns flaws still exist
BY foxsports • October 13, 2015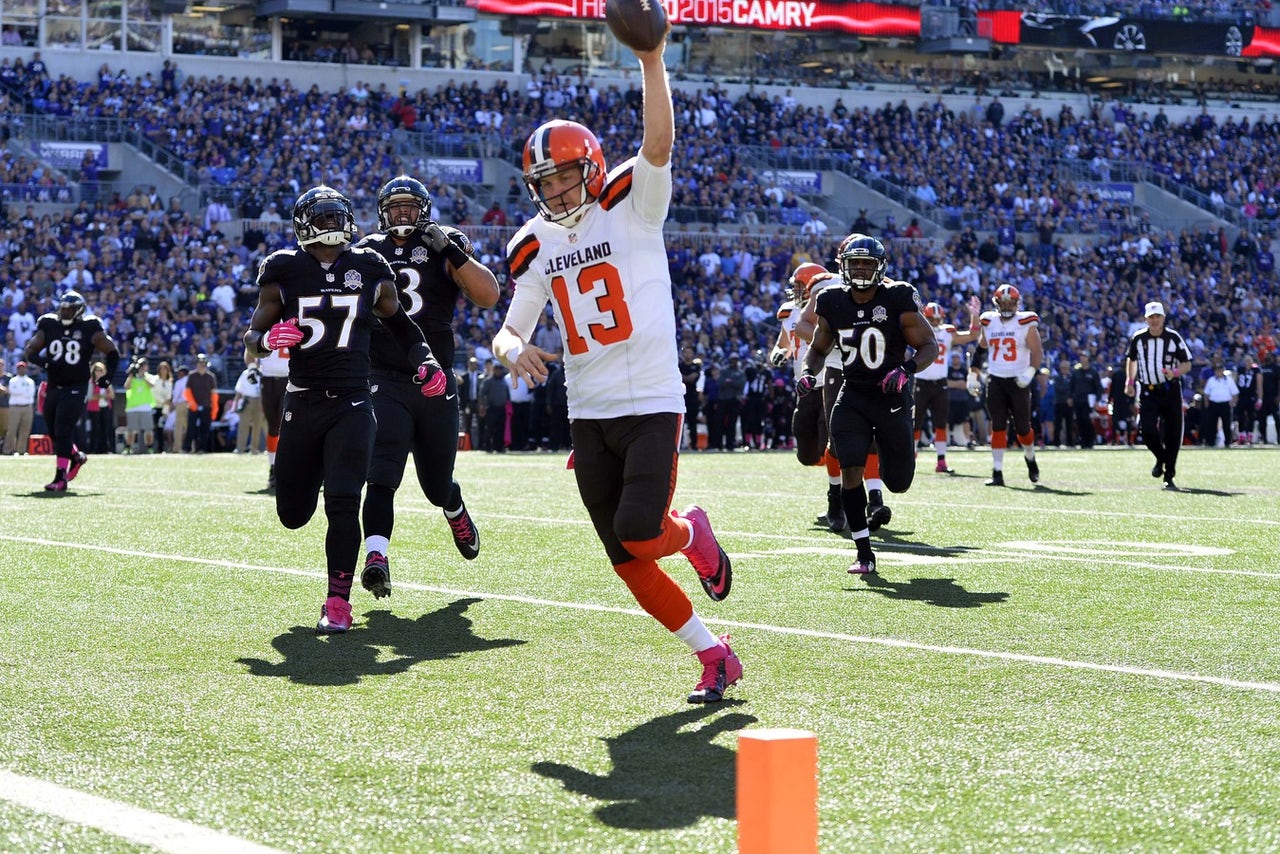 By Craig Lyndall
It's more fun to be broken in the shadow of a win. The Cleveland Browns are still very much incomplete or maybe even fundamentally broken. The fact that they beat the Ravens by three points in overtime doesn't do anything to indicate otherwise, but it sure feels more fun to talk about this week, doesn't it?
Let's talk about the issues that continue to plague the Browns on defense. (We have to get this out of the way if we're going to have any fun talking about the offense.) The Browns defense continues to get torched for big plays. Justin Forsett was a monster with a 22-yard run and a 32-yard reception next to his name before he exited the game with an ankle injury. And who among us thinks the Browns get a chance to win in overtime if he doesn't get injured? Also, Kamar Aiken was targeted nine times and made four catches, including one for 48 yards. Javorius "Buck" Allen had a 44-yard run as well. These big plays are a problem for the Browns in a way that doesn't seem like it's fixable within the season.
To compound the issue, these big plays happened in a week when the Browns defense was healthy. Joe Haden continues to struggle with injuries and he exited the game after getting his arm yanked Kevin Love-style. Now he's got a concussion to boot. Desmond Bryant was back along with Scott Solomon and it really felt like the Browns were more physical at the point of attack for much of the game. As always, the issues are about consistency. Across Danny Shelton, Desmond Bryant, John Hughes, Armonty Bryant, Paul Kruger, Nate Orchard, and even Jamie Meder, there are occasional moments where the Browns appear to have put it all together.1 But just when you feel good, the Browns front gives up a hole big enough for the team bus to drive through.
Is it scheme? Is it personnel? Is it consistency? The answer is yes. Somehow despite all this and a very rookie-ish game by Danny Shelton in which he picked up two 15-yard penalties, the Browns' defense did enough to win once they knocked Justin Forsett out of the game.
Which brings us to Josh McCown. The 36-year-old is setting records and playing the exact kind of football you want him to play. He's not putting himself in harm's way running the ball. He's getting the ball out quickly. He's taking what the defense gives him, whether it's running backs leaking out into space or Gary Barnidge clowning middle linebackers in coverage. It's only disappointing in that you can't place the future of your franchise in a 36-year-old.
There's good news there too, and this speaks to the Browns' choice to go out and get Josh McCown rather than bring back Brian Hoyer or some other quarterback. The Josh McCown acquisition appears — intentional or not — to really play to Johnny Manziel's future. The offense that the Browns ran to beat Baltimore is very much a recipe that could work for Manziel as well. Short passes and handing off with a quick diagnosis of whether the Ravens were blitzing into the running game seems doable for Manziel as it has been for McCown. Executing that gameplan and then taking the top off the defense via play-action a couple times is exactly what Manziel used to beat the Tennessee Titans in Week 2. Shockingly enough, the McCown performances look like a more experienced version of what Manziel can do. If you thought McCown and Manziel were going to end up being this stylistically similar, you're probably lying.
After that, I'm just ecstatic to see John DeFilippo use the weapons he has to their fullest. We have watched too many coaches like Pat Shurmur fail miserably to maximize what they were given over the years. In Flip, Browns fans are seeing a guy who doesn't seem to waste any time bemoaning the lack of a true number one receiver. He also doesn't bemoan the inability of the team to run the ball. Instead he calls 51 smart passes from Josh McCown.
I never thought I would look at Josh McCown throwing the ball more than 50 times in a game and not have any problems with it, but I don't. Here's why: Eight of those passes were to running backs Duke Johnson and Isaiah Crowell. Another few were passes into the flat to receivers who were given a chance to make yards after the catch. Those are good passes that provide a reasonable alternative when you have difficulty running the ball. Yes, they're 51 passes, but they're not 51 passes out of a seven-step drop.
Just for reference, seven times in his career Brandon Weeden was asked to throw 40 or more times. Three of those seven games were when Weeden was a rookie. In two of those games, Shurmur asked him to throw more than 50 times. The Browns lost all seven of those games. In the games that Weeden won as a starter, he attempted 27, 36, 26, 29, and 30 passes. It's hard to imagine John DeFilippo handling Brandon Weeden as poorly as he was handled by Pat Shurmur — and I realize how low a bar that is.
This is the nature of having what you hope is an in-between NFL team. For the last few years, I've held the Browns to the standard of winning eight games. They missed a year ago and the trend of how their season went was troubling. This team isn't ready to compete in the division or for the playoffs year-in and year-out, but winning a game against the Ravens is helpful. It doesn't prove that the Browns aren't broken, but it shows that even in that state, maybe they can be a middling professional-caliber football team along the way. It might mean that they have more guys who will be part of the solution than part of the problem. It might mean that the Browns will be able to earn some of that much-needed stability from the top down, rather than just having it granted by a flawed owner who must prove that he's scratched the itch on his trigger finger.
It's not all that much fun to talk about, but it's a hell of a lot more fun to talk about after a win over Art Modell's despicable Ravens.
More from Waiting For Next Year:
---
---