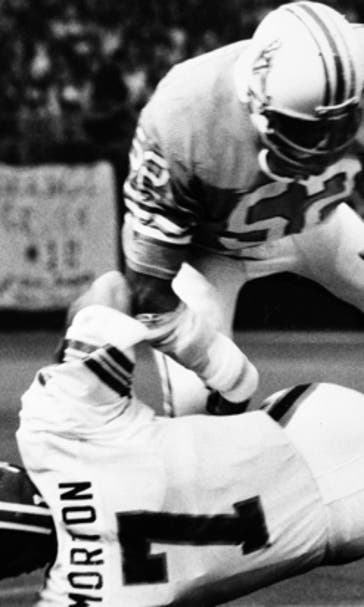 HOF Preview: Brazile, from 'Dr. Doom' to special ed teacher
August 2, 2018
HOUSTON (AP) Robert Brazile was so feared as a linebacker during his career with the Houston Oilers that he earned the nickname Dr. Doom.
In his retirement he found contentment in a vastly different line of work that he believes was even more challenging than chasing down quarterbacks for a living.
''It was more difficult being a teacher,'' he said. ''I was a middle school special ed teacher and it was a challenge every day to find out something to build the trust, the love and the care for these kids.''
Though he loved football and enjoyed his time in the NFL, the 65-year-old Brazile admits working with children was more fulfilling.
''If I had to choose it all over again, I would love being a teacher more than a football player,'' he said.
Though he turned in his Dr. Doom persona decades ago for the role of Mr. Brazile, he'll revisit the success of his first career on Saturday when he'll be one of eight men inducted into the Pro Football Hall of Fame.
Brazile was drafted sixth overall in 1975 out of Jackson State, two picks behind teammate and fellow Hall of Famer Walter Payton, and was voted Defensive Rookie of the Year. He was the anchor of the 3-4 defensive scheme which coach Bum Phillips used and was a Pro Bowl selection in seven straight seasons from 1976-1982. He also earned a spot on the NFL's All-Decade team of the 1970s.
The 6-foot-4, 241-pound Brazile was one of the first players to rush quarterbacks from the outside linebacker position. Many, including Phillips, believe his work paved the way for the success of other stars at the position such as Lawrence Taylor, who was drafted six seasons after Brazile.
Phillips, who died in 2013, was fond of saying that Brazile was ''Lawrence Taylor before Lawrence Taylor.''
''Robert was the forerunner of the Lawrence Taylor era,'' Phillips said in a radio interview before his death. ''They remember Lawrence Taylor, but Robert was a guy that proved that you could do that in the NFL. Everybody said `You can't run a college defense in pro ball.' But you can, and we did.''
With running back Earl Campbell and quarterback Dan Pastorini leading the offense, Brazile headlined a defense that helped the Oilers to some of their most successful seasons. Houston reached the AFC championship game in consecutive seasons in 1978-79 before falling to the Pittsburgh Steelers both times.
Brazile fondly remembers the throngs of `Luv Ya Blue' fans, with most decked out in the team's signature powder blue duds, waiting to welcome the team home after those difficult losses. It's estimated that more than 55,000 fans filled the Astrodome for ''homecoming rallies'' after both defeats.
''There are days and times now where I sit in the corner and just think about all the great memories about (those games) and the great turnout of people that supported us,'' he said. ''I've just always wondered if we would have won ... against Pittsburgh, how many people would have been in the Astrodome.''
Brazile's early years with the Oilers were made special by the presence of Phillips, the cowboy-hat-wearing, folksy-talking Texan, who was fired after the team lost in the wild-card round in 1980.
''Bum was such an organizer of men,'' Brazile said. ''He treated us like his boys, but he also treated us like a man. We could go to Bum with any problem, anything that we had on our mind. We trusted in him and he trusted in us, and that's what made us so unique, that Luv Ya Blue group.''
Brazile spent his entire career with the Oilers, retiring after the 1984 season when he was 31. He is credited with 11 career sacks, but certainly had many more; sacks didn't become an official statistic until 1982.
Brazile is a senior selection into the Hall of Fame, which honors those whose careers ended at least 25 years ago. After waiting so long to get the nod, Brazile can hardly wait for Saturday's induction.
''I've got a grand speech for the Hall of Fame that I hope everyone enjoys,'' he said, ''and I'm going to embrace it all.''
---
For more NFL coverage: http://www.pro32.ap.org and http://www.twitter.com/AP-NFL
---
---