J.J. Watt
J.J. Watt
Halfway to NFL awards: decisions and lots of candidates
Updated
Mar. 4, 2020 4:42 p.m. ET
By the time every NFL team has played eight games, there are some heavily established favorites for The Associated Press NFL awards that are handed out on Super Bowl eve.
Not this year.
MVP? Lots of candidates — and not just quarterbacks.
Coach of the Year? Nearly every division has a contender.
Comeback Player? Some likely Hall of Famers are in the mix there.
So the AP polled a few of the 50 voters for the awards, including genuine Hall of Famer James Lofton. The theme was clear: There isn't much clarity as we head into the final eight weeks of the schedule.
MVP
This honor has gone to a quarterback the past five seasons and 10 of 11. Two running backs, Adrian Peterson in 2012 and LaDainian Tomlinson in 2006, broke through the QB domination in the past dozen years.
Lofton and some others select Chiefs quarterback Patrick Mahomes.
"So good you just can't take your eyes off of him," the CBS analyst says.
"Maybe this opinion changes next week, given the stellar competition that includes (Todd) Gurley and (Drew) Brees," adds USA Today's Jarrett Bell. "Maybe not, as the kid keeps showing up. A first-year starter as quarterback? Hey, Mahomes is like the new Kurt Warner."
Paul Domowitch of the Philadelphia Daily News opts for Brees. Charean Williams of Pro Football Talk prefers Gurley.
Don't forget about Tom Brady, Adam Thielen or Philip Rivers, and perhaps even a defensive force such as J.J. Watt.
COACH
Another wide-open field headed by, according to Jenny Vrentas of Monday Morning Quarterback, Kansas City's Andy Reid.
"I selected Andy Reid ... for his ability to seamlessly transition from Alex Smith to Mahomes," Vrentas explains. "He's been so invested in Mahomes' development that he sits with him on the bench in between offensive series, going over what they see and how they'll attack the opponent next. Reid has demonstrated an ability to keep his offense fresh and tailored to his players, updating his West Coast system with spread concepts pulled from the college ranks."
Bob Glauber of Newsday points to last year's winner, Sean McVay of the Rams.
"He's one of the brightest minds in the game, and at 32, is proving not only to be a brilliant play caller, but an exceptional leader as well," Glauber says.
Not far behind in our little poll: the Saints' Sean Payton, the Texans' Bill O'Brien, the Bears' Matt Nagy, and the Chargers' Anthony Lynn, whose team "plays a road game every week," Lofton notes.
COMEBACK PLAYER
Rarely has there been such an impressive group vying for an award no one really wants to win considering the implications of a comeback.
From Watt to Peterson to Aaron Rodgers, from Andrew Luck to Carson Wentz to Deshaun Watson, from Odell Beckham Jr. to Richard Sherman — WOW!
"It's either Andrew Luck or Watt," says Williams, "but Watt has returned to being one of the best at his position. He is playing at an All-Pro and Pro Bowl level. Luck is not one of the top-five quarterbacks in the NFL and maybe not in the top 10."
Eric Adelson of Yahoo Sports goes for the Colts quarterback.
"Can't imagine the frustration he's faced," Adelson says. "A pro's pro."
Vrentas picks Watt.
"The surgery Watt had last October to put his leg back together after a tibial plateau fracture was so complicated that the surgeons couldn't even be certain that it would work, and that his leg would be able to bear the full weight of his body while running full speed," she explains. "Watt, who has nine sacks in nine games, was undeterred. He wasn't back to full strength in the season opener but has steadily gotten better each week, a scary thought for opponents."
OFFENSIVE PLAYER
Another free-for-all, with Gurley, Mahomes, Thielen, Brees, Michael Thomas and James Conner getting consideration.
"Before it's done, he could wind up as MVP," Bell says of Gurley, his choice in this category. "Ditto for Brees. Running backs don't get the same love as quarterbacks in the pass-centric environment of the NFL. But if Gurley breaks LaDainian Tomlinson's single-season TD record and the Rams keep winning big, people will have to take notice. Then again, Brees has a few records and has never been MVP."
Domowitch, a Brees supporter for MVP, puts Mahomes here. So does Williams.
DEFENSIVE PLAYER
This category could be a two-horse race between a pair of thoroughbreds previously honored with the award: Aaron Donald and Watt.
"Now that's a man who don't need no stinking training camp," Bell says of Donald.
Eric Adelson of Yahoo Sports prefers Donald, as well.
"A game wrecker on every down," Adelson says.
Adds Glauber: "Donald is a disruptive force in the middle and already has 10 sacks. The only problem for him — and the Rams — is that teams will often go to great lengths to shut him down. Thus, the constant double teams he has to fight through."
Lofton likes what Khalil Mack has done in Chicago: "Mack turned the Bears from pretenders to contenders." But this train could be a runaway for Donald and Mack.
OFFENSIVE ROOKIE
No contest.
"He's the only good thing going for an awful Giants team," Glauber says of Giants RB Saquon Barkley. "Until the Giants figure out their quarterback situation, he'll be wasted in this offense."
But not lost in the awards prognostications.
"On pace for more than 2,000 total yards — on a bad team," Adelson notes.
DEFENSIVE ROOKIE
Chargers safety Derwin James has gotten lots of love, but there's no runaway leader.
"Darius Leonard and Denzel Ward make this an interesting race for the award down the stretch," Williams says.
Glauber leans to Leonard: "Halfway through the season, he not only led all NFL rookies with 88 tackles, he led all NFL players in that category. He also has four sacks and three forced fumbles and has already won defensive rookie of the week honors twice."
---
---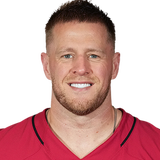 Get more from J.J. Watt
Follow your favorites to get information about games, news and more
---