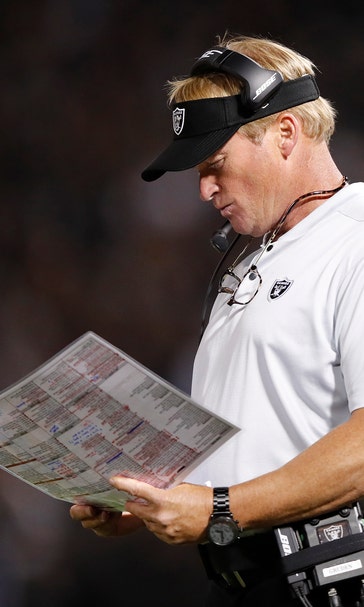 Gruden says he can pronounce Tannehill, but can he stop him?
September 20, 2018
MIAMI (AP) — With this week's game preparations completed for the Oakland Raiders, coach Jon Gruden is confident he knows the Miami Dolphins' playbook, personnel and pronunciations.
It's TAN-uh-hill.
That's not the way Gruden said the name when he was a network TV analyst talking about Ryan Tannehill.
"He always pronounced my name funny: 'Tanney-hill,'" the Dolphins quarterback recalls with a laugh.
Gruden stands corrected.
"I called him that on Monday Night Football a time or two," the Raiders' first-year coach says. "I knew a guy named Steve Taneyhill who played quarterback at South Carolina. You can't fault me; I'm human like everybody else. But I know his name now for sure."
With that issue settled, here are other things to know about Sunday's matchup between Miami (2-0) and Oakland (0-2):
KEEPING IT GROUNDED: Tannehill's name may be foremost for the Raiders' defense, but he has handed off more than he has thrown in the first two weeks. That's a big change from last year, when the Dolphins threw 64 percent of the time, the NFL's highest rate.
With Miami 2-0 for the first time since 2013, Tannehill's happy to pass less.
"I'm good with whatever is winning," he says. "Whatever scores points."
Oakland's soft run defense makes it likely Miami running backs Kenyan Drake and Frank Gore will get plenty of touches. Broncos rookie Phillip Lindsay ran for 107 yards last week against the Raiders, and they're allowing an average of 5.7 yards per rush, worst in the league.
ON TARGET: The Raiders' Derek Carr bounced back from a three-interception performance in the opener to complete 29 of 32 passes in a one-point loss at Denver. His 90.6 completion percentage was the best ever for a QB with at least 30 attempts, and would have been better if not for a key drop on fourth-and-1 by Keith Smith.
Carr says he's already able to anticipate what play Gruden will call next.
"We're building that, and it's going to take time to continue to build that," he says. "But it's kind of cool to already be thinking what he's thinking before it even comes out."
NELSON'S TURN: Oakland's biggest offseason addition at the skill positions hasn't paid off yet: Jordy Nelson has just five receptions for 53 yards.
Tight end Jared Cook was the focal point of the passing game in the opener with nine catches for 180 yards, and receiver Amari Cooper got into the act last week with 10 catches for 116 yards.
"It's just matchups and opportunities," Nelson says. "Obviously, Jared had a great game Week 1, Coop had one last week, so maybe I'm in the rotation this week."
VERSATILE: Dolphins newcomer Albert Wilson has become a multiple threat, lining up as a boundary receiver and occasionally in the backfield. He has six catches for 68 yards and a score, and four rushes for 15 yards.
"I've been around a few guys over my time who were similar, but I don't think as dynamic as what he is," coach Adam Gase says. "He's legitimately a guy that is almost built like a running back but plays like a wide receiver."
The speedy Wilson says the way he's being used takes him back to his days as a high school quarterback.
"It's just coach Gase bringing it out, just challenging me to be a better player," Wilson says. "He's definitely bringing it out of me."
PRESSURE POINT: The Raiders did a better job generating heat on the quarterback last week when they had nine pressures, compared with four in the opener, according to SportRadar. But Oakland has just two sacks, tied for second-fewest in the league.
The Raiders traded Khalil Mack before the season, and he has two sacks and 10 pressures for Chicago. Oakland is looking for a replacement elite rusher.
"It's hard to find a great one. It's hard to find a good one. It's hard to find one," Gruden says.
---
---