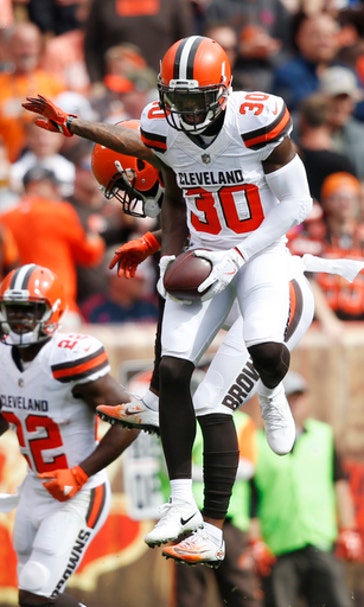 Former cornerback not bitter at Titans now he's with Browns
October 18, 2017

NASHVILLE, Tenn. (AP) The Tennessee Titans released cornerback Jason McCourty in April to avoid paying the veteran $7 million and to get younger in their secondary.
Now they get to see him again with McCourty proving he's not done yet.
The Titans (3-3) visit the winless Browns in Cleveland, and McCourty already has three interceptions compared to none for his Tennessee replacements.
''When I left Tennessee, it wasn't really about the money, it was more about the opportunity to play,'' said McCourty, who had been a mainstay in Tennessee's secondary since being a sixth-round draft pick in 2009.
''I knew if I came back I was going to be the fifth-string cornerback.
So McCourty, now 30, believed he could still play football and decided to test his chances as a free agent for the first time in his career. His goal? To compete and be a team's second or third cornerback.
McCourty has been a bright spot for the 0-6 Browns starting each game. He also has those three interceptions, including one returned for a touchdown last week against Houston , two forced fumbles and 24 total tackles this season
''I've just been happy with myself,'' McCourty said. ''I guess a little bit of it is proving to yourself that man, you can still play this game. You still are a good player.''
With McCourty gone, the Titans revamped the cornerback position in the offseason, signing Logan Ryan from New England, drafting Adoree' Jackson in the first round and adding free agent Tye Smith as a backup to holdovers LeShaun Sims, Brice McCain and Kalan Reed. Of that group, Smith has the only interception.
McCourty said he is not bitter at the Titans for wanting to move on without him.
''I remember being a young player in Tennessee and talking to the vets there that I had, they always used to tell me at some point the game will humble you,'' he said.
''It doesn't matter how good you are, what you've done. At some point, someone is going to tell you either you're not good enough, we don't want you anymore. So, you know what's to come and I think I just look back on it, just grateful for the eight years that I did have there.''
Titans quarterback Marcus Mariota has taken notice of McCourty's play with the Browns.
''He's made a bunch of plays on footballs, and he had a pick-6 last week. He's been a veteran presence that helps that secondary out and has been a game-changer for them,'' Mariota said.
Titans tight end Delanie Walker said his old teammate's play jumps off the film when watching the Browns defense.
''J-Mac is an explosive player, and he is doing it over there. You see him all over the place. He shows up on the runs, the passes. I think he's going to try to show up, especially going against us,'' Walker said.
NOTES: The Titans held running back DeMarco Murray (hamstring) and linebackers Derrick Morgan (abdominal strain) and Brian Orakpo (rest) out of Wednesday's practice. Receiver Corey Davis (hamstring) and safety Johnathan Cyprien (hamstring) did not practice and have been out for weeks. Mariota (hamstring) practiced fully.
---
For more NFL coverage: http://www.pro32.ap.org and http://www.twitter.com/AP-NFL .
---
---