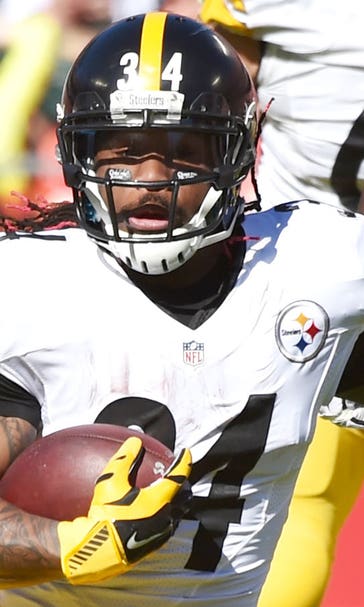 DeAngelo Williams now has starting role in Bell's absence
November 3, 2015

PITTSBURGH (AP) The Pittsburgh Steelers have to move on without injured star running back Le'Veon Bell.
Veteran DeAngelo Williams leads a group of backs that will carry the load the rest of the way after Bell, an All-Pro and team MVP in 2014, was placed on injured reserve Monday with a right knee injury suffered Sunday against Cincinnati.
''Right now, we are going to rally around DeAngelo Williams,'' Steelers' coach Mike Tomlin said on Tuesday. ''He did a great job for us the first couple weeks this season when Le'Veon was out. We will get back with him being the feature guy in our backfield, and we will supplement the others around him.''
Tomlin said Bell's knee injury was significant, but the anterior cruciate ligament is still intact. He said Bell is meeting with team doctors and the medical staff this week to discuss potential surgery, timetable and other options.
''We haven't talked openly about what the plan or course of action is for him regarding surgery,'' Tomlin said. ''Really there is no timetable. With him being on (injured reserve), we are going to do what is right and appropriate and take care of him.''
The Steelers signed Williams to a two-year contract in March to help take some of the workload off Bell. Tomlin was pleased with the 10-year veteran as he filled in for Bell, who was suspended the first two games this season for violating the league's substance abuse policy.
Williams, who holds just about every significant rushing record for the Carolina Panthers, led all AFC rushers and tied a Steelers' record with three touchdowns in one game while Bell was suspended.
''He's an established, capable guy who we know can deliver,'' Tomlin said. ''There's a great deal of comfort in knowing his capabilities.''
Tomlin said Jordan Todman is the team's No. 2 running back behind Williams. The Steelers also plan to bring 2014 third-round pick Dri Archer and eventually the newly signed Isaiah Pead into the mix.
''It's a multi-man job replacing the skillset of Le'Veon Bell,'' Tomlin said.
The Steelers signed Todman in September after he was released by the Panthers. Todman, a sixth-round draft pick in 2011, spent time with four other teams before coming to Pittsburgh where he has five special teams tackles and rushed once for 11 yards.
On Monday, the Steelers brought in Pead, a 2012 second-round pick, who played in 27 games with St. Louis before he was released in September. Tomlin doesn't plan to rush him into the rotation.
''He has a skill set that is going to help us at some point, and I emphasize at some point because he has to learn what to do,'' Tomlin said. ''We have to see how he progresses in terms of learning what to do and when he is above the line we will consider utilizing his skill set.''
Tomlin and the Steelers have to consider all options with Bell out.
''We're going to look at all the guys we have and decide what's best,'' Tomlin said.
NOTES: Tomlin said DE Stephon Tuitt (knee) and S Will Allen (ankle) are scheduled to practice on Wednesday. ... QB Ben Roethlisberger had no setbacks in his return on Sunday after missing four games with a knee injury. ... S Mike Mitchell is going through the league's concussion testing protocol and LB Terence Garvin remains out with a MCL sprain.
---
Online: http://pro32.ap.org/poll and http://twitter.com/AP-NFL
---
---