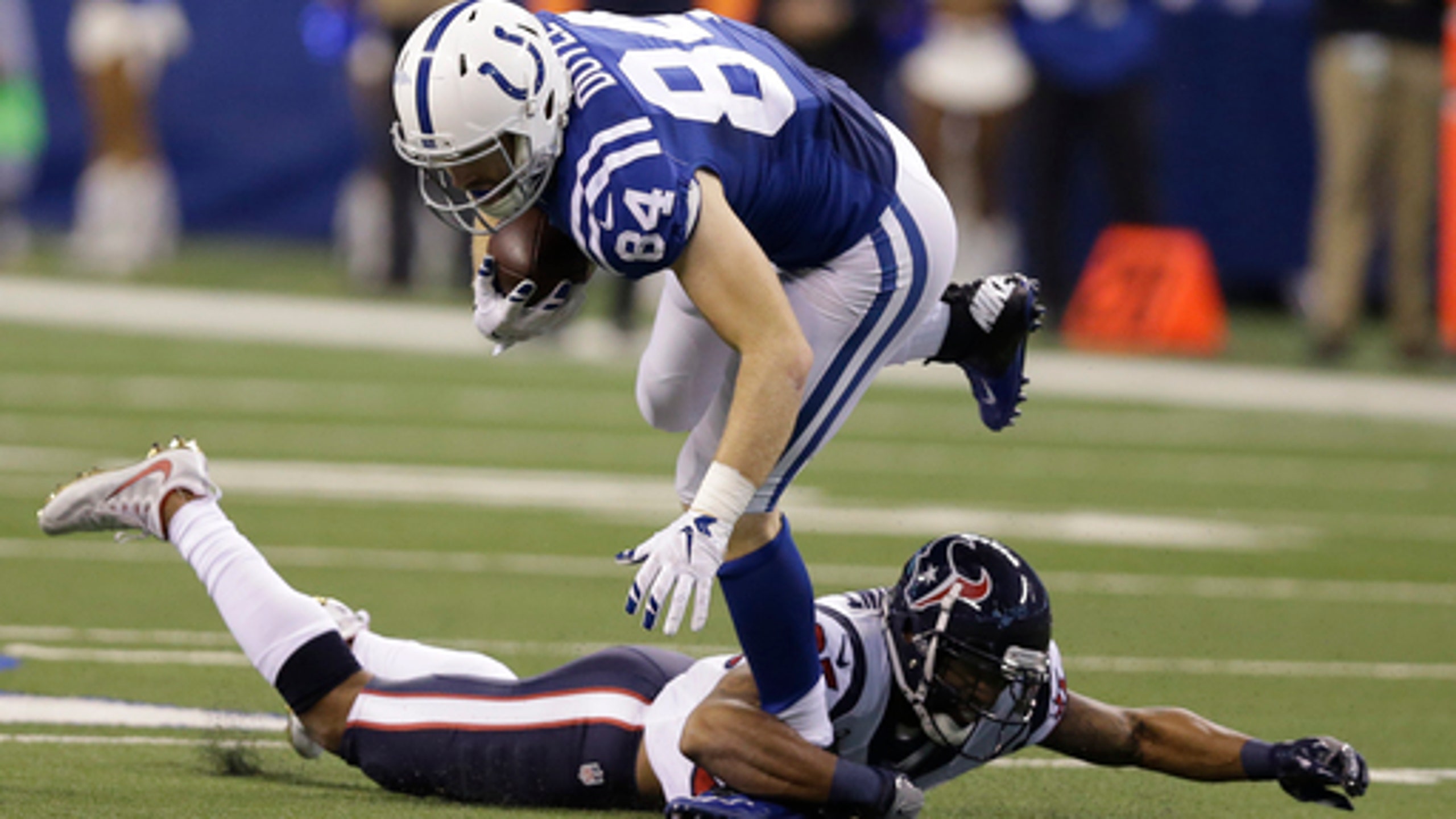 Colts will spend final 3 weeks fighting conventional wisdom
BY AP • December 12, 2016
INDIANAPOLIS (AP) The Indianapolis Colts are in trouble with three games left to play.
They're one game out of the AFC South lead, down the head-to-head tiebreaker to Houston inside the division and additional tiebreakers in the race for a wild-card spot.
Their battered roster took even more hits during Sunday's demoralizing loss to the Texans and now the Colts must spend the next two weekends on the road - at Minnesota and at Oakland - after putting themselves on the brink of playoff elimination.
Outside the team complex everyone understands that Indy is likely to miss the postseason party for the second straight year. Inside the building, nobody is making a concession speech.
''We're not out of this thing, but we have to do our part. Everybody knows what we have to do,'' linebacker Trent Cole said.
''Being in this league 12 seasons, I've seen a lot of different things, a lot of different scenarios. But we have to do our part.''
As usual, coach Chuck Pagano is fighting back with some reminders of the bouts he's already survived.
He missed 12 games during the 2012 season, his first in Indy, to battle leukemia and then coached his first playoff game without offensive coordinator Bruce Arians, who was hospitalized on game day.
The next year in the playoffs against Kansas City, Pagano watched everyone count out the Colts when they trailed 38-10 less than 90 seconds into the second half. Andrew Luck wound up leading Indy to an improbable 45-44 victory.
Last year, after losing Luck for nine games and playing five different quarterbacks, Pagano still managed to go 8-8 by winning the season finale with recently signed street free agents Josh Freeman and Ryan Lindley taking turns behind center in the season finale.
And after reports surfaced of a rift between Pagano and general manager Ryan Grigson and rampant speculation about Pagano's impending firing, both not only survived but also received contract extensions through the 2019 season in January.
So defying conventional wisdom has become the norm for Pagano and he believes his team can do it again.
''You guys all know I have great perspective on things and I always keep that perspective with me,'' Pagano said.
''As much as it (the loss) stings, it's ancient history as far coaches and players go.''
A handful of players relayed similar messages to reporters Monday.
But to prove the doubters wrong, Indy (6-7) must do something it hasn't all season - win three straight - and still get some help.
Even the players couldn't sugarcoat their frustration.
''We laid down - it's simple,'' receiver T.Y. Hilton said Sunday. ''Guys didn't make plays that were supposed to make plays.''
Pagano and cornerback Darius Butler said they believed Hilton's comment was made in the emotion of the moment and wasn't intended to be critical of teammates or coaches.
Digging out of this hole becomes even more challenging now that left guard Jack Mewhort (left knee) and starting safety Clayton Geathers will miss the rest of the season. Both were placed on injured reserve Monday.
And after failing to meet expectations with Luck healthy this season, Pagano and the Colts will likely be dealing with more speculation about the futures of Pagano, Grigson or both and whatever offseason changes could be coming.
The Colts' solution is simple: Focus on football, hope for the best and ignore the rest.
''We have these last few games and we have no idea what's going to happen,'' linebacker Edwin Jackson said. ''But we have to go out and win these last three games and see what happens. We took a big hit yesterday.''
Notes: Indy also put backup linebacker Curt Maggitt (knee) on injured reserve and filled two spots on the roster by signing veteran safety Duke Williams and promoting receiver Devin Street from the practice squad to the active roster. ... Receiver Donte Moncrief (hamstring) is listed as day to day. ... Pagano said outside linebacker Robert Mathis (biceps) is getting healthier, but that right guard Denzelle Good has not yet been cleared from the concussion protocol.
---
For more NFL coverage: http://www.pro32.ap.org and http://www.twitter.com/AP-NFL
---
---