Marcus Mariota
Marcus Mariota
Chiefs can secure playoff berth with win vs. Titans (Dec 18, 2016)
Published
Dec. 17, 2016 1:19 a.m. ET

Just one victory away from clinching a spot in the AFC playoffs, the Kansas City Chiefs host the Tennessee Titans on Sunday at Arrowhead Stadium.
Early weather predictions call for temperatures in the low teens with the wind-chill factor falling into single digits. That's cold conditions for even Kansas City in December.
The 10-3 Chiefs moved into the control seat of the AFC West with their victory last week over Oakland in similar conditions. Head coach Andy Reid's team can assure itself of at least a spot in the six-team postseason field with one more victory in the remaining three games.
"Every game is important as you go down the stretch," Reid said. "Nothing has been declared yet, so you've got to keep the pedal to the metal."
The 7-6 Titans will arrive in Kansas City with their postseason chances still alive. They share first place in the AFC South with the Houston Texans. Tennessee is coming off a 13-10 victory over Denver on Sunday in Nashville.
The man that leads the offense says the Titans will have quite a task dealing with the Chiefs' defense at Arrowhead and in the cold.
"I think they have a great defense," quarterback Marcus Mariota said. "They have a bunch of playmakers across the board. They find ways to get turnovers and when they do, they're really good at turning it into points. Up front they do a great job of doing different things, causing some identification problems and just doing things in terms of communication for an offense. You have to make sure everyone's on the same page and doing the same thing."
Mariota comes off his least productive performance of the 2016 season last Sunday against Denver. He threw for only 88 yards, completing just six of 20 passes, a completion percentage of 30 percent and an average of 4.4 yards per attempt.
That doesn't jive with his play in November, when he was named the AFC's Offensive Player of the Month with 11 scoring throws, two interceptions, a completion percentage of 66 percent and an average of 8.7 yards per attempt.
Reid has been very impressed by Mariota's overall performance this year.
"His ability to throw the football and read the defenses have come a long ways," Reid said. "Things have slowed down for him. The addition of the run game has also helped their football team. You can see that he's more comfortable now then he was when he first came in. He's healthy now too, which helps."
Kansas City is coming off a mini-bye after winning last Thursday night. That 21-13 victory over the Raiders was the third for the Chiefs in 12 days, with two of those on the road - including a 75-minute overtime decision against Denver. That was three victories by a total of 12 points.
"It was a gritty, gritty performance," Reid said. "That's a tough thing to do with that many games in that short period of time and to play at a high level against really good football teams. I think credit is due there."
But in the NFL, that's considered old news and promises nothing for the coming Sunday.
"The games just get bigger every week when you are in this situation," Kansas City quarterback Alex Smith said. "It's so close right now, you can't start counting the games and doing the math. You can't let yourself go there. We have a team coming in that's really playing good and we have to take care of our business."
For another victory, the Chiefs' defense must handle a strong Titans running game that put up 180 yards against the highly ranked Denver defense. Tennessee is also the NFL's top offense in the red zone, scoring touchdowns on 71.4 percent of its 42 trips inside the 20-yard line. The Titans are the fourth-best third-down offense, converting 46 percent of their chances.
In the season's first 13 games, head coach Mike Mularkey's team has been in the mix for victory every week. Tennessee has not lost by double digits, and it has won four games that were decided by six points or less. The Titans also are 3-3 on the road.
"Every one of these games, we've had a chance to win," Mularkey said. "They've all been close. We've won some of them. We've lost some of the close ones. I think the experience has been great for (the players.) Our guys believe we're going to win the game, no matter what the situation is."
---
---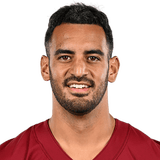 Get more from Marcus Mariota
Follow your favorites to get information about games, news and more
---