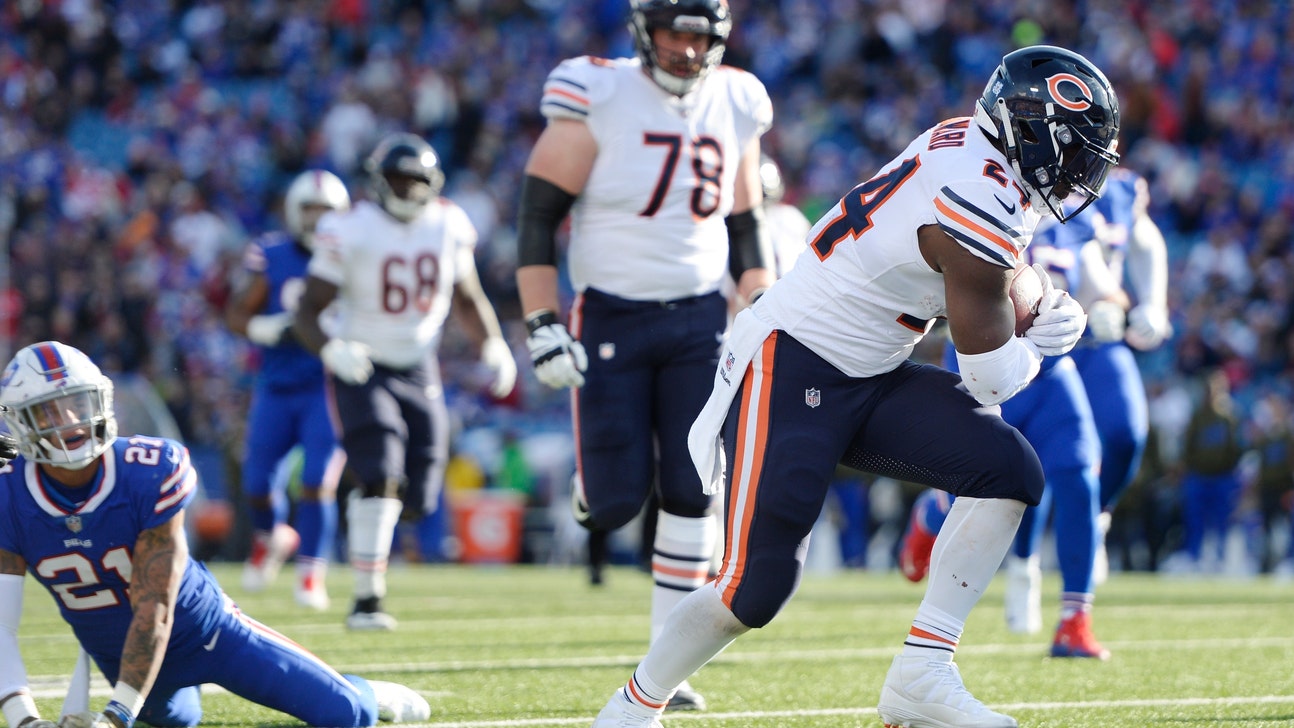 Chicago Bears rout turnover-prone Buffalo Bills 41-9
Updated
Mar. 4, 2020 11:38 p.m. ET
ORCHARD PARK, N.Y. (AP) — Linebacker Khalil Mack broke into a wide grin when it was pointed out the Chicago Bears defense didn't need him for a second straight week.
"Ha, I might be looking for another job here soon," Mack told The Associated Press.
Sidelined by a right ankle injury, Mack had plenty of reason to joke.
He had just finished watching his teammates force four turnovers, including two returned for touchdowns 3½ minutes apart in the second quarter of a 41-9 rout over the Bills in what proved to be another comedy of errors for Buffalo's anemic offense on Sunday.
Sandwiched between Jordan Howard's two touchdown runs, Eddie Jackson scored on a 65-yard fumble return and Leonard Floyd returned a tipped pass during Chicago's decisive 28-point second-quarter surge.
"It's always great to go out and perform the way we did," linebacker Roquan Smith said. "We definitely did focus on getting the ball out, and we knew when they do come, they come in bunches. So that was one of the main things."
The only disappointment, perhaps, was becoming Buffalo's first opponent in three weeks to give up a Bills touchdown. It didn't happen until quarterback Nathan Peterman scored on a 1-yard run with 5:41 left.
It was the first TD run the Bears have allowed this season, and it ended the Bills' touchdown drought at 187 minutes and 19 seconds — dating to Peterman's 16-yard pass to Zay Jones in a 20-13 loss at Houston on Oct. 14.
The Bears, coming off a 24-10 win over the New York Jets, won their second in a row and improved to 5-3 to match their best start to a season through eight games since 2013.
And the Bears are winning without Mack, the 2016 NFL Defensive Player of the Year, who was acquired in a trade from Oakland just before the start of the season.
The Bills are going from bad to worse in losing their fourth straight, and dropping to 2-7 — their worst record through nine games since a 1-8 start in 2010.
Buffalo hasn't topped 10 points five times this season, and the four turnovers were one short of a season-worst. The Bills had five in a 37-5 loss at Indianapolis two weeks ago.
"I've never been on a losing streak like this," receiver Kelvin Benjamin said. "I'm frustrated now. I'm going to go home and be frustrated, but tomorrow once I come back in, try to brush it off my shoulders and get ready for the Jets."
Peterman threw three interceptions in his first start since a 47-3 season-opening loss at Baltimore. The Bills had no choice but to return to the second-year player with rookie Josh Allen missing his third game with a sprained throwing elbow and Derek Anderson sidelined by a concussion.
Peterman continued playing down to his turnover-prone reputation , though two of the interceptions weren't entirely his fault.
Newly signed receiver Terrelle Pryor caught Peterman's pass and lost control as he turned up field, with the ball landing in defensive back Adrian Amos' hands.
Three snaps into Buffalo's next possession, Peterman's hard pass over the middle struck Jones in the hand and bounced directly to Floyd, who returned it for a touchdown.
"I don't see anybody who's not trying to give it their all," Jones said. "That's just the most discouraging thing about the whole situation right now is that the effort is there."
But is the talent?
Coach Sean McDermott responded defiantly when asked if the Bills have enough talent on offense to compete.
"I believe we do," he said.
The Bills have been outscored 157-46 in their past six.
Peterman finished 31 of 49 for 187 yards and the second-year player has now thrown 13 interceptions on 133 career attempts, including playoffs.
Chicago's Mitchell Trubisky finished 12 for 20 for 135 yards with a 2-yard touchdown to tight end Trey Burton and an interception.
QUIET McCOY
Bills running LeSean McCoy remains stuck in neutral, and didn't stick around to talk about an outing in which he managed just 10 yards rushing on 10 carries, and six days after he had 13 yards on 12 carries in a 26-5 loss to New England. McCoy, who declined interview requests this week, was spotted exiting the locker room before reporters were allowed to enter.
TURNOVERS
The Bills have now turned the ball over 22 times, including 16 interceptions.
The Bears entered the game ranking second in the NFL with 11 interceptions and 17 takeaways.
INJURIES
Bears: TE Dion Sims was being evaluated for a concussion. ... WR Taylor Gabriel did not return after hurting his leg. Coach Matt Nagy said Gabriel is fine.
Bills: TE Charles Clay hurt his hamstring in the first half and did not return. ... Backup RB Chris Ivory favored his left arm while being escorted off the field after being stopped for no gain on first-and-goal from the 1 with 6:27 remaining.
UP NEXT
Bears: Host Detroit on Sunday in the first of three straight against NFC North rivals.
Bills: At New York Jets on Sunday.
---
---