Can the Broncos rough up Cam Newton like they did Tom Brady?
BY foxsports • January 28, 2016
All season Matt Chatham has been breaking down tape for FOXSports.com's NFL Game of the Week column. Now, as we shift our focus to Super Bowl 50, he will break down four key aspects that could decide if the Panthers or Broncos emerge victorious. The first in our four-part series looked at how the Panthers' pass rush will rattle Peyton Manning. Today, we look at how the Broncos defense can corral and contain Cam Newton.
The Denver Broncos came screaming off the edge in unprecedented fashion against the New England Patriots offense in the AFC Championship Game. Never have I seen two edge players like Von Miller and DeMarcus Ware beat the silent snap count so perfectly throughout a game.
They clearly had a key on the Patriots center Bryan Stork's head-bob routine, and they exploited it over and over again by jumping the snap count on the game's biggest plays -- from Miller's near-safety third-quarter sack of Tom Brady, to the critical fourth-and-1 stop in the fourth quarter, to the final two-point conversion stop to end the game.  These 1-on-1 wins were far more about anticipating and winning the snap than any particular pass rush move. 
Finding these kinds of tips and keys is huge for pass rushers, but rarely do they extend throughout a game.  Unfortunately for Denver, this kind of advantage is unlikely to be available for Super Bowl 50 for a couple reasons.  The silent count is necessary from time to time in Super Bowls where there's a mixed crowd, so potentially it can be loud for both offenses.  But often times it's not.
That said, screaming up the field against Cam Newton -- silent count tip or not -- can actually get you beat.
The Broncos know quarterbacks that can take off and roll very well, with Alex Smith a comparable scrambler in their own division.  Where Smith is similarly fast and elusive, he's 30-to-40 pounds lighter, so Newton is really a next-level version of what they've prepared for in the past. 
Against that kind of quarterback, pocket control is infinitely more important than sack totals. The risk of an aggressive up-field attempt at a sack that may garner a marginal loss is outweighed by the probability of Newton stepping up past rushers, escaping the pocket, and delivering a scramble or pass worth exponentially more yardage than the sack. 
The following example shows Miller getting an excellent get-off and rush beating the tackle, but Smith simply turns into a running back and heads back downhill for big yards, something Newton is equally apt to do (below).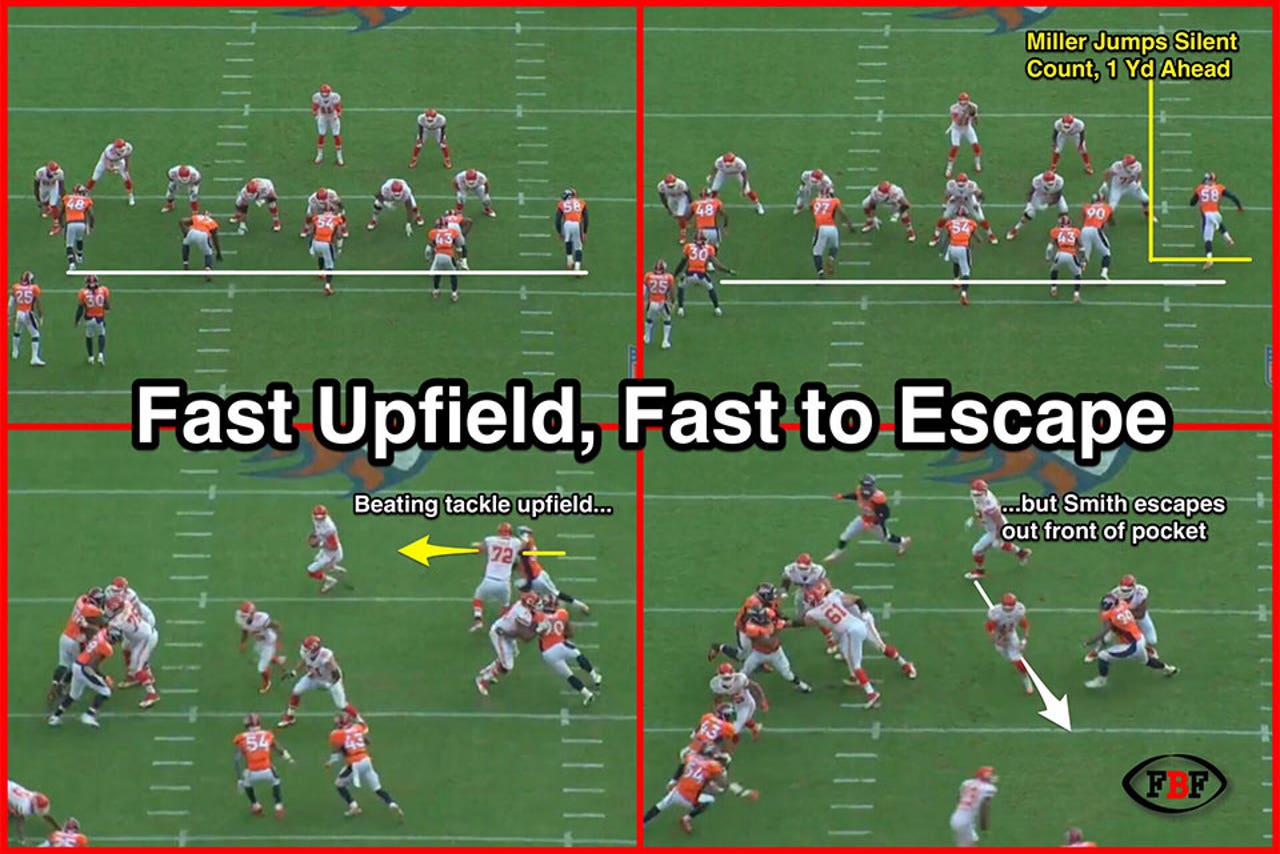 Another concern layer to pass rushing against Newton and the Panthers that's dramatically different than rushing against the team that the Broncos got past to get here is Carolina runs the football as their lead option.  Pass rush is far from the first reasonable consideration.  Because of this, edge rushers have to be aware of getting too far up field and unintentionally creating bigger running lanes.
Miller has acted as a spy or shadow player against Newton in the past, and is one of the few players on the field with the short-area quickness to run him down. That kind of role might actually be more important in this game than blasting up the field and creating a new place for Newton to leave. 
One final difference this week for Denver is formations they'll see from Carolina -- formations intended to blunt any upfield rush idea from the start.  In the example below, the Panthers adopt a double wing line that's essentially a punt protection look.   
Both of the "wings" are there to aid the offensive tackles as either a double-team partner or chip and release into the pattern. A chipping and releasing back in the wing position should make any snap count jumping scenarios moot.
The pass rush challenge for the Broncos in this game is understanding that pass rush isn't the most important part.  This game is much more about stopping the Panthers run game and preventing big plays in the passing game by pressuring Newton with him corralled and not invited to leave.
Ware and Miller might get a sack stat or two in the game, but that's less important for the Broncos' Super Bowl ring hopes than preventing Newton from getting even bigger plays in the pursuit of those sacks. 
STORIES FROM FOOTBALL BY FOOTBALL
Pocket Melt: Broncos Burned Patriots On the Edges
Rocky's IV: Pre-Super Bowl Week
VIDEO: Why the Patriots' two-point play against the Broncos failed
Will Cam Newton's Success Lure More Teams All-In on Dual-Threat Offensive Schemes?
Matt Chatham played for the Patriots and Jets for nine NFL seasons, winning three Super Bowls. He is also the founder of footballbyfootball.com. You can follow him on Twitter
---
---