Can Colin Kaepernick still play? We're about to find out
BY foxsports • October 13, 2016
A few Cowboys staffers scattered about midfield. This was 11 days ago, an hour before kickoff in Santa Clara. They were watching the Niners warm up, trying to pick up the little things football people can in these quick glimpses. Colin Kaepernick didn't look exactly like the cyborg he was when he took the NFL by storm four years ago. But skinny as he was, he threw the ball well and Dallas knew what he could do with his feet.
All of which could lead to only one conclusion.
"He didn't look his best, but he did look like their best quarterback," one Cowboys coach said. "We were happy to play against [Blaine] Gabbert instead of him."
Maybe that was a fear of the unknown. Maybe it was the idea that, somewhere deep in there, the guy who terrorized NFL defenses for a season and a half once again could be summoned. (Maybe it was just that facing the previous three weeks of Gabbert would be preferable to most anything else the Niners rolled out there.)
Whatever it was, and whatever it is, that's what Rex Ryan and his red-hot Buffalo Bills will be facing this week.
In this week's Game Plan, we'll look at why one offensive coordinator was let go (Marc Trestman in Baltimore), why another is making a big impact (Anthony Lynn in Buffalo), where you might be able to find the next Ed Reed on Saturday, and how in the heck Frank Gore has come to be the model player for a franchise he never played for.
But there's nothing as intriguing as the mystery that will unfold in Orchard Park, N.Y. on Sunday. If you let yourself get swept away in it, it's easy to forget that Kaepernick was the league's 30th-ranked passer over the 2014 and '15 seasons, and that the 49ers are 3-10 in his past 13 starts. Still, while coaches will tell you that the chances Kaepernick will reprise the 2012 version of himself are slim, that sliver of a chance of it happening is frightening, given that he's now playing in an offense tailor-made for his talents.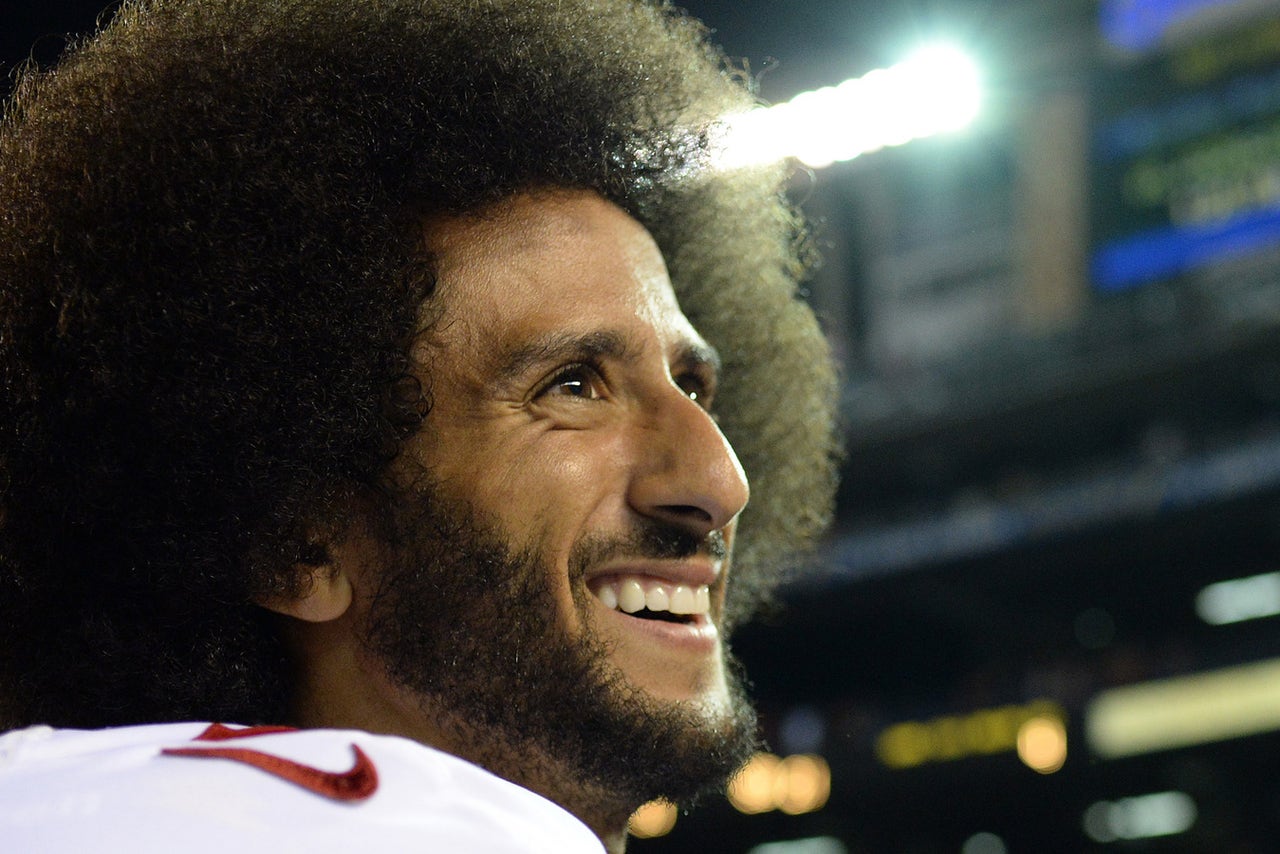 Upon the 49ers' hiring of Chip Kelly last year, one rival defensive coordinator explained it to me like this: "I think he's a good enough passer, but obviously what'll be a nightmare is his ability to run. That offense is straight Freddy Krueger when you have a QB that can pull the ball and run." Another defensive coach added that combining him with spread-friendly tailback Carlos Hyde "could be scary."
The operative word, could. I think we should all be pretty pumped to see what actually is once Kaepernick is out there. And with that in mind, here's how I see this situation, and what's on the line, for the four main characters in this special brand of horror flick (though it's unclear who will be most frightened): Kaepernick, Kelly, Gabbert and general manager Trent Baalke.
Kaepernick. Last year, at least two teams that did research on Kaepernick had serious questions about whether he even wanted to play football anymore. On the field, Kaepernick's issues as a passer manifested soon after defenses found ways to corral the Nevada-inspired pistol package former 49ers OC Greg Roman installed to establish a comfort level for the raw signal-caller.
Now, Kaepernick gets to play in a scheme that has made superstars of fleet-of-foot QBs like Marcus Mariota at the college level, and seems to be built for him. Conversely, he'll have to be a better chain-mover —€" it's a requirement of Kelly's tempo offense, because failure to pick up first downs puts the defense in an impossible spot. Improvement week to week would show he is, in fact, engaged as a football player. If he fails in a system so suited for him —€" "This offense gives him the best chance, no doubt," one Niners source said — the idea that he isn't an NFL quarterback will be bolstered. So yes, his career is on the line, particularly with free agency beckoning as a result of his new reworked deal.
One other interesting aspect is that even his coaches don't know what to expect. Because he was so limited by injury in spring and summer, they went into the season without a clear picture of who he was. The first month of the season, as the backup, he was getting about two reps out of every 10 the offense took in practice. So this is the first week they'll even get a decent look at him.
Kelly. Two days after Kaepernick's national anthem protest came to light, Kelly, Baalke and those in football ops set up a 7 a.m. meeting between the Niners' player engagement staff and squad leaders Gabbert, Hyde, Antoine Bethea, Joe Staley, Phil Dawson, Torrey Smith, Glenn Dorsey, NaVorro Bowman and Ahmad Brooks. A couple hours later, the squad leaders led a players-only meeting to discuss things.
This is why Kelly was an enormous beneficiary of Kaepernick taking a stand. In Philly, Kelly was dogged by accusations of racism, something those who know him best felt was way off-base. But those questions lingered. And maybe they'd have lingered longer if this situation didn't arise organically, giving the coach the chance to, as one Niner put it, "show who he really is."
So I think Kelly already has won with his handling of the quarterbacks over the past six weeks, even if it hasn't added up to many wins for the rebuilding Niners. On the football side of it, he's now gotten a pretty thorough look at Gabbert, and now will get one of Kaepernick.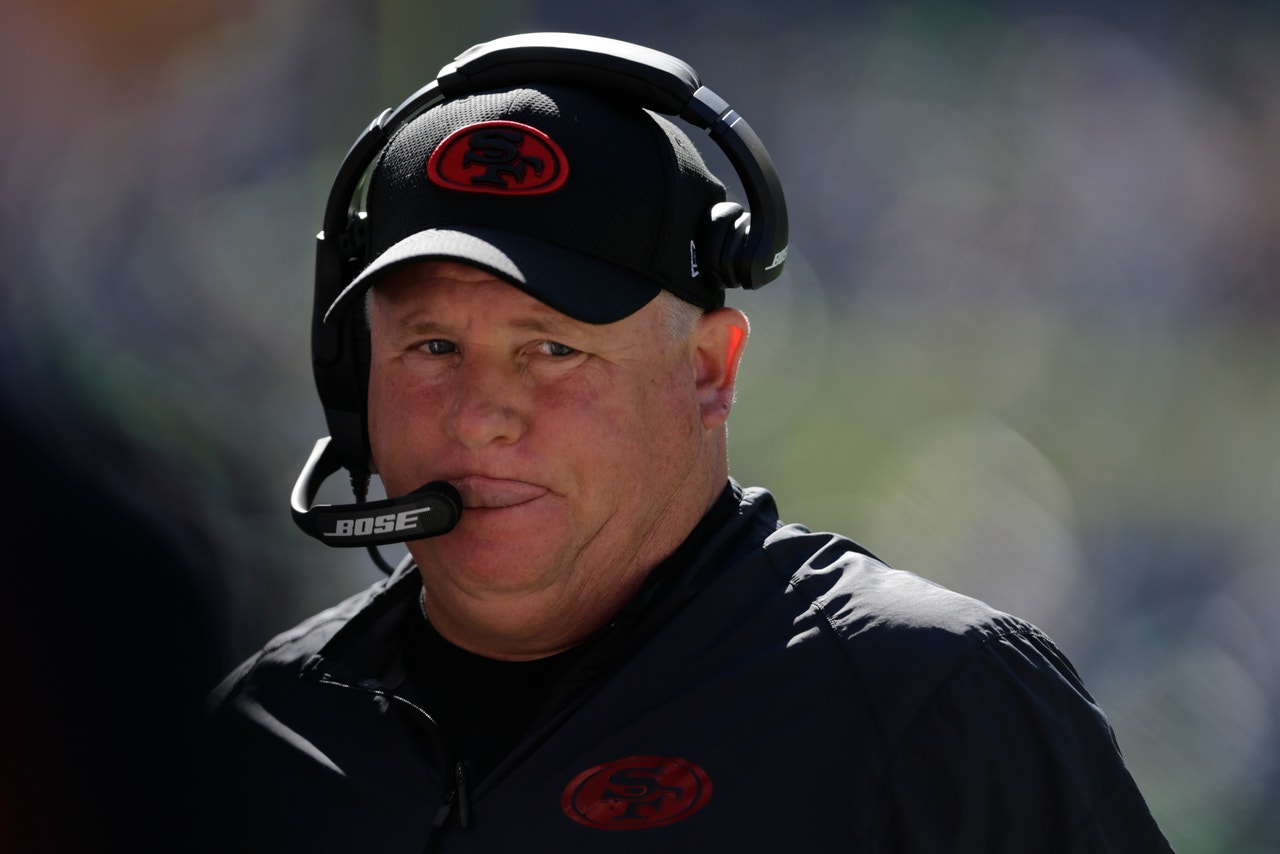 Gabbert. This one has been, to say the least, frustrating for the Niners. Gabbert has clearly grown up since his time in Jacksonville, and evolved into one of the hardest workers on the team and a leader. He looks great in practice. He has the physical skills required in Kelly's offense.
It's all there. And it just hasn't carried over to the game field.
Just as the Niners are hoping Kaepernick, who hasn't been overly impressive in practice, finds another gear under the stadium lights, they now have an idea that those game conditions reveal a different Gabbert than they were hoping for.
In the end, because of his physical ability, work ethic and the value of the position, Gabbert probably will make a lot of money as a backup in the coming years. But it's hard to envision him ever being more than a fill-in starter somewhere down the line.
Baalke. Kaepernick always has viewed himself as a Jim Harbaugh draft pick whom the GM didn't really want, and the trust issues there only metastasized with time. One source said that after last season, with the quarterback rehabbing his shoulder and his injury guarantee up in the air, "the relationship couldn't have been worse."
What I can say is that people around Kaepernick have viewed the issues there as irreparable for a few years, and I'm not sure his return to the lineup will change that.
Either way, the state of the roster —€" "It's one of the three worst in the league, along with Cleveland and Chicago," is how one rival exec assessed it —€" has Baalke in the crosshairs. And his relationships with others in the building could swing whether or not ownership decides to stay the course with Baalke, or turn to assistant GM Tom Gamble or someone on the outside to replace him after the season.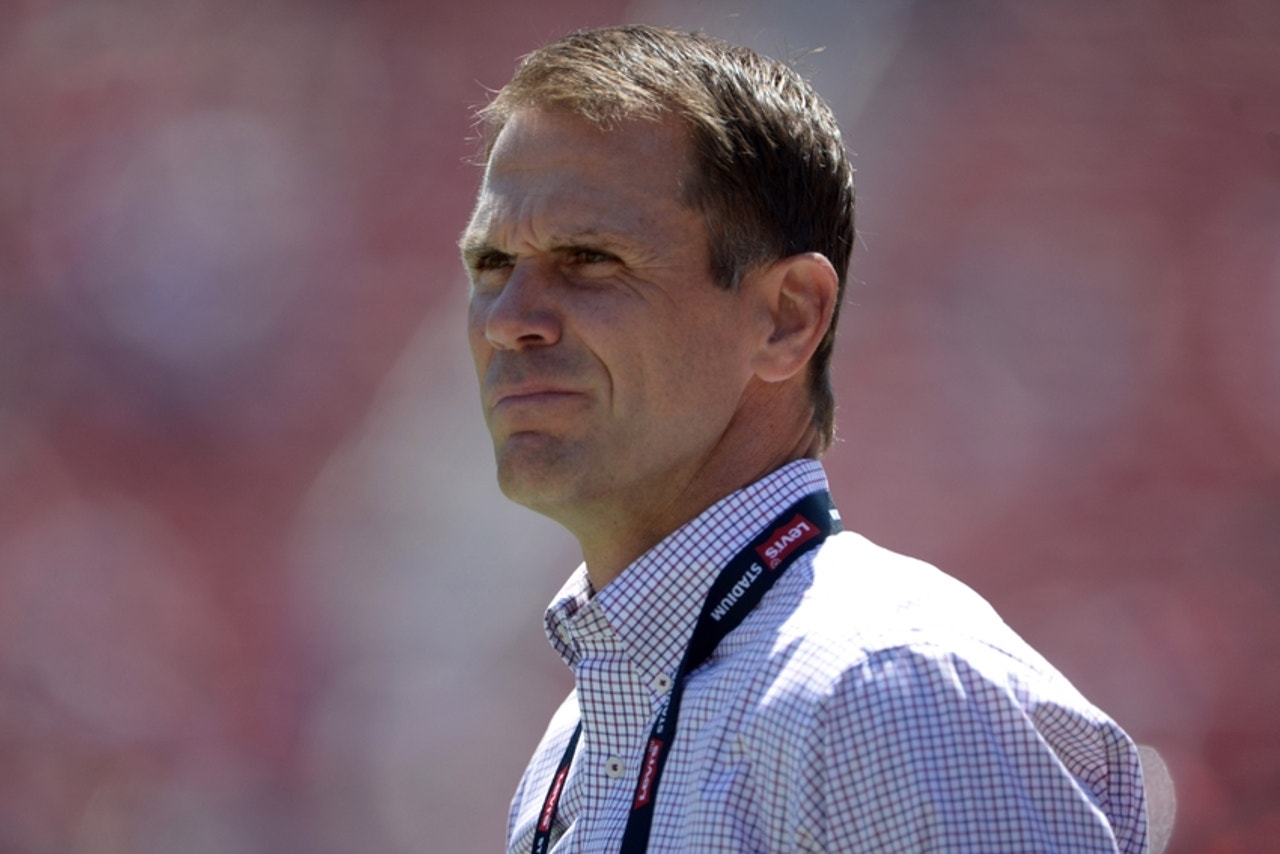 Why Trestman is out in Baltimore. In the first half of Sunday's loss to Washington, the Ravens ran up 74 yards on 13 carries —€" controlling the pace of play, possessing the ball for almost 19 minutes, and setting up Joe Flacco to hit eight receivers and lead the team to a 10-6 edge at the break. After the half? The Ravens ran it just six times. So if you want to know why John Harbaugh pulled the plug on offensive coordinator Marc Trestman, start right there. And understand that this problem isn't a new one. Trestman won the job, in part, because he convinced Harbaugh that he could he run a reasonable facsimile of the attack Gary Kubiak captained in 2014 —€" and Harbaugh loved Kubiak during the one year they worked together. On paper, the idea worked. Both Trestman's and Kubiak's systems are grounded in West Coast Offense principles, so this was hardly an English-to-Mandarin translation in football language. The difference? Kubiak's offense always found its foundation on the ground, going back to the Denver teams that won under Mike Shanahan two decades ago, while Trestman's haven't. And for better or worse, that makes it pretty easy to see why the Ravens identified with Kubiak quickly, and didn't with Trestman. In 2014, Baltimore was eighth in the NFL in rushing despite having journeyman Justin Forsett as the lead dog in the backfield. Last year, they plummeted to 26th, with the per-carry average dropping by more than a half-yard. This year, it was October before they rushed for more than 85 yards in a game as a team. And when the run game finally did start to come around, Trestman didn't stick with it. So, over time, as you might expect, he started to lose players who were drafted into a program prided on playing phone-booth football. "The players lost faith in him last year," one Baltimore source said, "and he never got it back."
The difference Anthony Lynn has made. Rex Ryan got crushed for whacking offensive coordinator Greg Roman a day after his defense got humiliated on national TV. I got my shots in too, so it's only fair to look back at the move now and see it for what it was: one that worked, and that's coming from a guy (me) who has a ton of respect for Roman as a coach. Anthony Lynn isn't directly responsible for the Bills' resurgence after that 0-2 start, but he has made a big difference in establishing an offensive identity for a team that needed one, and cohesion with what Ryan wanted to do defensively. And while wholesale change in midstream is pretty much impossible, Lynn's tweaks have made a difference. "The changes aren't super simple," one Bills vet said. "We're running the same plays that we did under G-Ro. It's just that with Roman, we had a huge playbook and we could run absolutely anything from week to week. Anthony's all about matchups... He played [in the NFL], so he knows matchups are huge." And there were two examples that shone through to the players in Sunday's win over the Rams in L.A. First, the Rams were without defensive linemen Robert Quinn, Michael Brockers and William Hayes. So Lynn wanted the offense to play with tempo, in warm conditions, to try to wear the Rams' depth-depleted front down. The Bills went into the no-huddle package Lynn installed after he was promoted, and scored on two of those three series. Second, as the players see it, Lynn is more apt to go back to something that's working than Roman was. So the Bills planned to come out on the first play of the game and run a weak-side draw to take advantage of Quinn's tendency to be overly aggressive. Even without Quinn in there, Lynn stuck with it, and Shady McCoy was sprung for 15 yards. In the second half, Lynn came back to that call again, and McCoy went for 13 yards. Similarly, because the option worked for the Bills against Arizona, they leaned on it against New England. It's these little things that have made a big difference in the players' minds, and turned what seemed like an impossible situation two weeks ago into one they can work with.
Cardinal sins. This week's a big one for the Cardinals. They host a desperate Jets team on a national stage, with Seattle up next followed by a trip to Carolina. The roster they believed was among the NFL's best, not just this year but over the past few years, hasn't come close to meeting expectations. And falling to 2-4 with the Seahawks on a short week looming would put the season in a place where no one in the organization thought it would be. So what's wrong? "They're still a really good team; everyone jumps off the bandwagon too fast," said one rival pro scouting director who has studied them. "But I've never been a big Carson Palmer fan. He's a big man with a strong arm who struggles when you move him off the spot. ... And on film, they look like an old team. Offensively, teams are forcing them to be patient by taking away the deep ball. Defensively, they're OK, but the fact that they can't use Honey Badger the way they want to hurts the overall creativity of the defense. That's changing, but when he was just playing in the post, the defense struggled underneath." All of that has reared its head in the all-important turnover margin statistic. Three Sundays ago, the Cardinals outgained the Bills 348 yards to 297, but lost the turnover battle 5-1. Ditto the next week against Los Angeles. Arizona had 420 yards to the Rams' 288, but turned the ball over five times (again) and had only one takeaway on D. So as Arizona tries to use the national stage as a springboard back to where it was late last year —€" the Cards looked like the best team in the league around Christmas — keep an eye on Palmer's patience and Tyrann Mathieu's deployment. The former would solve a lot of the offense's problems when the big play is taken away, while doing more with the latter could mean making more big plays on the other side of the ball.
Cleveland coming back. Browns coaches knew coming into 2016 that they probably wouldn't finish the season with a parade, but the dearth of talent they inherited made the challenge stiffer than they may have imagined back in the spring. Thus far, behind Hue Jackson, that challenge has been met. Winning would be nice, of course, but based on where they are, improvement and continued fight is probably more important for a group that's well aware that this won't be an overnight rebuild. And if you want to kill them for passing on Carson Wentz, fine, but it's also worth taking a look at Cody Kessler, who has a good shot to play this week after showing really well early in the New England game (5-for-8, 62 yards, TD) before being knocked out of it with a chest injury. As I understand it, the staff sees Kessler as having made a very strong case to keep the job, regardless of the health of the other quarterbacks, for the rest of the year. That means when Josh McCown gets healthy, he may not go back in. It also means when/if Robert Griffin III gets healthy, he may not go back in. And that makes sense, because the coaches became smitten with Kessler before drafting him. During his pre-draft visit to Cleveland, the ex-USC star's ability to consume and then disseminate information was particularly impressive. The Browns had him as their top quarterback going into Day 2 of the draft. He's not the only one developing nicely. The team is carrying 20 rookies or first-year players on its 53, and dressed 17 of them on Sunday. And in that bloated group, the work of D-linemen Emmanuel Ogbah and Carl Nassib, defensive backs Derrick Kindred and Tracy Howard, and receivers Corey Coleman (before he got hurt) and Ricardo Louis has given the staff reason to believe that going all-in on a franchise overhaul was the right move. That Terrelle Pryor has been a revelation hasn't hurt either. Now, they just need time. As we all know, that's far from guaranteed in Cleveland, but there is reason here for ownership to stick with what Sashi Brown, Andrew Berry and Jackson are trying to build, even if it hasn't shown up in the left-hand column yet.
If the Chargers do move on Mike McCoy before season's end, I wouldn't expect there to be any preamble. San Diego isn't going to pin itself into a corner with any declarative statements on its direction, either way, ahead of actually making a decision. I will say this: McCoy has nine new coaches and has had terrible injury luck (for the second straight year), in addition to bizarre bad luck (the botched field goal against Oakland was just the latest example) through five games. And I'm not sure there's really reason to pull the plug now. The team hasn't quit, nor is there an assistant on staff whom they're dying to give a 10-game audition to. Then again, if they get blown out on national television by the Broncos...
I don't know if Ryan Tannehill's lack of presence and feel in the pocket is fixable. What I do know is there is a feeling in the Dolphins organization that too much is going wrong around him to get a good look at where he is as a player. The line has been a massive disappointment, the team can't run the ball, and the defense's lack of talent has put more pressure on the offense to perform. To be clear, Miami can easily dump Tannehill in March, before his full salary for 2017 is locked in; there's only $3.5 million fully guaranteed left on his deal. I don't see it happening that soon, but it sure would be nice to see some fight from the quarterback during an important three-game stretch that kicks off Sunday with Pittsburgh coming to town.
Brock Osweiler gets the SNF stage to try to shove all the criticism he's gotten right back in our faces, with the Colts visiting Houston. And maybe he will. But what we've seen thus far hasn't been pretty, and it's worth mentioning that the Texans have been encouraged by the progress Osweiler's backup, third-year pro Tom Savage, has made. Savage was raw coming out, thanks to two transfers as a collegian, but brings the same kind of physical ability to the table that Osweiler does.
Ohio State S Malik Hooker (vs. Wisconsin, 8 p.m. ET): It's pretty heavy to compare a college safety to Ed Reed, but I'd heard the name evoked a few times over the past few months in reference to Hooker. So I kept asking people. While some pumped the brakes, I haven't found anyone yet who shot it down out of hand, which says plenty. "He's a ballhawk, so I would agree with that," one area scout assigned to the Buckeyes texted. "Dude is the best player on the field. I like him better than both safeties last year [Karl Joseph and Keanu Neal] ... First-rounder. Physical, quick, fast and explosive with a great nose for the ball." When I asked for drawbacks, this was what came back: "Just getting better overall with playing experience." And that's the scary thing about Hooker. Even while notching 23 tackles, four interceptions (one returned for a TD, another he scored on called back), six passes defensed and two breakups in his first five collegiate starts, he's still seen as raw. This wasn't a five-star recruit. Hooker drew in OSU director of player personnel Mark Pantoni and defensive coordinator Luke Fickell. Then he won over Urban Meyer with his length and athleticism when the head coach saw him drop 30 in a prep basketball game. He only played two years of high school football. So based on that, and where he is as a redshirt sophomore five years later, it seems he'll keep ascending over the last couple months and then, should he declare, entice a lot of pro teams to think about just how high his ceiling might be.
Tennessee RB Alvin Kamara (vs. Alabama, 3:30 p.m. ET): The Vols' dynamo started at tailback in place of Jalen Hurd against Texas A&M, and here's all he managed to do for the offense: 18 carries, 127 yards, 2 TDs; 8 catches, 161 yards, TD. That makes him the first player in a major conference to break 150 yards receiving and 125 yards rushing in the same game in 20 years. And up next, he gets the No. 1 team in the country. Not only that, but Alabama happens to be the first college that Kamara attended. He transferred after his freshman year, was arrested the following spring for driving with a suspended license, and went to junior college before resurfacing in Knoxville. And, by all accounts, he has grown up. He's now a team captain. "He's a good kid," one AFC personnel exec said. "Runs hard, runs patient, he's a little undersized, but adds value (in the return game). ... He's probably a third-down back [in the NFL] with some return ability." Added an AFC college scouting director: "I like him —€" he runs hard and physical, good speed, finishes off runs, good returner and an accomplished receiver. ... Initially [a passing-down back], but he can carry the load. Maybe not a feature back, but would be good in a 1-2 punch." This week, we get to see if all that big-play spark translates against college football's super elite. How he does in that environment could be a swing factor for a player who's likely to go in the second or third round, even in a loaded tailback class.
Redskins GM Scot McCloughan was driving home from FedEx Field Sunday after Washington's third straight win when his cell phone lit up with a name that always makes his face light up.
His favorite player was calling.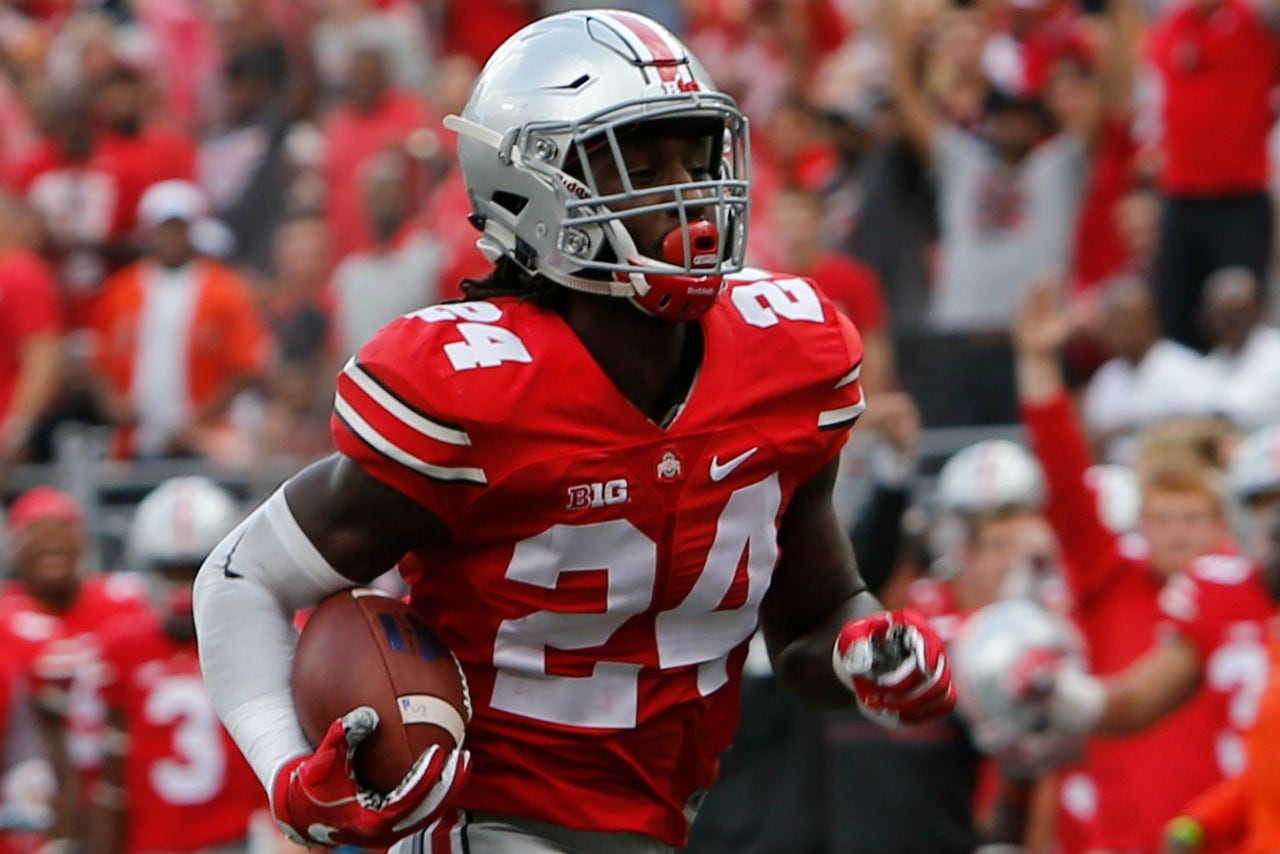 "Look where I'm at, Scot!" Frank Gore said.
"Frank, you deserve it," McCloughan told him.
The Colts running back had just passed Jim Brown —€" Jim Freaking Brown —€" on the all-time rushing list. And a few days later, there it is ... 9) Frank Gore, 12,368; 10) Jim Brown, 12,312.
"I'm so proud of him," McCloughan said late Tuesday afternoon. "He really deserves it. He's all football, and not just as a player but as a person. He's all football. It's so awesome. All the guys I've been around, and I've been around Hall of Famers... If he gets there, congrats. He'll be in the San Francisco Ring of Honor, and I'll be there when he goes in. But more than anyone I've ever been around, he's earned it.
"Nothing was given to him. It's all him. And I respect that so much. It's awesome."
I had to call McCloughan when I saw that Gore had passed Brown, and here's why: I know that when Sunday's NFC East showdown against Philly, or any game, kicks off, McCloughan's ideal is to dress 46 versions of Gore. And the story behind that prototype goes all the way back to the first draft that McCloughan ever ran, for the 49ers in 2005.
The night before the draft, McCloughan, then VP of player personnel, was at coach Mike Nolan's house. Gore called with a direct question, Will you draft me? Gore told McCloughan that one team promised to take him in the first round, and another told him it was taking him in the second. But Gore also knew his medicals (two reconstructed knees, two shoulders that needed reconstruction) gave teams an easy out.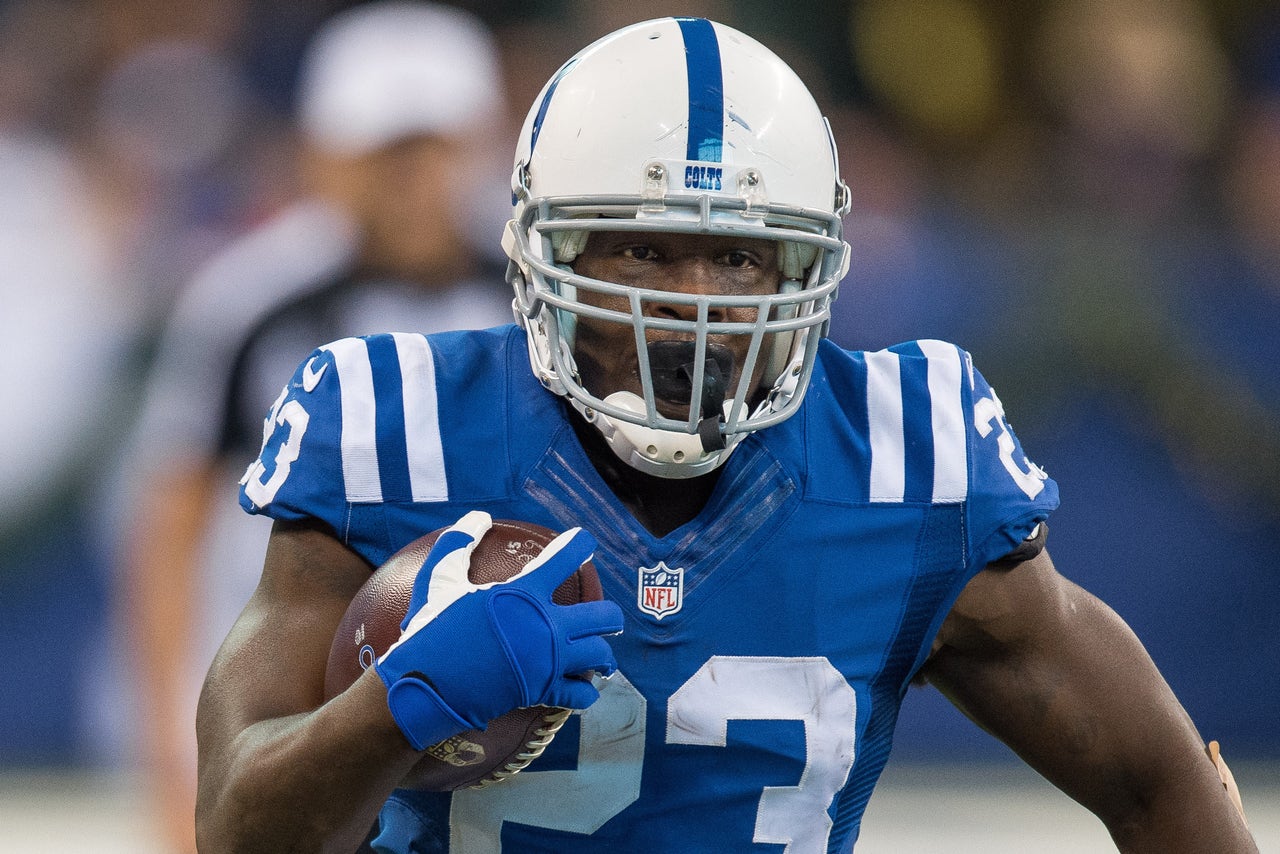 Meanwhile, McCloughan remembered Gore as a Miami freshman — "they had [Willis] McGahee and [Clinton] Portis, and Frank's a freshman playing better than both of them" —€" and had this gut feeling he could get back there. As he explains it now, if 10 guys had Gore's medicals, "nine of them aren't making it through three years. But I just had this feel for him, that he was a tough son of a gun."
So that night, he told Gore, "I can't touch you until the third round because of the medical. It's just too hard to do it, because of what law of averages tells us there. But if you're there with the first pick of the third round, we're taking you."
He was and the Niners did. The next day, Gore arrived at the Niners' facility and made a beeline for McCloughan, shocking the personnel chief with a big hug. "No one else was honest with me. You were. I'll do anything for you."
There are plenty of little things from the subsequent few years that McCloughan remembers. Like how Gore told incumbent Kevan Barlow he was going to take his job, then did. Or how, after that rookie season when Gore asked what to improve on, and McCloughan told him to shore up his pass blocking, he returned "bigger than life" in that area. Or even how Gore would go to McCloughan's son's basketball games.
But above all that, there was something overriding. Gore was really the rock on which those Niners were built, a group that wound up, under Jim Harbaugh, becoming an NFC monster.
"It was the culture," McCloughan said. "He was a man of short words. Doesn't want to talk. 'I'm a football player.' And that culture is proven."
That's why, today, whatever Gore had inside him to make it through 12 years, and past Jim Brown, despite the odds saying he wouldn't get to 2008, is exactly what McCloughan has looked for in drafting players like Brandon Scherff and Josh Doctson in Washington, and what he helped find in helping build Seattle into a behemoth during his years there.
"I bring it up all the time," he said. "My scouts always say it to me, 'Enough, you bring up Frank Gore's name every day.' But I tell them, that's what we're looking for."
And if we're talking legacies, that part of Gore's is just as meaningful as passing Jim Brown.
Question or comment? Email us at talkback@themmqb.com.
---
---