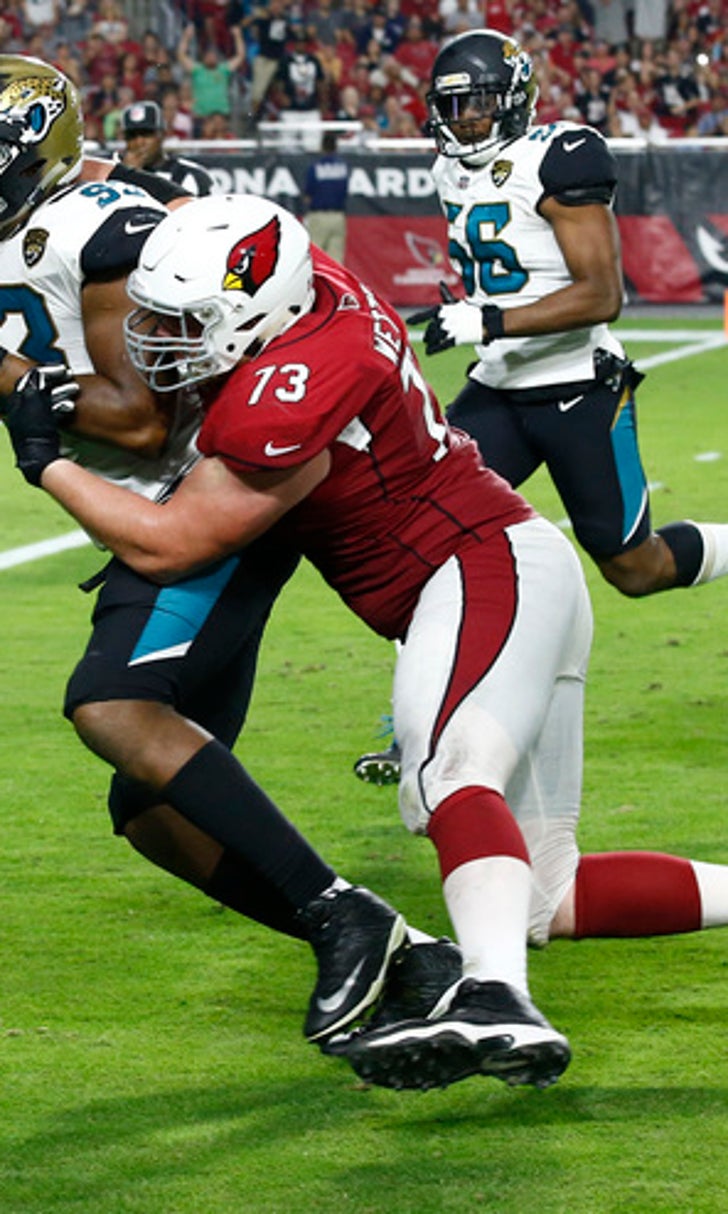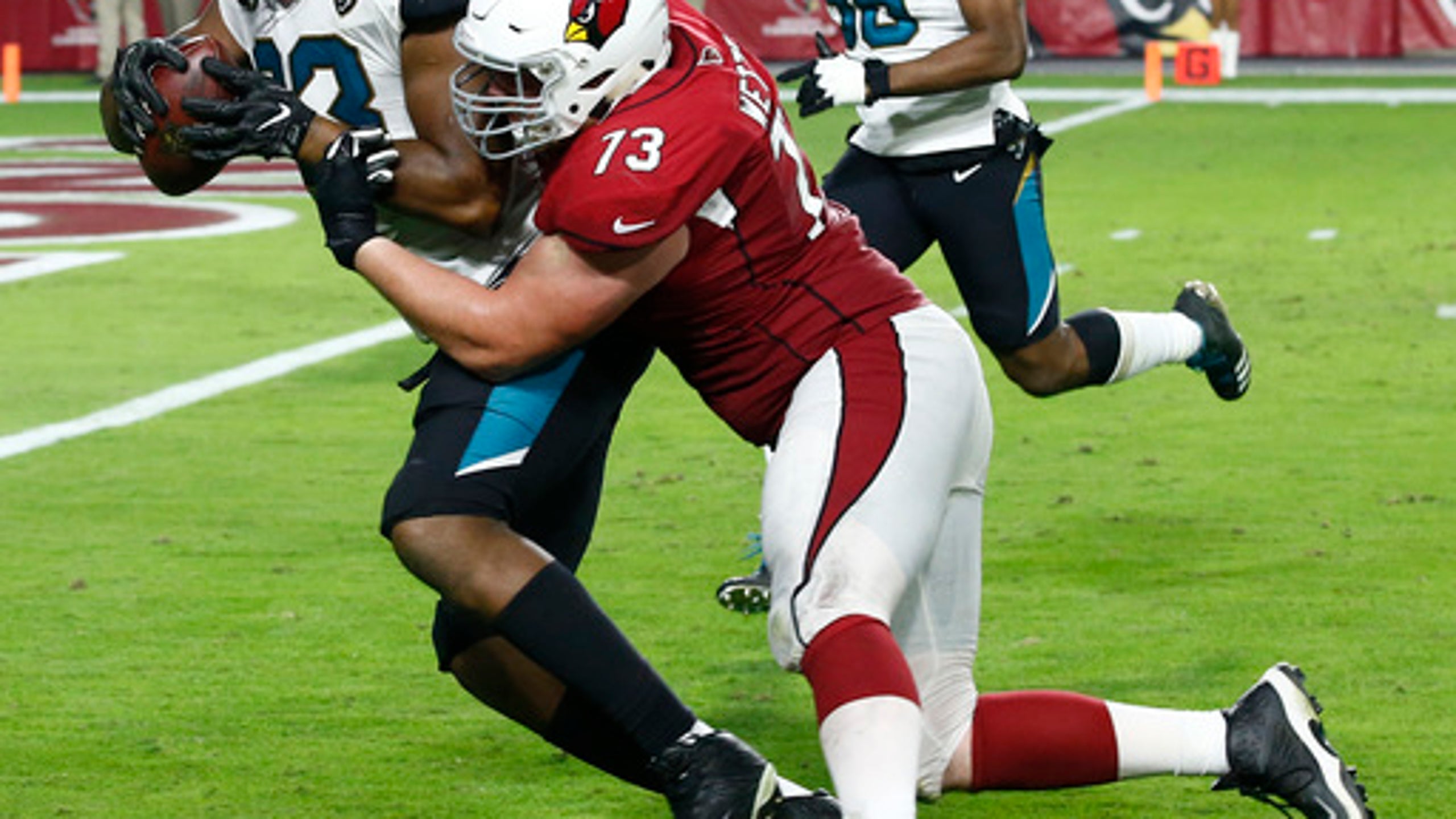 Campbell scores in return to Arizona, Jaguars lose
BY AP • November 26, 2017
GLENDALE, Ariz. (AP) Calais Campbell fielded the loose ball like a big league shortstop and kept moving, rumbling toward the end zone.
Former teammate John Wetzel caught up to Jacksonville's massive defensive lineman, but Campbell had his eyes on the goal line.
Dragging Wetzel with him for the final 3 yards, Campbell tumbled into the end zone , sprang to his feet and let out a roar toward the roof of University of Phoenix Stadium.
Not a bad return to the Valley of the Sun for one of the best linemen in Arizona Cardinals' history.
All that was missing: A victory.
Campbell returned a fumble 10 yards for a touchdown in his first game back in Arizona, but the Jaguars lost 27-24 on Sunday when 42-year-old Phil Dawson kicked a 57-yard field goal with a second left.
The loss ended Jacksonville's four-game winning streak and dropped the Jaguars (7-4) into a tie with Tennessee in the AFC South.
''I wanted to get the win. I didn't want it to be about me,'' Campbell said. ''I just wanted to go out and try to get that eighth win.''
Campbell spent nine seasons with the Cardinals, racking up 56+ sacks, 11 forced fumbles and three interceptions.
When Arizona chose to sign Chandler Jones to a long-term deal and not Campbell, the longtime Cardinals fan favorite signed a four-year, $60 million deal that included $30 million guaranteed.
Campbell had an immediate impact on the Jaguars, leading the NFL with 11+ sacks through 10 games while setting the tone for the league's top defense.
He's also served as a mentor for Jacksonville's other defensive ends, Yannick Ngakoue and Dante Fowler Jr., who headed into Sunday's game with 15+ combined sacks.
Campbell wanted a low-key return to the desert, looking forward to seeing former teammates and coaches, but more focused on getting a victory for the Jaguars.
He received a warm welcome from the fans before the game.
''I got a lot of love from the fans, the Birdgang showed a lot of love to me so that felt pretty good,'' Campbell said. ''It definitely gave me chills down my back.''
Campbell helped put the Jaguars in position to leave with a win when he scooped up a fumble caused by Ngakoue's sack and scored his second career touchdown, putting Jacksonville up 17-16 early in the fourth quarter.
Arizona (5-6) went back ahead on former Jaguars quarterback Blaine Gabbert's 52-yard touchdown pass to Jaron Brown, but current Jacksonville quarterback Blake Bortles tied it on a 17-yard scoring run.
The Cardinals got the ball back at their 39-yard line with 16 seconds left and, after two quick passing plays, they won it on Dawson's career-long kick.
Campbell finished with three tackles and a touchdown, but left the desert without the one thing he wanted the most.
''At that point in time, I just knew we had the game locked up, but at the end of the day they made a few big-time plays,'' Campbell said of his touchdown. ''We were inches away from making plays that could have won the game or swung our way.''
---
For more NFL coverage: www.pro32.ap.org and http://twitter.com/AP-NFL
---
---