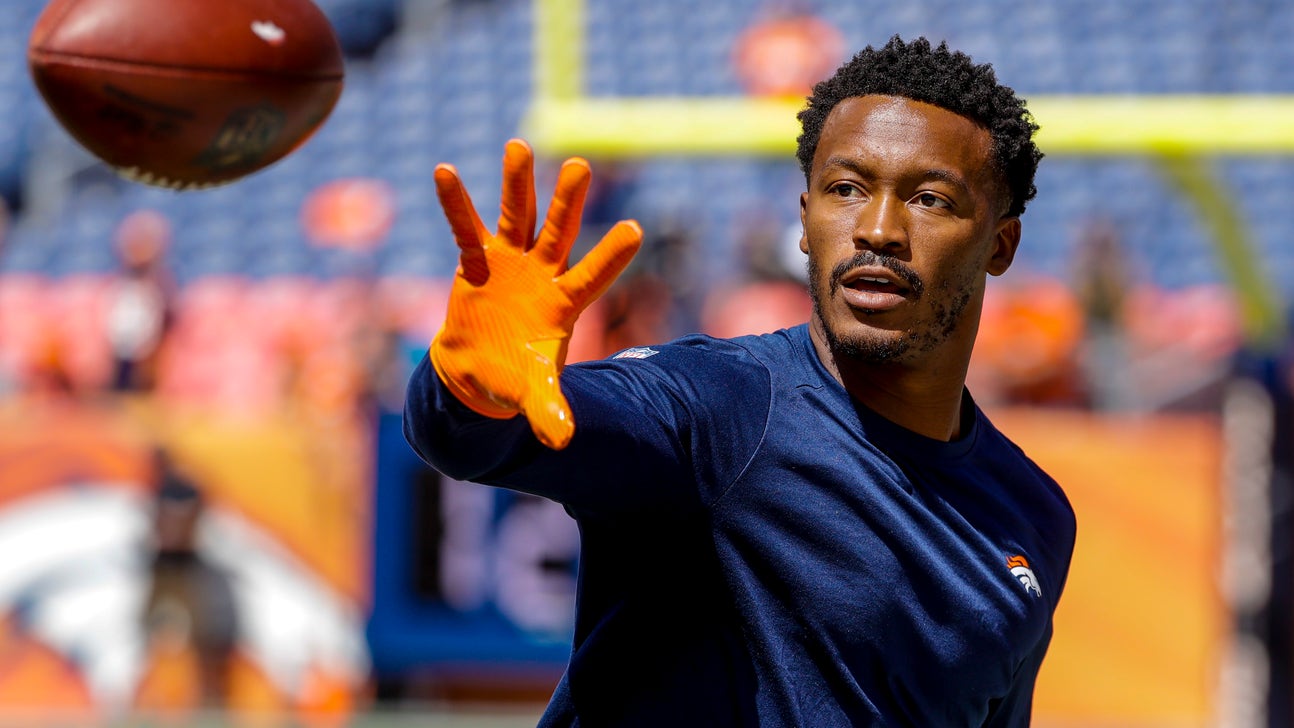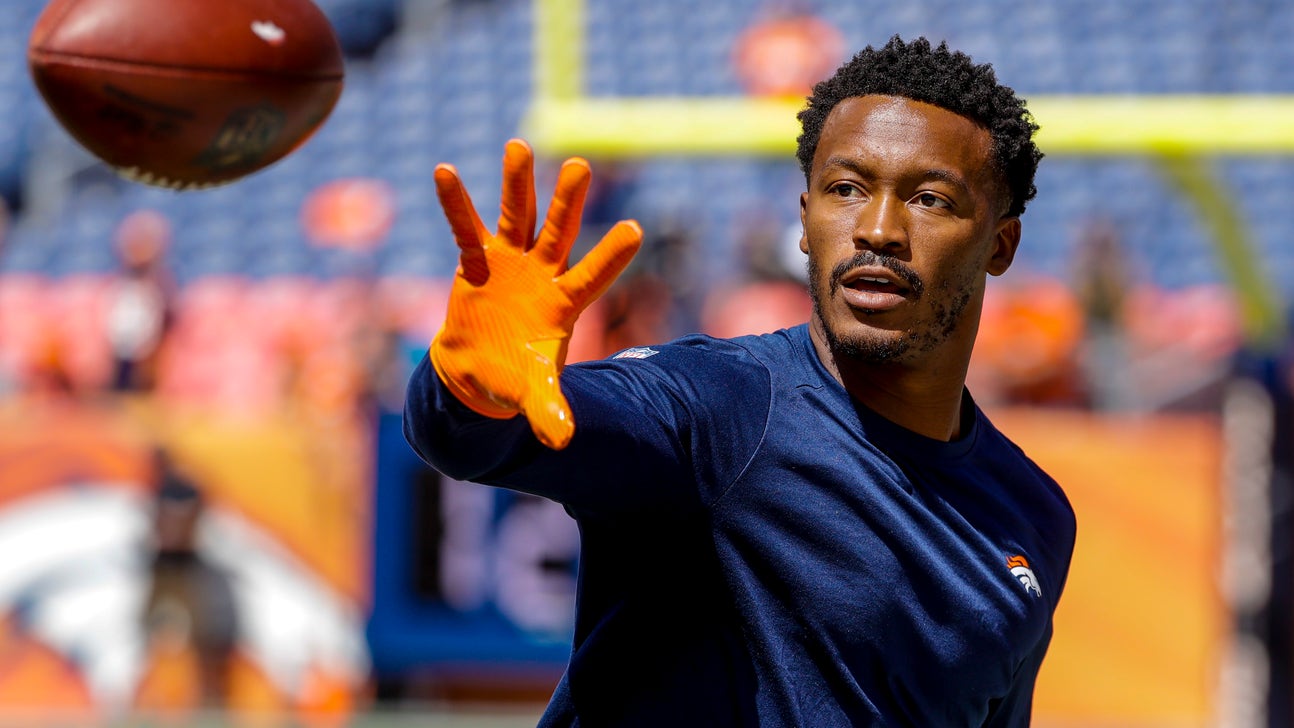 Broncos trade wide receiver Demaryius Thomas to Texans
Updated
Mar. 4, 2020 5:15 p.m. ET
ENGLEWOOD, Colo. (AP) — Demaryius Thomas' trade from the Denver Broncos to the Houston Texans wasn't so much a good-bye as a see-you-later.
As in Sunday, when the Texans (5-3) visit the Broncos (3-5).
"I thought about it, yeah," general manager John Elway said Tuesday. "But, ultimately, we had to look past that and (we) thought that it wouldn't affect our game."
So, Elway sent his big wide receiver to the Texans for a 2019 fourth-round draft pick. The clubs also swapped seventh-rounders in next year's draft.
Thomas, a ninth-year veteran who was first or second on most of Denver's receiving records, has 36 catches for 402 yards this season.
Despite averaging a career-low 11.2 yards per catch, Thomas' three TDs were tied with Emmanuel Sanders for the team lead and gave him 66 for his career, including the playoffs.
"We were not hell-bent on trading Demaryius," Elway said, explaining he was swayed to make the move by the package of picks and the rise of rookies Courtland Sutton and DaeSean Hamilton along with that of second-year pro Tim Patrick , who caught his first career TD pass last week.
"It's never easy when you trade a guy that's been a household name around here for a long time and done a lot of great things, not only on the football field but also in the community, and is a good man," Elway said.
"Plus, it's a good spot for Demaryius. He's going to a good football team that's in a pennant race. So, it'll be good for him, too."
The AFC South-leading Texans, who beat out "three or four other teams," for Thomas' services, according to Elway, found themselves thin at wide receiver when they lost Will Fuller for the season to a torn knee ligament last week and have had trouble keeping rookie Keke Coutee (hamstrings) on the field.
In a conference call with Denver media on Tuesday, Texans coach Bill O'Brien said he's followed Thomas since the 6-foot-3, 230-pound receiver was at Georgia Tech before the Broncos selected him in the first round in 2010.
"He has excellent athletic skills, great hands, very smooth route runner," O'Brien said. "He's a tough guy to defend."
And now it's the Broncos who will have to defend him.
Thomas has a salary cap figure of $15.53 million for 2019, the last year of his deal, and with the emergence of Sutton as a big-play threat, Elway felt it was time to get something for Thomas, who was unlikely to return next season anyway.
Sutton is a younger, rawer version of Thomas, a thick receiver who is adept at pulling down 50-50 passes who will now start alongside Sanders.
"Hopefully this accelerates his maturity," Elway said of Sutton, a second-round pick from SMU.
Elway said this isn't evidence the Broncos, losers of five out of six, are giving up on the season, either.
"When you lose a guy like Demaryius, we're going to lose a little bit. But I think where we can make it up is the youth and the young guys and getting them experience as this year continues," Elway said.
Elway said it was difficult calling Thomas into his office to trade him.
"It's an end for him and us, but as I told him, he'll always be a Bronco," Elway said. "It ends his career here but not his career in the NFL. And know that look at it as eventually the Broncos will be reunited with Demaryius."
So that he can be inducted into the team's Ring of Fame.
Josh McDaniels' first draft pick, Thomas has amassed 66 touchdown passes in 135 games, counting playoffs. He's served as a captain and was a durable, consistent go-to receiver for quarterbacks Tim Tebow, Kyle Orton, Peyton Manning, Brock Osweiler, Trevor Siemian and, this year, Case Keenum.
Thomas' 36 100-yard games are the most in Broncos history and his 60 TDs in the regular season and 9,055 yards are second only to Rod Smith.
A five-time Pro Bowler, Thomas' career is a lengthy highlight reel.
He caught Manning's 509th and 510th touchdown throws that tied and broke Brett Favre's all-time record in 2014, and appeared in two Super Bowls with Manning, setting a Super Bowl record with 13 catches for 118 yards and a TD against Seattle.
Two years later, he won a championship at Super Bowl 50 with his mother in attendance. She had just been released from a federal penitentiary after then-President Barack Obama commuted her drug sentence that had taken her away from her son when he was a young teenager.
For many, Thomas' top moment was his 80-yard touchdown catch from Tebow on the first play of overtime that gave Denver a stunning 29-23 victory over the Pittsburgh Steelers in an AFC wild-card playoff game on Jan. 8, 2012.
"He made so many big plays," Elway said. "Obviously the Pittsburgh one is the one that stands out that we all remember. But he's a guy that was very productive and consistent for a long time and was healthy most of the time, too. So, a guy that we could rely on."
And one they'll see again very soon.
---
---