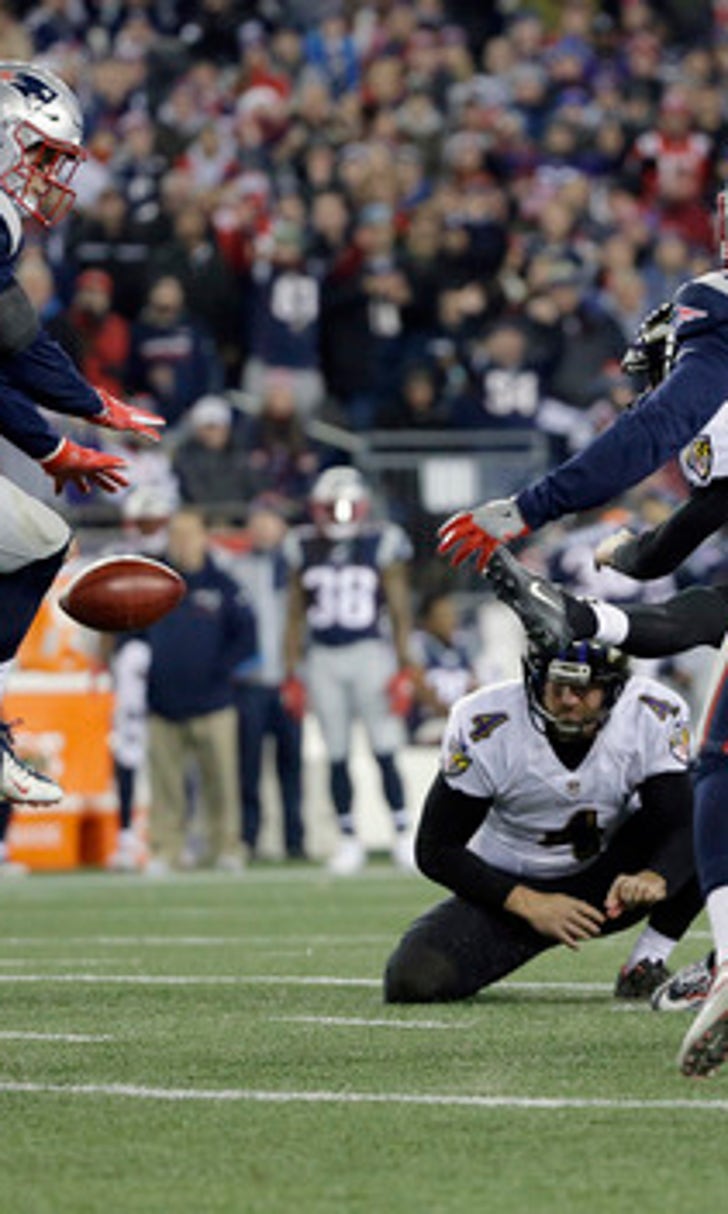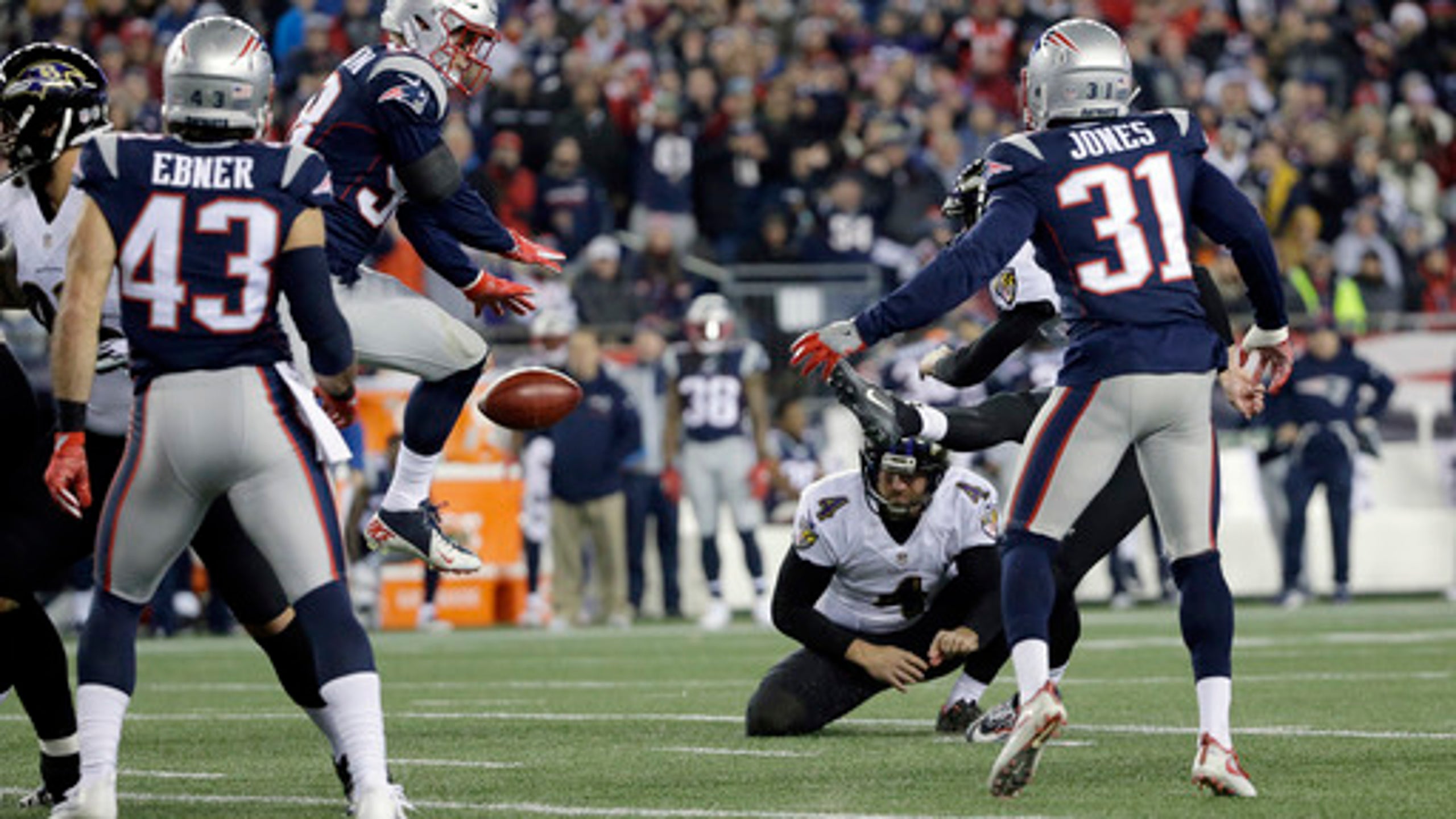 Broncos, Patriots have both hurdled the long snapper
BY AP • December 15, 2016
ENGLEWOOD, Colo. (AP) The rematch of last year's AFC championship this weekend will once again feature Tom Brady trying to avoid Von Miller's grasp and Aqib Talib's reach. There's a new wrinkle to the Patriots-Broncos rivalry this year, though.
Both teams have players who have hurdled the long snapper to block kicks this season, and while odds are slim it'll happen again Sunday, these players' athleticism will be on display in the kicking game or on defense.
Neither linebacker Shea McClellin of the Patriots (11-2) nor safety Justin Simmons of the Broncos (8-5) had ever blocked a kick at any level before pulling off the feat this season.
McClellin's block came Monday night and ended Justin Tucker's streak of 28 field goals without a miss. It helped the Patriots grab the early momentum in a 30-23 victory over the Ravens.
Simmons' block of an extra point at New Orleans last month resulted in the first game-winning 2-point play in NFL history when fellow rookie Will Parks scooped up the blocked ball and raced to the end zone for a 25-23 win.
The play is growing in popularity as teams seek to either capitalize on the longer extra point attempts or figure it's faster to go over the top than around stocky lines on field goal tries.
It's all about the timing and athleticism.
Arizona coach Bruce Arians was livid when Seattle linebacker Bobby Wagner jumped over the Cardinals snapper to block a Chandler Catanzaro field goal attempt in Week 7. He suggested it should be eliminated from the game in the name of player safety because centers who try to counter the leap by lifting their heads higher risk getting kicked in the face.
''It's bad for football,'' said Arians.
''It's bad for his team,'' countered cornerback Richard Sherman.
And it's been good for the Seahawks, Broncos and Patriots.
While Wager's left shoe brushed the snapper's back - allowable so long as the contact is incidental - both McClellin and Simmons cleared the snapper with the help of some big D-linemen putting their hands on the long snapper to prevent him from rising up.
Denver special teams coach Joe DeCamillis' eyes widened when the Broncos drafted Simmons in the third round out of Boston College after he had a 40-inch vertical leap at the NFL combine.
''Hey, I heard you can jump,'' DeCamillis told him.
And that was the genesis of the play the Broncos dubbed ''Leaper,'' and the start of Simmons' new hurdling career.
The Broncos practiced the play every week, waiting for the right opponent and time.
''Every team is different,'' Simmons said. ''Sometimes certain holders will give the signal and the long snapper will wait a second or two because they know that their signal's being looked for and so they'll switch it up a few times. That's why you're always careful throughout the game and you make sure you've got their snap count down and you just do it from there.''
When the Broncos played in New Orleans on Nov. 13, DeCamillis told Simmons to silently time the snap-hold-kick sequence.
He did just that on two extra points and a field goal.
''I was timing it up in my head, jumping, visualizing the jump before it even happened,'' Simmons said.
Simmons reported back to DeCamillis: each time the signal was the same, the count was identical.
So, when the Saints tied it with 1:22 remaining and Will Lutz trotted out for the go-ahead extra point, DeCamillis approached Simmons.
''Hey, we're running Leaper.''
Lining up off the line of scrimmage, Simmons timed his leap perfectly.
He cleared long snapper Justin Drescher, then stretched his 6-foot-2 frame as far as he could.
He squeezed his eyes.
''I could tell I blocked it,'' Simmons said, ''because my right arm was throbbing.''
Both Simmons and McClellin said they couldn't have pulled it off without help from the big guys.
''Adam (Gotsis) and (Jared) Crick did a great job with that center,'' Simmons said. ''Everyone's talking about my `vert,' but he was low. He was literally on the ground: path clear, jump right over.''
McClellin also credited his linemen for his first block, saying, ''(Alan) Branch and Malcom (Brown) did a great job of keeping those guys down.''
Both teams are well aware of each other's hurdling prowess, so they'll be hard-pressed to pull it off again Sunday.
''We're very conscious of our signals and self-scouting and making sure that we're not giving the same look every time, because it makes it that much easier to time up,'' Simmons said. ''And not only for the leaper but the outside guys can get a good jump on the ball, too. It just causes a whole list of problems. So, you want to make sure you're on top of it.''
---
For more NFL coverage: http://www.pro32.ap.org and http://www.twitter.com/AP-NFL
---
AP Sports Writer Kyle Hightower contributed. Follow Arnie Melendrez Stapleton on Twitter: http://twitter.com/arniestapleton
---
---