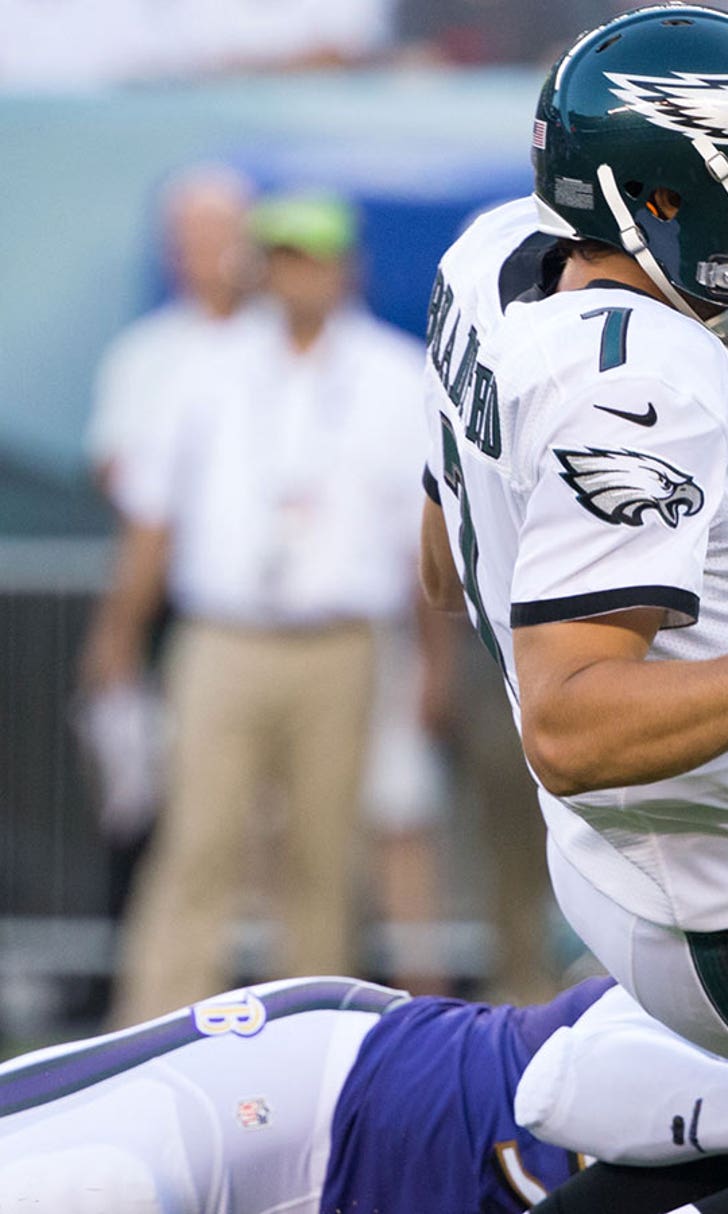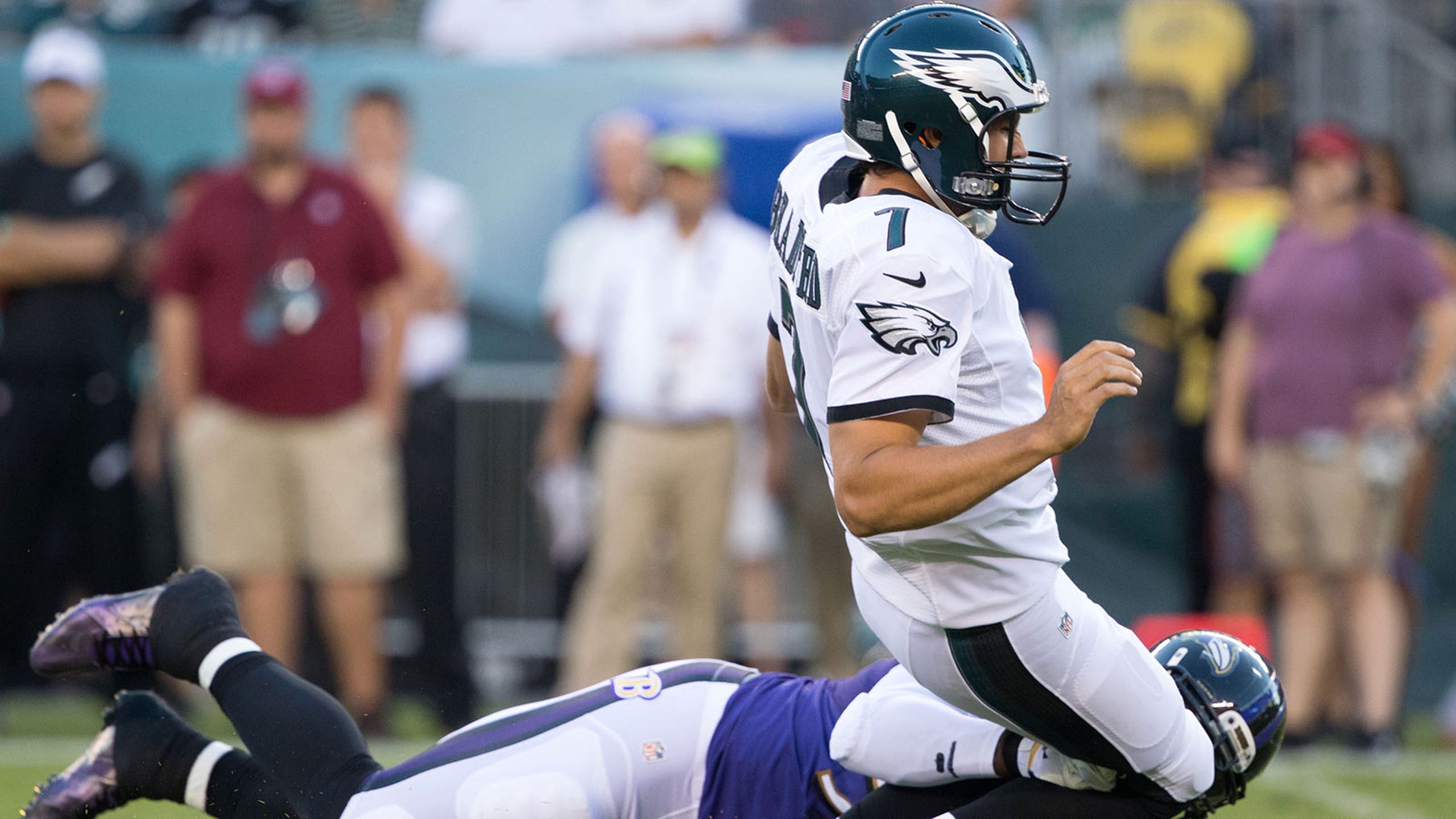 Bradford, Eagles mad at 'cheap shot' in first game back from surgery
BY Ross Jones • August 23, 2015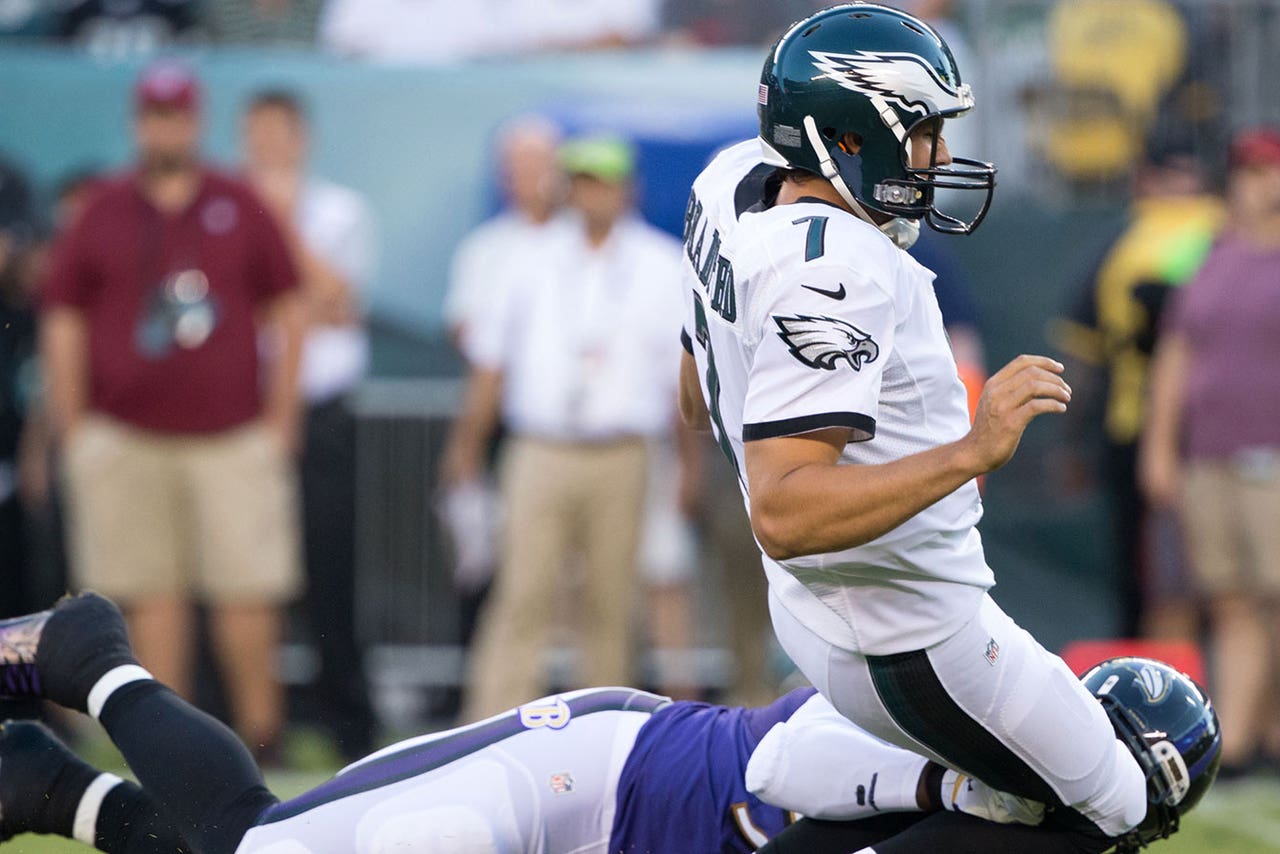 Sam Bradford lasted one drive on Saturday night.
That was all the Philadelphia Eagles needed to see from their starting quarterback in his preseason debut.
Bradford, returning to football a day shy of the one-year anniversary of him tearing his left ACL for the second time, piloted a Chip Kelly-esque scoring series in the Eagles' 40-17 win against the visiting Baltimore Ravens.
Moving the offense at a frenetic pace, Bradford completed 3 of 5 passes for 35 yards. Bradford showed off his arm strength completing passes to Darren Sproles, Josh Huff and Jordan Matthews.
However, Bradford was on the end of two punishing collisions, one in which Ravens linebacker Terrell Suggs was flagged 15 yards for roughing the passer after a low hit on a read-option play.
Eagles offensive tackle Jason Peters blasted Suggs for the hit, which appeared to be directed at Bradford's knees.
"It was a cheap shot at the quarterback," Peters said, via NJ.com's Eliot Shorr-Parks. "I'm pretty sure he [Suggs] planned it. We practiced against them all week, and I'm pretty sure he was thinking about it.
"I really don't know him personally. He talks a lot. I think he is that kind of player — dirty, and takes shots at quarterbacks."
Bradford also wasn't happy with the hit, which occurred on the Eagles' sixth offensive play from scrimmage.
"I think that was what he was trying to do," Bradford said. "I was a little upset. I'm not sure I can repeat what I said to him.
"It got our guys fired up. There's no doubt about that. I thought we responded well after that, put together a nice drive. When things like that happen in the game, you can't dwell. You've just got to keep going."
Suggs defended himself, saying that's what they are coached to do when defending the read-option.
"When you run the read-option, you have to know the rules," Suggs said, via ESPN.com's Phil Sheridan. "If you want to run the read-option with your starting quarterback that has had two knee surgeries, that's on you. That's not my responsibility to update you on the rules.
"I could've hit him harder on that. I didn't. I eased up," the linebacker added.
Aside from the hit, Bradford appeared confident running the offense, leading a 12-play, 84-yard march for six.
From there, the Eagles offense took off. Throughout two weeks in the preseason, the Eagles offense has scored a combined 76 points, the most of any team in the league.
Also making his preseason debut was running back DeMarco Murray.
Murray, who was acquired in free agency, underscored the Eagles' philosophical shift to a downhill running game. Murray's one-cut-and-go mentality was good for 17 yards on five carries and a touchdown.
"The communication level was awesome from [center Jason] Kelce and Sam," Murray said, via the team's website. "Everybody was on the same page so we were able to get lined up fast and get plays off and run them efficiently."
Murray split carries with Mathews, Sproles and Kenjon Barner, who scored his second special teams touchdown in as many weeks and is making his case to be on the 53-man roster.
The Eagles, who played their final preseason game at Lincoln Financial Field, will prepare this week for their dress rehearsal at Lambeau Field on Aug. 29. The Packers will be a test for an offense that has found its groove thus far.
Saturday night preseason observations
● For the second straight week, Blake Bortles ran the Jaguars' first-team offense well in a 22-12 loss to the New York Giants. As FOX Sports 1's NFL insider Alex Marvez pointed out this week, Bortles is set to have a rebound year after a tumultuous rookie season. Bortles completed 8 of 16 passes for 98 yards and connected with his favorite target Allen Robinson for a 20-yarder and a 36-yarder. Robinson finished with three receptions for 64 yards on seven targets. Not bad at all.
● New Orleans Saints wide receiver Brandin Cooks exploded on the scene Saturday night against the New England Patriots. Cooks, who trained with Drew Brees this offseason, hauled in four balls for 117 yards and a touchdown. One source told FOXSports.com this offseason that the Saints plan on getting Cooks 100-plus balls this year. The Pats won 26-24.
● Chicago Bears rookie running back Jeremy Langford rushed for 80 yards on nine carries and a touchdown in a 23-11 win against the Indianapolis Colts. Langford, a fourth-round pick, runs with good balance and patience. He looks to be a solid complement for Matt Forte, who is entering the final year of his deal.
● The Miami Dolphins' first team offense is off to an excellent start this preseason. Quarterback Ryan Tannehill piloted two scoring drives in three possessions in a 31-30 loss to the Panthers. Offensive coordinator Bill Lazor's squad looks like a well-oiled machine. Miami's offense outgained Carolina 116 yards to 8 in the first quarter and held the ball for 12:34.
● Carolina Panthers defensive end Frank Alexander ruptured his Achilles tendon, head coach Ron Rivera announced after the game. Alexander, who was suspended for 14 games last season for violating the NFL's substance abuse policy, was competing with Kony Ealy to be the every-down end opposite Charles Johnson. Another big blow for Carolina.
---
---