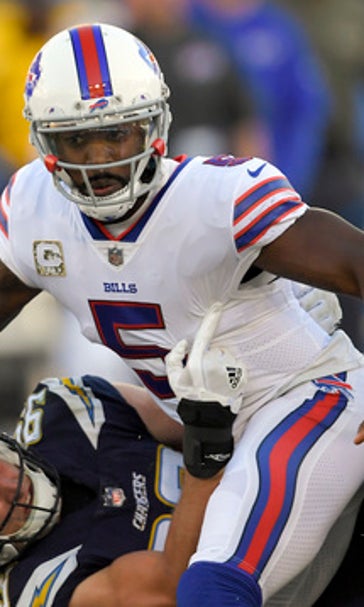 Bills reverse course in having Taylor start against Chiefs
November 22, 2017

ORCHARD PARK, N.Y. (AP) Rather than risk another meltdown with the Bills still in the midst of the playoff race, coach Sean McDermott had little choice but to reverse course at quarterback.
Tyrod Taylor will start on Sunday when Buffalo (5-5) travels to play the Kansas City Chiefs (6-4).
And Nathan Peterman has been sent back to the sideline after the rookie threw five interceptions in the first half of a 54-24 loss at the Los Angeles Chargers last weekend.
''It's the right thing for our team,'' McDermott said, in switching quarterbacks for the second consecutive Wednesday.
The first-year coach, however, was in no mood to revisit the reasoning behind starting Peterman in a move that ultimately backfired.
''Really, when you focus on that, when you look in the rearview mirror too long in this league, you lose sight of what's in front,'' McDermott said. ''We've got to focus on the Chiefs, and that's for myself as well as our team.''
In making his first career start, the fifth-round pick out of Pittsburgh became the first quarterback to throw five interceptions in the first half since the AFL-NFL merger in 1970. Peterman finished 6 of 14 for 66 yards and was replaced by Taylor to start the third quarter with Buffalo trailing 40-7.
Whatever confidence McDermott lost in Taylor a week earlier will have to quickly be restored to spark an offense that's sputtered no matter who's played quarterback during a three-game skid.
''Just do his job,'' he said. ''I expect him to prepare like he's always prepared and come out and lead this football team.''
McDermott faced heavy criticism for making what he called ''a calculated risk'' in benching Taylor at a time the Bills held the AFC's sixth and final playoff spot. The team is also in the midst of a 17-season playoff drought, the longest active streak in North America's four major professional sports.
Taylor summed up the past week as ''an interesting set of days,'' while saying he's not lost any confidence in himself.
''You've got to be prepared for anything, and focus-wise, you can't let things break your focus,'' he said. ''Whether it was last week or this week, I'm going to continue to prepare to do whatever it takes to get this team a win on Sunday.''
And yet there could potentially be a chill in his views toward McDermott.
When asked about the status of his relationship with the coach and offensive coordinator Rick Dennison, Taylor only mentioned Dennison by saying: ''Me and Rico are still good friends.'' He added the two continue to talk and are working on fixing the troubles on offense.
When asked a follow-up question about McDermott, Taylor said: ''The relationship is still there.'' He then added: ''Ultimately, we're here to win games. That's really what cures a lot of things. We're both working hard to do whatever it takes to find a win.''
Taylor's demotion came on the heels of two duds.
In a 34-21 loss at the New York Jets on Nov. 2, Buffalo was trailing 34-7 before Taylor oversaw touchdown drives on the Bills final two possessions. He followed that up by going 9 of 18 for 56 yards and an interception through 55 minutes of a 47-10 loss to the New Orleans Saints.
Buffalo's defense hasn't been much better in having allowed 135 points and a whopping 638 yards rushing the past three games.
Whatever Taylor's inconsistencies have been in going 20-18 over 2+ seasons in Buffalo, he's at least been efficient in protecting the ball. This season, he's had 11 touchdowns passing and scored another three rushing, versus three interceptions and two lost fumbles.
Running back LeSean McCoy welcomed the switch back to Taylor, saying the offense has more ''trust'' in the seventh-year player.
''I've just seen Tyrod in bad games he's played or bad situations where he's answered, and you could count on him,'' McCoy said. ''Turning the ball over last game was bad for us. You can't win like that.''
Taylor's demotion re-emphasized questions about the quarterback's future beyond this season. The Bills were already negotiating to sign Brian Hoyer in free agency in March before re-signing Taylor - and only after he restructured his contract from a five-year to a two-year deal.
''I haven't really thought about that to be really honest,'' Taylor said, referring to his future. ''All I can control is what I do week to week.''
NOTES: WR Kelvin Benjamin did not practice after he hurt his right knee last weekend. ... Starting LT Cordy Glenn, who has missed two games with a left foot/ankle injury and his backup, Dion Dawkins (illness), did not practice.
---
For more NFL coverage: http://www.pro32.ap.org and http://www.twitter.com/AP-NFL
---
---