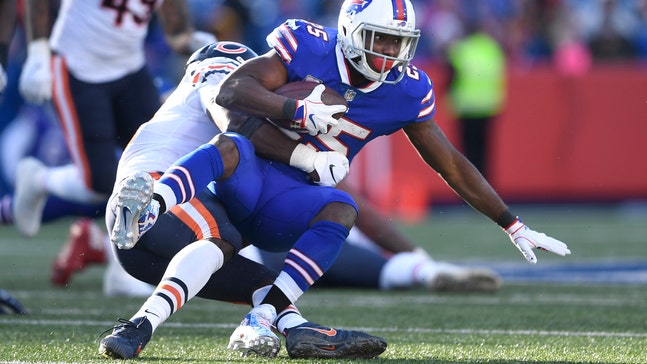 Bills' McCoy not talking as production keeps dropping
Updated
Mar. 4, 2020 6:18 p.m. ET
ORCHARD PARK, N.Y. (AP) — The more LeSean McCoy's production drops, the less the Buffalo Bills running back wants to talk about it.
"Don't worry about me, I'll be all right," McCoy said following practice Wednesday before excusing himself by saying he had to go lift weights. "I ain't ducking you, honest. I'm trying to get myself together."
And off he went. McCoy returned to the locker room briefly about 45 minutes later, before exiting yet again upon seeing a large group of reporters gathered at his stall.
Whatever frustrations McCoy has while enduring the worst start to a season in his 10-year career, or concerns he might have about an offense not producing at an alarmingly anemic rate, he'd prefer to keep to himself as Buffalo (2-7) prepares to play at the New York Jets (3-6) on Sunday.
McCoy hasn't formally addressed the media since acknowledging he's never been through as bad of a stretch as this in his life, following a 25-6 loss to New England on Oct. 29. After gaining 12 yards on his first carry against the Patriots, McCoy combined for just 1 more yard on his final 11 attempts of the game.
"I've had bad games, but this, the flow of the season and everything, is bad," he said.
Things got worse Sunday, when McCoy managed 10 yards on 10 carries in a 41-9 loss to Chicago.
"He's' too talented for that," fullback Patrick DiMarco said. "He's a guy that can change a game and take over a game. He knows that. We know that. Upstairs they know that. We've got to get him going."
One issue is he's part of a patchwork offense that's scored just 96 points, topped 300 yards net offense twice and has no continuity at quarterback . McCoy's also had off-field distractions amid allegations of abusing his son — which he's denied — stemming from a lawsuit filed by his ex-girlfriend.
And age could be catching up to McCoy, who turned 30 in July.
Coach Sean McDermott doesn't buy it and blames McCoy's struggles on the entire offense.
"There's been some opportunities to hit some holes that weren't hit, and there's been some opportunities where the seam was there, and we didn't get the movement we needed," McDermott said. "It's been really a combination, but we've got to give him more opportunities to make more big plays for us."
A year after topping 1,100 yards rushing for the sixth time, the NFL's 2013 rushing leader is barely on pace to break 500.
He's managed 267 yards rushing and has yet to score in essentially seven games this season. McCoy missed one game due to a rib injury, and was limited to playing two snaps before sustaining a concussion in a 37-5 loss at Indianapolis three weeks ago.
McCoy hasn't scored since having a touchdown rushing and receiving in a 24-17 win over Miami on Dec. 17. And he hasn't topped 100 yards since finishing with 156 on a snow-covered field in a 13-7 overtime win against Indianapolis on Dec. 10.
The recent swoon in production spans the NFL trading deadline on Oct. 30, and amid speculation McCoy might have been dealt because he has one year left on his contract, or that he was open to leaving a rebuilding team in order to play for a contender.
General manager Brandon Beane dismissed the narratives by saying McCoy's silence stems from mere frustration.
"I can tell you, LeSean is very happy here. He's frustrated just like I am, just like a lot of guys on our offense," Beane told The Associated Press. "He's a winner. He's a competitor. And he's not happy with our whole offense. He thinks he can do better."
And Beane has such confidence in McCoy, he sees no reason why the running back won't be back next season.
"We don't see a guy who's a declining player. We see a guy who's still playing well, and he's one of the better players at his position in the league," Beane said. "He is working hard. He's trying to be the best he can. And he's going to continue to do that. And if he wasn't, then we probably would've moved on."
NOTES: McDermott wasn't prepared to identify which quarterback will start against the Jets. Rookie Josh Allen, who has missed three games with a sprained right throwing elbow, practiced on a limited basis, while Derek Anderson remains in the concussion protocol. ... Buffalo shuffled its practice squad by signing WR Cam Phillips and CB Xavier Coleman and releasing WR Hunter Sharp. ... On Tuesday, the Bills cut starting CB Phillip Gaines and promoted CB Levi Wallace from the practice squad.
---
---