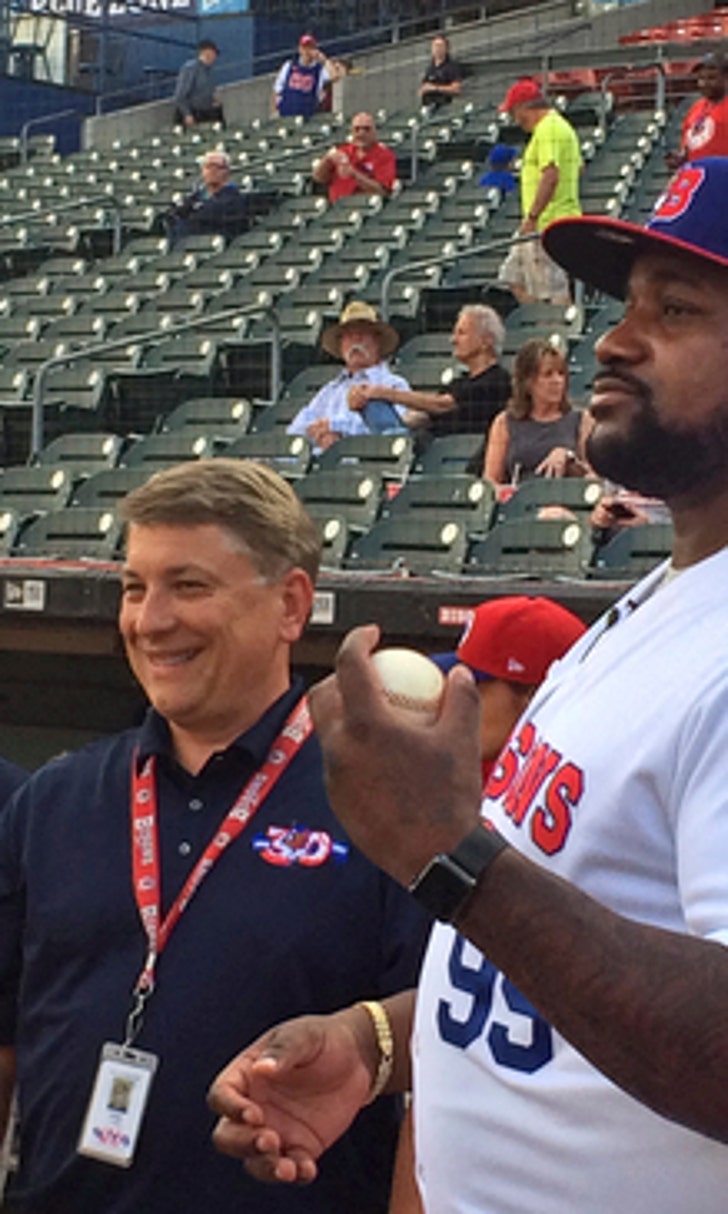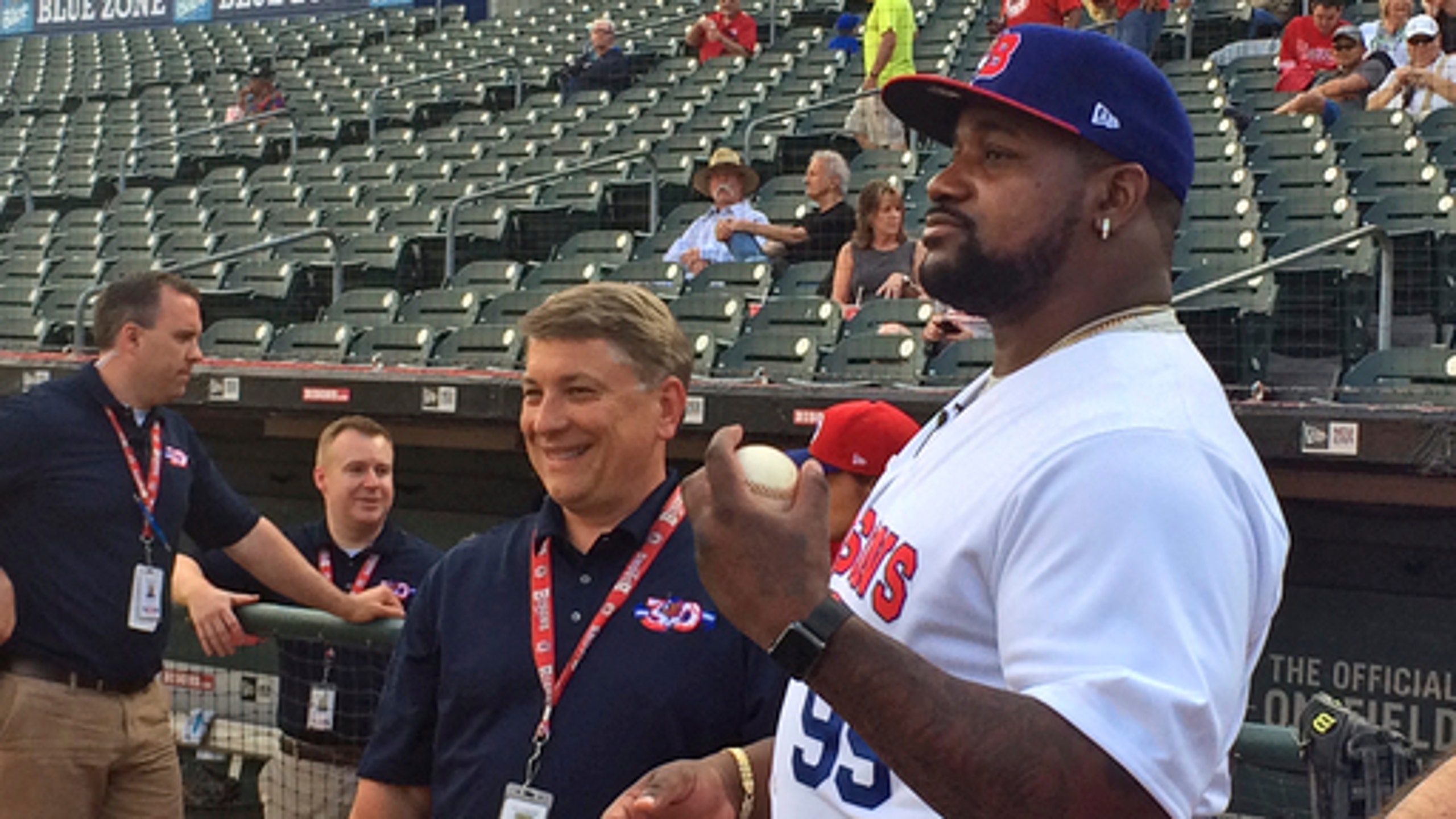 Bills' Dareus makes 1st pitch in bid to put troubles behind
BY AP • June 14, 2017
ORCHARD PARK, N.Y. (AP) It was ''Marcell Dareus Day'' at Buffalo's Triple-A ballpark, and the Bills defensive tackle arrived in a playful mood.
In throwing out the first pitch, Dareus mugged for the cameras with Bisons' mascots Chip and Buster, ordered a couple of a hot dogs with extra cheese, and chatted with fans and friends in the stands for so long he nearly had to be dragged away so as not to delay the start of the game.
''It just feels good to be outside of my element and relaxing a little bit,'' Dareus said Tuesday night, taking a break from a busy schedule at a time the Bills are closing their final week of offseason practices.
''Just letting my hair down because, you know, I've got so much,'' he added with a laugh referring to his close-cropped haircut. For effect, Dareus leaned back his head and pretended as if he were shaking out long flowing locks.
The amusing moment was a brief glimpse into a once-familiar side of Dareus that has too often been missing or kept hidden from reporters around the Bills facility in recent years.
''Hey, open your eyes, man,'' Dareus said, referring to his upbeat demeanor. ''I'm a nice guy.''
That's certainly true given the number of charitable causes Dareus has worked with in both Buffalo and his native Alabama. During his ballpark appearance, he donated $2,500 to the Buffalo Boys and Girls Club, and had 100 children join him to watch the game in the stands.
To be fair, Dareus hasn't had many reasons to be jovial of late when confronted by questions about his character and inconsistent production.
In the midst of a six-year, $108 million contract, the Bills highest-paid player and 2011 No. 3 draft pick opened each of the past two seasons serving NFL substance abuse-related suspensions, including a four-game ban last year .
And those don't include past transgressions in which he's been arrested on drug-possession charges or benched for showing up late for team meetings.
It hasn't helped that Dareus' production dropped the past two years while being asked to play what he considered an ill-suited role in former coach Rex Ryan's defense. Though nimble on his feet despite his 6-foot-3, 330-pound frame, Dareus questioned why he would have to occasionally drop into coverage to defend short passes over the middle.
Since registering a career-best 10 sacks and being part of the NFL's fourth-ranked defense in coach Doug Marrone's final season in 2014, Dareus combined for just 5+ sacks over the past two seasons under Ryan.
Dareus sees no reason to look back, especially with Ryan fired and replaced by Sean McDermott, the former Panthers defensive coordinator.
''We're just moving on,'' he said. ''We're in McDermott's regime now, and we're going to do his thing. And we're going to make the best out of it.''
McDermott arrived in Buffalo with no preconceptions regarding his players, including Dareus.
His objective has been establishing a set of ground rules for players to follow.
''When you do that, players understand what's expected,'' McDermott said. ''So what happens from here is what's important in that we continue to stay consistent and we improve each and every day as a team and, in this case, with Marcell.''
Veteran defensive tackle Kyle Williams would like to believe last year's four-game suspension was a turning point for Dareus . And yet, Williams acknowledged he can't be entirely sure.
''I guess, `We'll see,' is your answer,'' Williams told The Associated Press. ''I think it did mean something to him just judging by his commitment this offseason. But you know, there's a long way to go. We're not `til the season yet.''
It's never easy to predict what will happen next for Dareus in what's been a mercurial career for a highly talented and immensely powerful player, and yet one who can be easily led to distraction.
One moment in May 2014, Dareus expressed remorse, saying ''I feel like I'm on the straight and narrow,'' after being arrested for possession of synthetic marijuana.
Later that day, he was arrested for speeding and leaving the scene of an accident after crashing his Jaguar into a tree near a busy intersection not far from the Bills facility.
Dareus revealed last year that he has struggled with attention deficit hyperactivity disorder. ADHD was also the reason he stopped playing baseball because he couldn't stay focused.
Dareus' biggest concern Tuesday was throwing the first pitch. After a few warmup tosses on the side, he stepped to the mound and delivered a high-arching lob that reached the catcher without a bounce.
''I sat up watching YouTube videos of everybody messing it up. I just practiced a little bit in the backyard so I didn't look too bad,'' he said, noting he was razzed earlier in the day by his teammates.
''I'm pretty sure they're proud of me,'' Dareus said, with a wink. ''Go Bills.''
---
For more NFL coverage: http://www.pro32.ap.org and http://www.twitter.com/AP-NFL
---
---