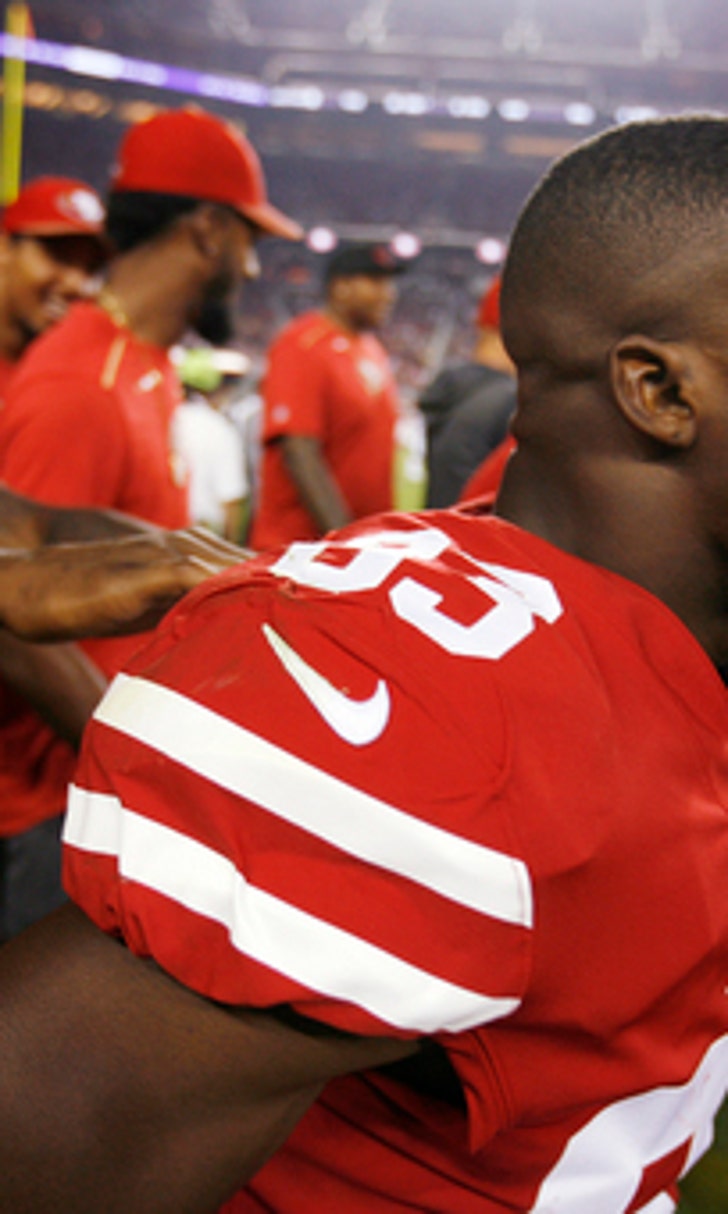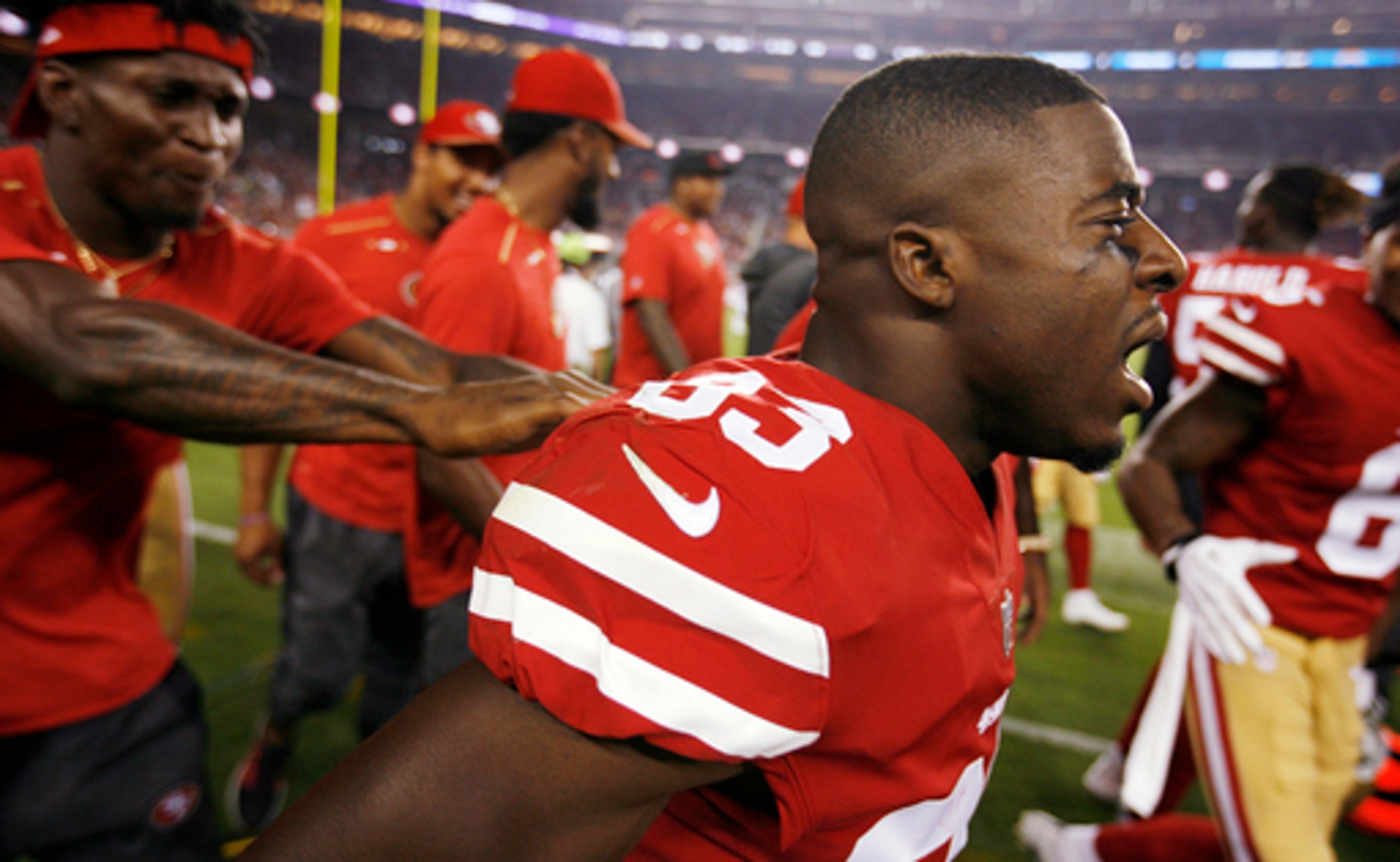 Beathard's long run leads 49ers to 23-13 win over Chargers (Aug 31, 2017)
BY AP • September 1, 2017
SANTA CLARA, Calif. (AP) The San Francisco 49ers targeted C.J. Beathard as the quarterback they wanted in the NFL draft because of his experience as a pocket passer in a pro-style offense at Iowa.
Beathard showed he can do some damage with his legs, too.
Beathard capped an impressive preseason with a surprising 62-yard touchdown run that helped the San Francisco 49ers beat the Los Angeles Chargers 23-13 Thursday night.
''That's exactly how we drew it up,'' coach Kyle Shanahan said. ''I probably yelled for him to get down about seven times on the play, but he kept going. It was awkward to watch, but it was cool to see.''
The Niners drafted Beathard in the third round and he justified the move by posting a 107.7 passer rating this preseason. But his most memorable play might have been his run.
Beathard was flushed out of the pocket and began to scramble. He juked safety Dwight Lowery about 17 yards downfield and then outraced the rest of the Chargers to the end zone.
''If I didn't think I could make that guy miss, I probably would have tried to slide,'' Beathard said. ''But I felt like I could make him miss and it worked.''
Teammate Joe Staley jokingly offered Beathard an oxygen mask on the sideline, but the quarterback declined.
Beathard's play this preseason has been a bright spot for the 49ers as he has outperformed veteran Matt Barkley and will likely go into the season as the backup to Brian Hoyer, with the potential to possibly develop into a starter down the road.
The Chargers used the final preseason game to get a long look at their third-string quarterback. Cardale Jones got the start with Philip Rivers and backup Kellen Clemens resting. Jones finished 14 for 19 for 134 yards with one interception on a ball that bounced off tight end Sean Culkin's hands. Jones led the team to one field goal in eight first-half drives.
''Still a work in progress, but I think I'm light years away from where I was the first day I got here,'' Jones said. ''I just have to keep getting better and eliminate some mistakes.''
INJURY NEWS: The 49ers have acquired offensive lineman Laken Tomlinson from Detroit earlier in the day in exchange for an undisclosed draft pick. The team made the move because of a knee injury to starting right guard Joshua Garnett. Shanahan said the team will decide Friday whether to place Garnett on season-ending injured reserve or keep him on the roster until Saturday and then place him on IR with the chance of coming back later in the season.
HAPPY RETURNS: Victor Bolden gave the 49ers another dynamic return. He took a punt back 92 yards in the second quarter for his second return touchdown of the preseason. Bolden already had a kickoff return for a touchdown when he took one 104 yards against Denver two weeks ago. San Francisco hasn't had a kick or punt return for a TD in the regular season since Ted Ginn Jr. had one of each in the 2011 opener.
OLD FRIENDS: Beathard got a rude greeting from his former teammate at Iowa, Desmond King. On third down on the second drive of the game, King came in unblocked on a corner blitz and sacked Beathard from the blind side .
''It was my fault I got sacked and when I realized it was Desmond, that made it worse,'' Beathard said.
WHOOPS: When Chargers linebacker Chris McCain went down with an injury late in the first half, Los Angeles was forced to take a timeout. Referee John Hussey initially announced ''Timeout, San Diego,'' before correcting himself to Los Angeles. The Chargers move to L.A. this offseason.
ROSTER PUSH: Undrafted rookie Austin Ekeler made a strong final case for making the Chargers roster. The former Division II back at Western State in Colorado ran for 50 yards on eight carries and had three catches for 58 yards.
KNEEL DOWN: Niners safety Eric Reid once again kneeled for the national anthem and had about 10 teammates standing around him. Some of those teammates had arms around Reid, who resumed protesting the anthem last week after joining Colin Kaepernick in it a year ago. Reid said he was upset about the white supremacist rally in Charlottesville, Virginia.
UP NEXT: The Chargers open the season on Sept. 11 in Denver, while the 49ers play their opener the day before at home against Carolina.
---
More AP NFL: pro32.ap.org and twitter.com/AP-NFL
---
---