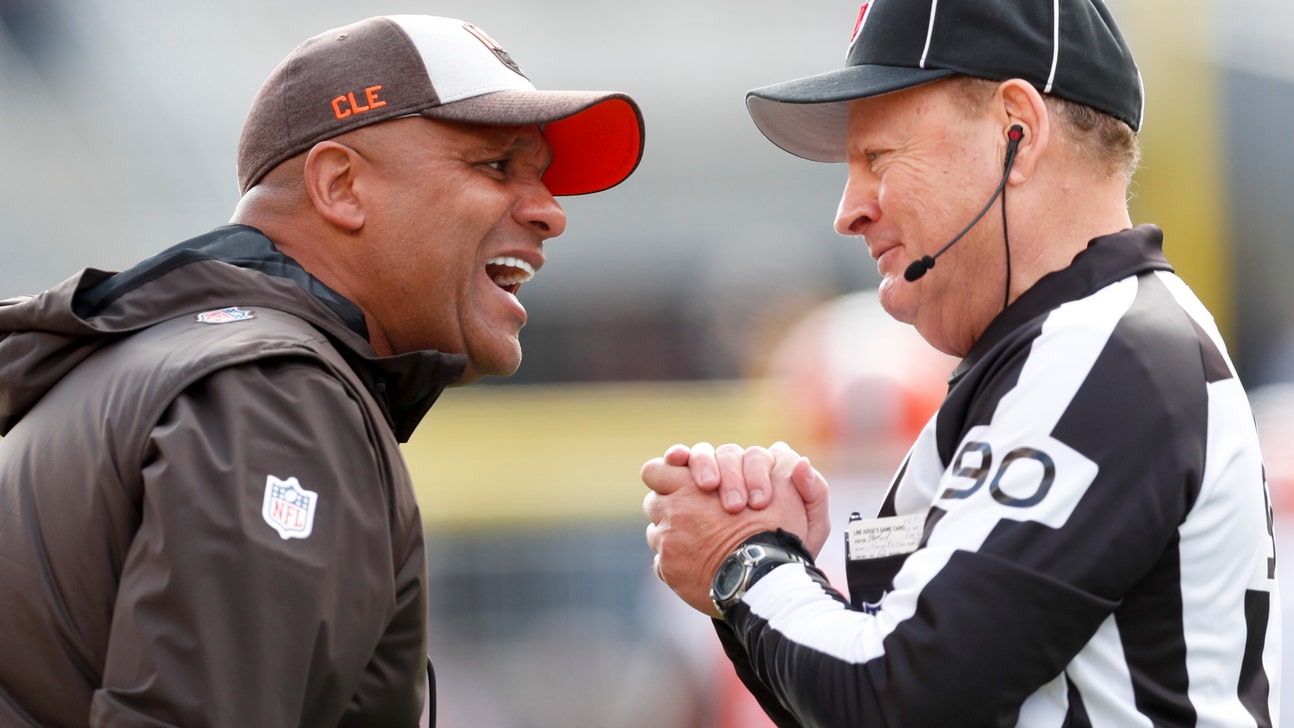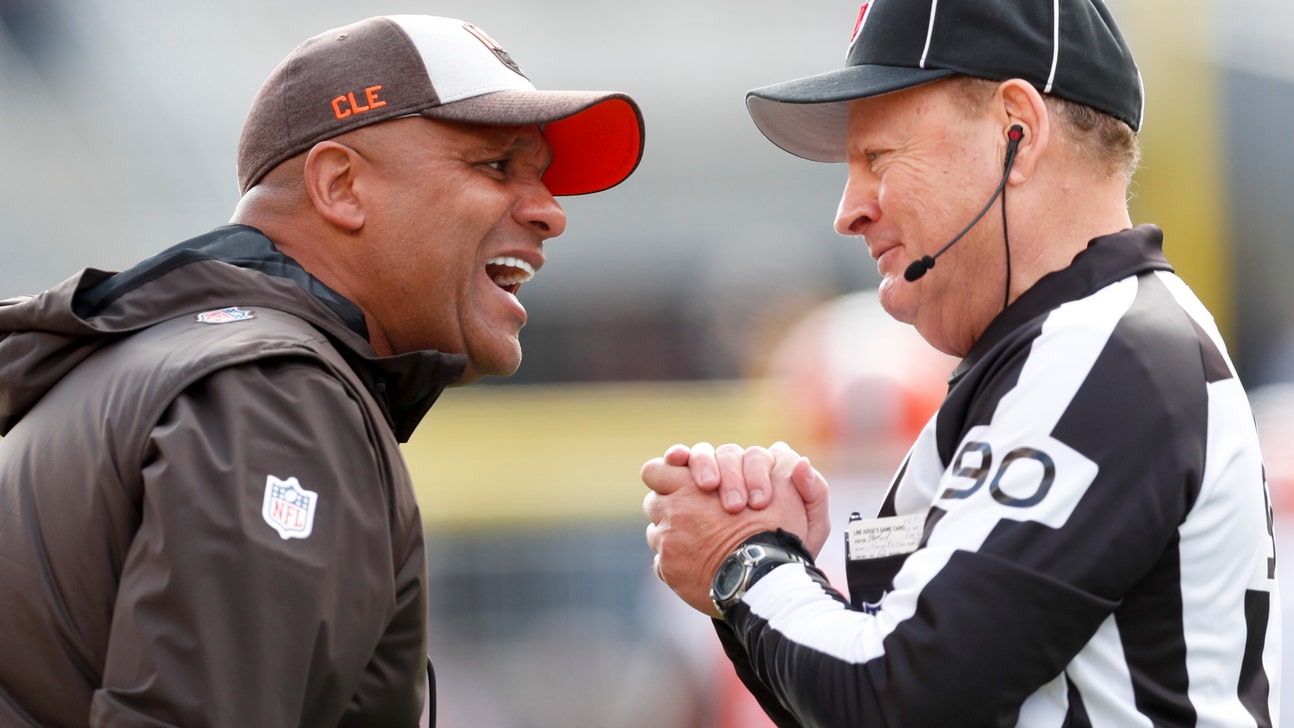 AP source: Browns fire Hue Jackson in third losing season
Updated
Mar. 4, 2020 8:26 p.m. ET
BEREA, Ohio (AP) — Browns owner Jimmy Haslam finally tried the patient approach with his head coach.
That didn't work either.
Haslam made his fourth coaching change since 2012 by firing Hue Jackson, who won just three of 40 games over two-plus seasons and then lost his job because of a feud with offensive coordinator Todd Haley that went public and threatened to turn a promising season into another one of those Cleveland catastrophes.
Haslam fired Jackson and Haley within hours of each other on Monday, a day after the Browns (2-5-1) lost their 25th consecutive road game — one shy of the NFL record.
"Hopefully, we made a big step today," Haslam said. "It is hard to win in the NFL. If anybody knows that, it is us. I think the message today is we are not going to put up with internal discord. We want people who are collaborative and work together."
As for his poor track record in finding coaches, Haslam offered no excuses.
"I will accept the blame because ultimately, it is the person at the head of the ship," he said. "I will take the blame as ownership. I can't explain it more than that. We have had different situations with different people. I know that it is something that we are not going to tolerate moving forward."
Defensive coordinator Gregg Williams is Cleveland's interim coach, and running backs coach Freddie Kitchens will take over for Haley.
Haslam said Williams, who coached Buffalo from 2001-03, was the only in-house candidate considered to finish the season. While Williams has extensive experience and won a Super Bowl, he also has a checkered past. He was suspended by the league for a full season in 2012 for his role in the "Bountygate" scandal that rocked the New Orleans Saints.
Haslam said it's premature to consider the next coaching hire for the Browns, who are 22-81-1 since he and his wife, Dee, agreed to buy the franchise in 2012.
The main objective now is to get through the season's second half, beginning with a matchup on Sunday against the high-scoring, Kansas City Chiefs (7-1).
"We will have a collaborative effort in everything that we do here," Haslam said when asked about a search for the team's ninth coach since 1999. "Right now, we are focused on the next eight games and Gregg and his staff winning as many of those games that we can."
There are already names floating around as potential candidates to be Cleveland's next coach, including Oklahoma's Lincoln Riley, who coached Browns quarterback Baker Mayfield in college.
"Not right now," Riley said of his interest in jumping to the NFL. "You sit here and answer these questions and I always want to be truthful. The truth is for me is, I love Oklahoma. I love coaching here. I love college football. I certainly don't have that itch right now."
Just three weeks ago, the Browns, who went 0-16 last season under Jackson, appeared to have turned the corner following an overtime win against Baltimore.
But things unraveled quickly, thrust in the wrong direction by a power struggle between Jackson and Haley, who joined Cleveland's staff this season after six in Pittsburgh. Following a loss at Tampa Bay last week, Jackson aimed blame at Haley by offering to help the team's offense.
Haley publicly said he wasn't offended by the remarks. But Jackson's comments seemed to widen a divide between the coaches, who had disagreed on players getting days off during training camp and whether wide receiver Josh Gordon deserved to start the opener.
In order to salvage the season, Haslam and general manager John Dorsey felt change was necessary.
Without pointing fingers, Dorsey said there's only one way to stop the in-fighting.
"Treat people the way they want to be treated," he said. "Come into work every day willing to work. Love what you do. Just take ownership in what you are doing. Come to work every day and treat people the way you want to be treated."
Jackson's the sixth straight Cleveland coach to be fired following the team's second game against Pittsburgh. Romeo Crennel, Eric Mangini, Pat Shurmur, Rob Chudzinski and Mike Pettine all met the same demise, but they were let go following the season's final game.
Haslam wouldn't get into any specifics about the "'discord" between Jackson and Haley.
"We made the decision to move on, and it was far bigger than who was going to call plays," Haslam said. "Unfortunately, sometimes, the best plans don't work out, and in this case, they didn't. We were optimistic and hopeful that they would."
Jackson was hired in 2016 by the Haslams, who stuck by him despite a 1-15 record in his first season and then last season's debacle. His failures were always explained away with excuses: not enough talent, injuries, bad luck, a disconnection with the front office.
Haslam thought hiring a high-profile coordinator like Haley would help Jackson.
In the end, it was his undoing.
"Unfortunately, sometimes the best plans do not work out," Haslam said. "In this case, they did not. We were optimistic and hopeful that they would, but they did not work out."
---
---