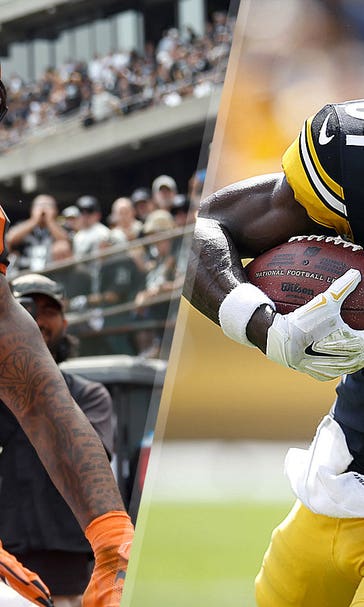 AFC North Stock Market: Week 8
October 27, 2015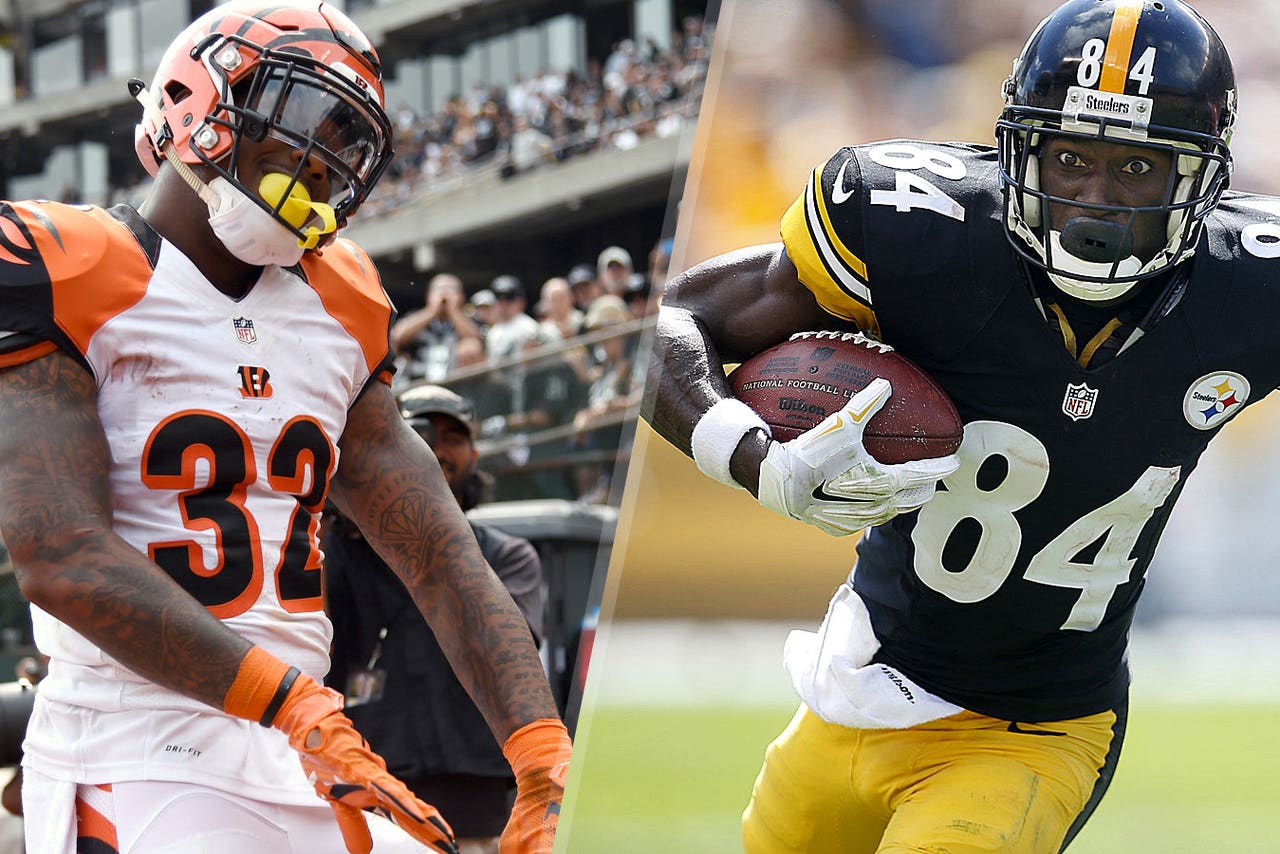 The NFL regular season is more volatile on a week-to-week basis than the Stock Market. One team that lost by several touchdowns the week before can follow up with a blowout victory. Players who are responsible for the blame one week could be responsible for a game-winning play the next.
With Week 7 of the regular season in the books, let's take a look at three AFC North players who saw their stock rise, and three others from the division who saw it fall as we head into Week 8. 
THREE UP
Antonio Brown, wide receiver, Pittsburgh Steelers
Michael Vick missing a game was a good thing for Brown's statline. Brown hauled in eight passes from Landry Jones for 124 yards after compliing just 11 receptions for 111 yards in Vick's three starts. With Ben Roethlisberger's return on the horizon, Brown can get back to dominating the league as he did last year.
Jeremy Hill, running back, Cincinnati Bengals
Hill has shown little reason on the field to be a riser, but the bye week presents a perfect opportunity to buy low. The Bengals should have spent the extra week getting Hill back on track as his power running will be essential to their success, particularly when the colder weather begins to set in. Expect to see the 2014 version of Hill back on the field soon.
Chris Givens, wide receiver, Baltimore Ravens
Givens only had one catch for 31 yards in Monday night's loss to the Cardinals, but he looked like the Ravens' second-best receiver in his limited opportunites. Givens should've had a 61-yard touchdown in the second quarter but quarterback Joe Flacco's deep ball was slightly underthrown, giving safety Tyrann Mathieu a chance to break up the play. Givens only played 10 snaps, but he made more of an impact than Kamar Aiken and Marlon Brown. We should see more of him in the next few games. 
THREE DOWN
Josh McCown, quarterback, Cleveland Browns
McCown wasn't able to get the ball downfield in Sunday's loss to St. Louis, as none of his pass attempts were over 20 yards, according to Pro Football Focus. The constant pressure on McCown was a big reason for that and a shoulder injury eventually forced him out late in the fourth quarter. The physical pounding may be catching up to the 36-year-old quarterback, and with the Browns at 2-5, it won't be long until the fan base in Cleveland starts calling for Johnny Manziel to take over the QB reins. 
Browns receivers not named Travis Benjamin
Taylor Gabriel put the Browns behind the 8-ball right off the bat when he coughed the ball up on a short pass from McCown for a Rams touchdown. Gabriel, Brian Hartline, and Andrew Hawkins combined for a measley 58 yards on nine catches. The trio has had little impact this season and yet somehow the high-priced Dwayne Bowe has been unable to crack the lineup. A concussion to Hawkins may open up the window for Bowe to finally get his shot.
Eugene Monroe, left tackle, Baltimore Ravens
Monroe was injured once again in Monday night's loss in Arizona, suffering a shoulder injury in the fourth quarter. Prior to that, he served as a turnstile on one Dwight Freeney spin move and received the lowest grade (-3.6) from Pro Football Focus of any Ravens offensive player. Monroe has already missed three games this season with a concussion and has had a hard time staying healthy since arriving in Baltimore during the 2013 season.
---
---