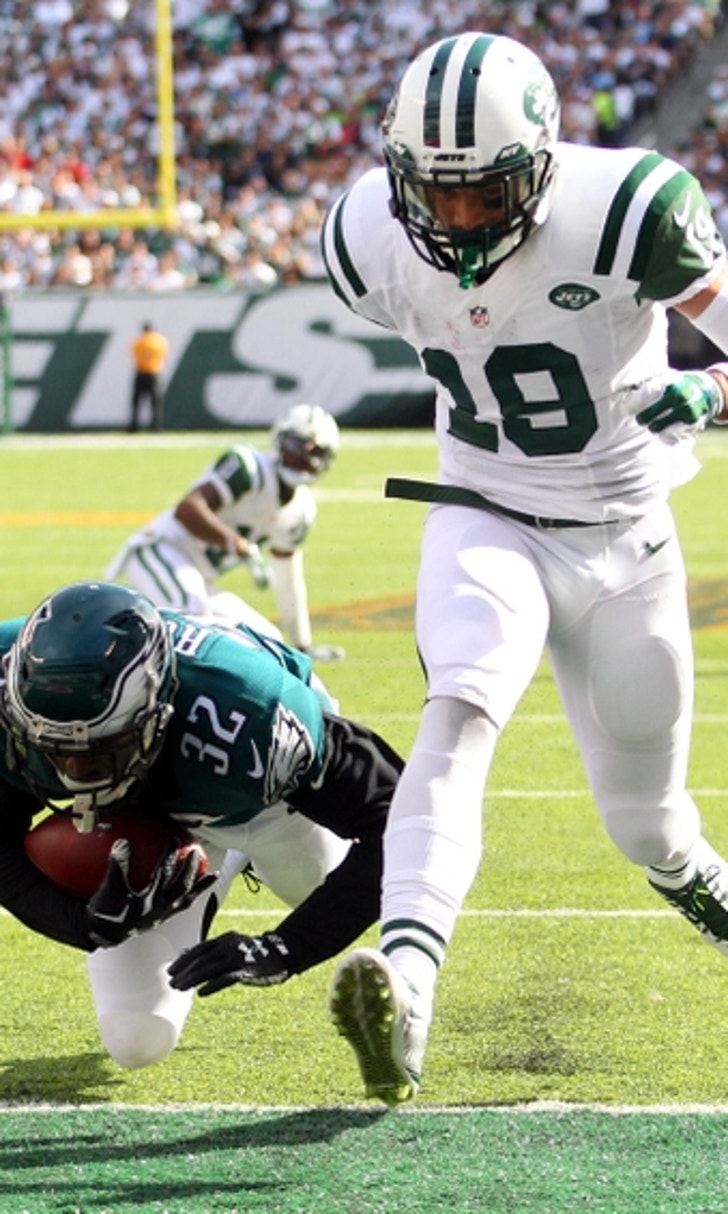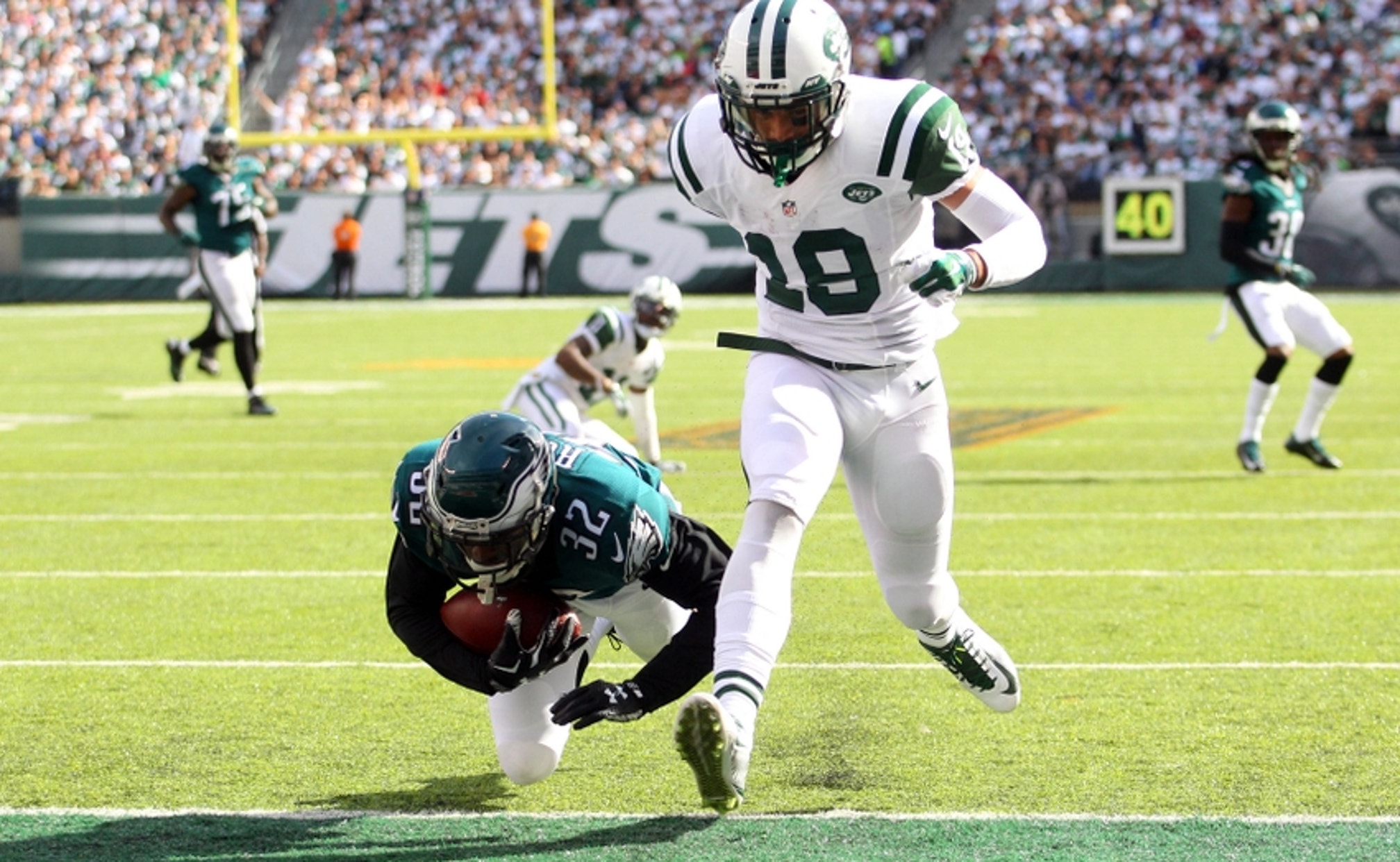 3 things you will like about Eric Rowe
BY foxsports • June 30, 2017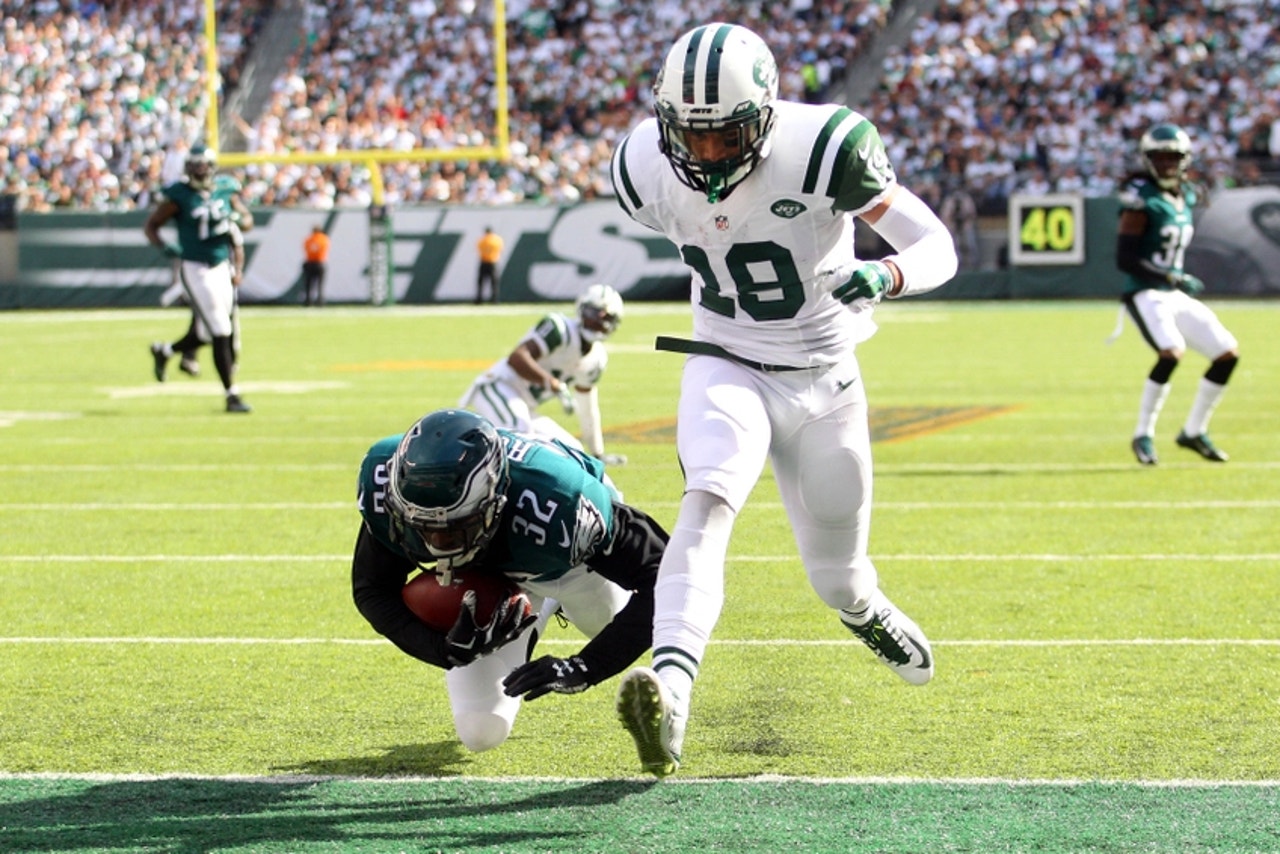 Sep 27, 2015; East Rutherford, NJ, USA; Philadelphia Eagles defensive back Eric Rowe (32) intercepts a pass intended for New York Jets wide receiver Devin Smith (19) and rolls into the end zone for a touchback during the third quarter at MetLife Stadium. Mandatory Credit: Brad Penner-USA TODAY Sports
Yesterday, the New England Patriots traded for defensive back Eric Rowe, formerly of the Philadelphia Eagles.
Here are three things you will like about about Eric Rowe:
3. Versatility
The first thing that comes to mind when talking about Rowe is his versatility. It has to be one of the main reasons Bill Belichick shipped proven veteran guard Josh Kline to Philly in return for the sophomore defensive back. Rowe played free safety for three years at Utah before switching to cornerback his senior season, and then he got a season of cornerback in the pros under his belt as a rookie with the Eagles.
Ripple effects of Pats trading for Eric Rowe
In New England, Rowe's versatility could be used in several ways. For starters, he could fill-in for Devin McCourty at free safety if the Patriots so please; he could also get snaps on the outside matching up against larger wideouts. I say larger wideouts because Rowe has another thing Patriots fans will like about him…
Jul 28, 2016; Philadelphia, PA, USA; Philadelphia Eagles cornerback Eric Rowe (32) during training camp at NovaCare Complex. Mandatory Credit: Bill Streicher-USA TODAY Sports
2. Height
At 6-foot-1, Rowe is now the tallest defensive back on the Patriots' roster. The Patriots decided to take smaller cornerback Jonathan Jones onto the final roster for the No. 5 corner job instead of the 6-foot Darryl Roberts, so it's good to see a taller cover man on the squad. If he's progressing well in the Patriots' system, Rowe should see action against some of the larger wideouts the Patriots will face this season.
We're especially glad these 8 players made the final roster
Save for Brandon Browner, the Patriots haven't had a tall cornerback in recent memory. Opposing quarterbacks have often exploited this height advantage. This isn't to say that tall cornerbacks are the hands-down best cover guys around, because they aren't necessarily, but it never hurts to have a 6-foot-1 corner on the roster.
In today's NFL, you literally cannot have enough good cornerbacks; the Patriots have put together a balanced group of six cornerbacks, short and tall.
Aug 16, 2015; Philadelphia, PA, USA; Philadelphia Eagles cornerback Eric Rowe (32) during a preseason NFL football game against the Indianapolis Colts at Lincoln Financial Field. Mandatory Credit: Derik Hamilton-USA TODAY Sports
1. Soft paycheck
The first thing many Patriots fans thought when they heard the Rowe trade news was cost-related. How much is this promising young cornerback going to price out at? Can the Patriots afford signing all these former first- and second-round picks with Dont'a Hightower, Jamie Collins and Malcolm Butler approaching free agency next season? These are reasonable concerns, but they can be easily put to rest.
5 bold predictions for Patriots regular season  
As noted by ESPN's Mike Reiss yesterday, the Patriots inherited Rowe's contract with the Eagles. To illustrate, the Pats will pay Rowe $656,000 in 2016, $878,000 in 2017 and $1.1 million in 2018. Those are pretty soft numbers, certainly in the first two years of the deal. If Rowe manages to last into a third season with the Patriots, he will fully deserve that million-dollar salary.
We're excited to see what Rowe can bring to the Patriots' secondary.
More from Musket Fire
This article originally appeared on
---
---