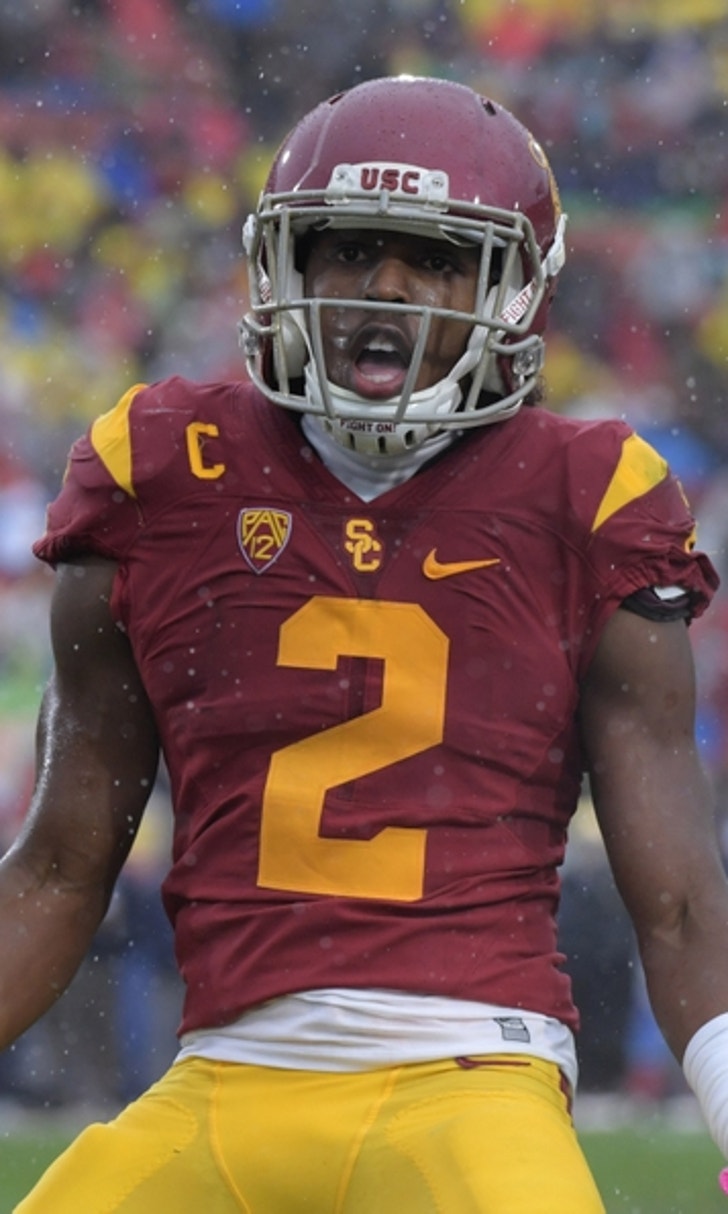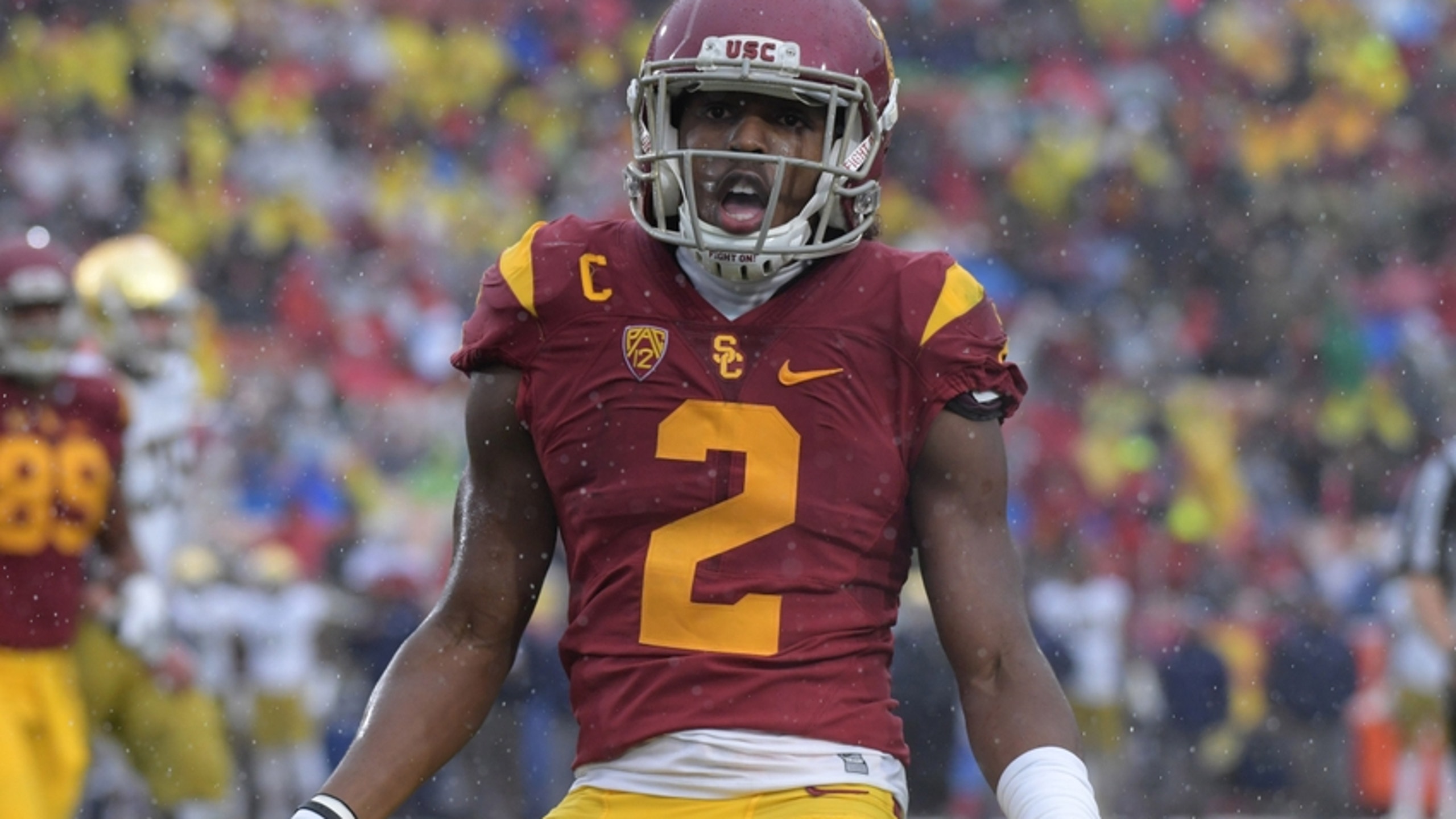 2017 Oakland Raiders Mock Draft: Need For Speed
BY Fansided and Carl Cockerham/FanSided via With the First Pick • December 16, 2016
Nov 26, 2016; Los Angeles, CA, USA; Southern California Trojans defensive back Adoree Jackson (2) celebrates during a NCAA football game against the Notre Dame Fighting Irish at Los Angeles Memorial Coliseum. Mandatory Credit: Kirby Lee-USA TODAY Sports
The Oakland Raiders have made themselves strong on both sides of the line of scrimmage. Now, the team needs to get faster, especially to keep up with the Kansas city Chiefs.
In 1966, the Kansas City Chiefs won the old AFL for the right to go to the Super Bowl. That left the Oakland Raiders to figure out how to overcome the Chiefs. They had trouble with DT Buck Buchanan so they drafted OG Gene Upshaw to block him.
They also had trouble with 6'3″ WR Otis Taylor so they traded for 6'1″ CB Willie Brown, to cover him. And in 1967, the Raiders won the AFL to go to the Super Bowl. Now, here we are 50 years later and they have come full circle.
The Raiders are once again trying to overcome the Chiefs and ironically, they need speed to do so. They're deep on both sides of the line of scrimmage, having played without multiple starters. The O-line held up under injuries at right tackle and left guard.
The D-line has improved without their two best interior lineman for all of and a big chunk of the year respectively. So the Raiders need should draft for speed in the 2017 NFL Draft. The secondary especially needs it to match the Chiefs' speed outside.
Turn the page to see who they should pick as a result.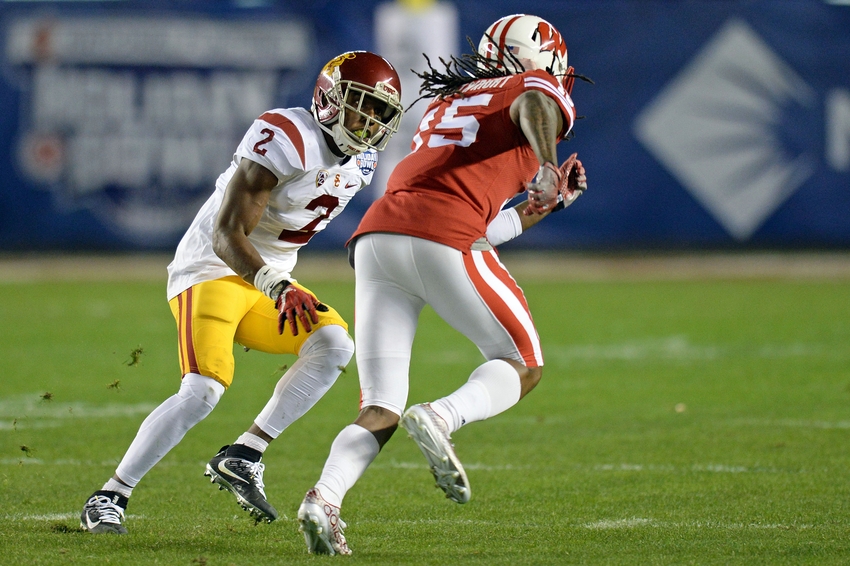 Adoree Jackson
CB/KR, USC
Rumor has it that the Chiefs took him in the fifth round knowing the Raiders wanted to. The Raiders and Chiefs have been doing things like that for a long time and the Chiefs won this one. So the Raiders need to counter this pick in the first round of the 2017 NFL Draft.
And the best choice they could make when doing that is in taking CB/KR Adoree Jackson. This gives the Raiders a super fast corner with the movement skills to stay with Hill's speed and shiftiness. Jackson is a world-class long jumper with hops to go with his speed and movement skills.
He has played some receiver at USC too so a false move his way will lead to an interception. He's probably the best return man coming out too so this pick kills two birds with one stone. It means more big plays for the Raiders and less for the Chiefs when the two teams face off.
Oct 17, 2015; Seattle, WA, USA; Oregon Ducks running back Royce Freeman (21) rushes against the Washington Huskies during the fourth quarter at Husky Stadium. Mandatory Credit: Jennifer Buchanan-USA TODAY Sports
Royce Freeman
RB, Oregon
So his grade dropped from a first-round grade down to a second-to-third-round grade. After he was benched (to start) against USC, he got it together to rush for 100-plus yards in each of his last three games. But an RB can't do that heading into the draft so the Raiders take him in Round, 2.
The 5'11", 230 pounder has the elusiveness, speed and power to do what Elliott is doing for the Cowboys. Run him behind the Raiders' offensive line with a clean Bill of health and Freeman definitely would. OC Bill Musgrave doesn't seem to like giving current RB Latavius Murray the ball very much.
Musgrave is run first by nature so we have to wonder if Murray is the guy he wants to run with. But with the undeniable talent Freeman has, Musgrave would give the ball to Freeman plenty. And the Chiefs can't stop the run so the Raiders would be built for them in any kind of weather.
Nov 4, 2016; East Hartford, CT, USA; Connecticut Huskies safety Obi Melifonwu (20) intercepts a pass intended for Temple Owls wide receiver Ventell Bryant (1) in the second quarter at Pratt & Whitney Stadium at Rentschler Field. Mandatory Credit: David Butler II-USA TODAY Sports
Obi Melifonwu
SS, Connecticut
He also has excellent movement skills for a man his size as he has covered the slot at UConn. But the Raiders would not need him to cover the slot, they could use him to cover opposing tight ends. So Chiefs tight end Travis Kelce, won't be as big a headache for the Raiders in 2017.
There are some that have Melifonwu graded in the middle rounds so the Raiders should jump on him in Round 3. As soon as he runs is 40 at the combine and his pro day, his grade may go up. Karl Joseph is a little short to cover Kelce and Reggie Nelson needs to go sit down somewhere.
Melifonwu is coming off 118 tackles with three passes broken up and four interceptions in 2016 so he is productive. This is a great athlete at a position of need and DB coach Marcus Robertson will teach him well. Then Chiefs TEs would no longer have their way with the Raiders like they are now.
Oct 10, 2015; Ann Arbor, MI, USA; Michigan Wolverines wide receiver Jehu Chesson (86) runs back the opening kick off for a touchdown against the Northwestern Wildcats at Michigan Stadium. Mandatory Credit: Rick Osentoski-USA TODAY Sports
Jehu Chesson
WR, Michigan
Chesson actually showed some No. 1 receiver potential back in 2015 with Jake Rudock at quarterback. But he lost Rudock to the NFL in 2016 and Michigan became more run-heavy with Wilton Speight. But at 6'3″, 205 pounds, Chesson has the height, length, hops and speed to be a deep threat.
His ability to go up and get one in traffic would make him another red zone target for the Raiders too. And unlike Holmes, whose his hands let the Raiders down one time too many, he has reliable hands. Chesson is also dangerous running after the catch on underneath routes and bubble-screens.
Chesson would be a huge upgrade over Holmes and would get much more playing time than he did. The Raiders don't have much at receiver once you get past Amari Cooper and Michael Crabtree. But Chesson would give the Raiders another deep threat that could open things up for the two.
Nov 5, 2015; Manhattan, KS, USA; Baylor Bears wide receiver Kd Cannon (9) catches the ball against the Kansas State Wildcats at Bill Snyder Family Football Stadium. The Bears won 31-24. Mandatory Credit: Scott Sewell-USA TODAY Sports
K.D. Cannon
WR, Baylor
The Chiefs' corners aren't very fast so when the safety helps on Amari Cooper, the Raiders can exploit another mismatch. Then once he's beaten his man a few times, the safety helps on him, leaving Cooper open for big plays. It will also open things up for Michael Crabtree underneath and in the intermediate area.
Speaking of underneath routes, Cannon did much more of that in 2016 himself as he runs well after the catch. For all of his game-winners, Seth Roberts drops way too many passes to be a slot receiver. So Cannon can upgrade the Raiders there while Roberts can come in when the game is on the line.
With his speed, Cannon can return kicks while Jackson stays on the field to return punts. Right now, the Raiders have excellent special teams units but don't have that threat to take it to the house. This pick here would have the Raiders two guys that could do such a thing.
Dec 3, 2016; Atlanta, GA, USA; Alabama Crimson Tide defensive back Tony Brown (2) makes an interception against Florida Gators wide receiver Ahmad Fulwood (5) during the second quarter of the SEC Championship college football game at Georgia Dome. Mandatory Credit: Dale Zanine-USA TODAY Sports
Tony Brown
CB, Alabama
He then returned to the field after that and managed 20 tackles and two interceptions this season. But Brown has a mixture of talents that could make him a great cornerback in the NFL one day. At 6'0″, 200 pounds, he is physical at the line of scrimmage with great movement skills and blazing speed.
He'll be one of the fastest players in the NFL on arrival as he is close to being a world-class hurdler. You can never have too many corners in the NFL as the wrong twist, turn or pull can take one out. Sean Smith is playing at a high level after struggling at the beginning of his first year with the Raiders.
When healthy, David Amerson has been solid and T.J. Carrie has excelled in the slot of late. Picking Jackson in the first round gives the Raiders speed to replace D.J. Hayden, who's at the end of his contract. So Brown would give the Raiders that much-needed depth and speed to keep up with the Chiefs. .
Nov 5, 2016; Champaign, IL, USA; Illinois Fighting Illini linebacker Hardy Nickerson (10) tackles Michigan State Spartans wide receiver Felton Davis III (18) during the first quarter at Memorial Stadium. Mandatory Credit: Mike Granse-USA TODAY Sports
Hardy Nickerson
ILB, Illinois
And as bad as Malcolm Smith is these days, he shouldn't be back as his contract runs out this season. The Raiders can't pay him what they paid him last contract with the contracts they have coming up. So the Raiders would be wise to build a little more depth at the position behind Riley and Irvin.
So here in the seventh round, the Raiders take Hardy Nickerson Jr. to compete for a linebacker spot. He's coming off a productive season with 92 tackles with 5.5 for a loss, two sacks and two interceptions on the year. Nickerson could come in as a backup linebacker and special teams contributor.
He transferred to Illinois for his senior year to play for his father, Hardy Nickerson Sr., recently hired as defensive coordinator. Nickerson was solid for California, where he had 112 tackles with one sack in 2015. The Raiders saw enough of him when he was right down the street to bring him in.
More from With the First Pick
This article originally appeared on
---
---