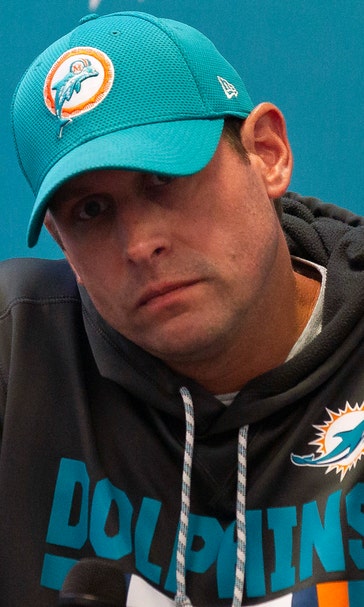 1st-place Dolphins hardly look like the AFC East's best team
October 1, 2018
DAVIE, Fla. (AP) — The standings Monday offered small consolation for the first-place Miami Dolphins.
They hardly felt or looked like the best team in the AFC East after a 38-7 loss at New England . The drubbing left the Dolphins with a deceptive 3-1 record, injuries issues and room for recrimination.
"That's why today is always the toughest," said coach Adam Gase, who has dealt with the day-after blues before. "Everyone is brutally honest. You're going to have conflict; you're going to have some back and forth. Today is an emotional day.
"It's a bad feeling when you get drummed in a division rival's stadium. It's not something you like to experience, and you're mad you can't do anything about it now."
Instead, the Dolphins began looking ahead to another road game Sunday against Cincinnati (3-1) while wondering who will be available to play.
Center Daniel Kilgore (torn left triceps) and cornerback Bobby McCain (knee) joined an already long injury list with serious ailments, and tackle Ja'Wuan James was also banged up.
The rout will test the team's culture, which Gase found wanting during a six-win season in 2017. There were signs of strife Sunday when defensive tackle Jordan Phillips had an angry outburst on the sideline after coming out of the game.
Gase defended defensive line coach Kris Kocurek's rotation pattern.
"There's a reason we're subbing the way we're subbing against that team," Gase said. "It's not a secret why we're doing it. Whatever Kris wants the D-linemen to do, that's what we're doing."
The Dolphins have cause to be testy, with their fast start now looking like a mirage. They've been outscored this season 90-82, and outgained by 435 yards.
The offense ranks third-worst in the NFL, and the secondary's a mess, with even top cornerback Xavien Howard getting burned Sunday for two touchdowns.
Gase struggled to explain how his team could play so badly after winning its first three games. He said the opponents were more physical, which hadn't happened previously, and that wasn't the lone issue. One familiar problem was penalties — 10 for 89 yards.
"Nothing went right," Gase said. "Nothing we did was good."
Receiver Albert Wilson offered an assessment that was candid but mystifying, given the high stakes against the division's perennial powerhouse: "We didn't have any energy going in."
Miami's defensive front four looked especially listless, allowing Patriots rookie Sony Michel to run for 112 yards and his first career touchdown.
"It was a lot of shooting yourself in the foot — misalignments, missed tackles, self-inflicted wounds," defensive end Cameron Wake said. "And maybe some physicality as well."
Because the Patriots' defensive line also dominated, the Dolphins couldn't run the ball, and Ryan Tannehill had little time to throw. He was able to target Danny Amendola only three times and Jakeem Grant twice even though both "were open the whole game," Gase said.
Absent was the creative play-calling of earlier games that led to chunk yardage.
"When you're not getting first downs, you're not moving the football, you're not getting the defense on their heels a little bit, it's tough to get those play calls in," Tannehill said.
This year's offensive line was expected to be the best Tannehill has played behind, but three of the five starters are now hurt, with guard Josh Sitton earlier sidelined for the season.
That leaves Tannehill in a precarious position, much like Miami's lead in the AFC East.
---
---