Whiteside has 25 and 23 in return, Heat beat Wizards
Published
Feb. 21, 2016 3:33 a.m. ET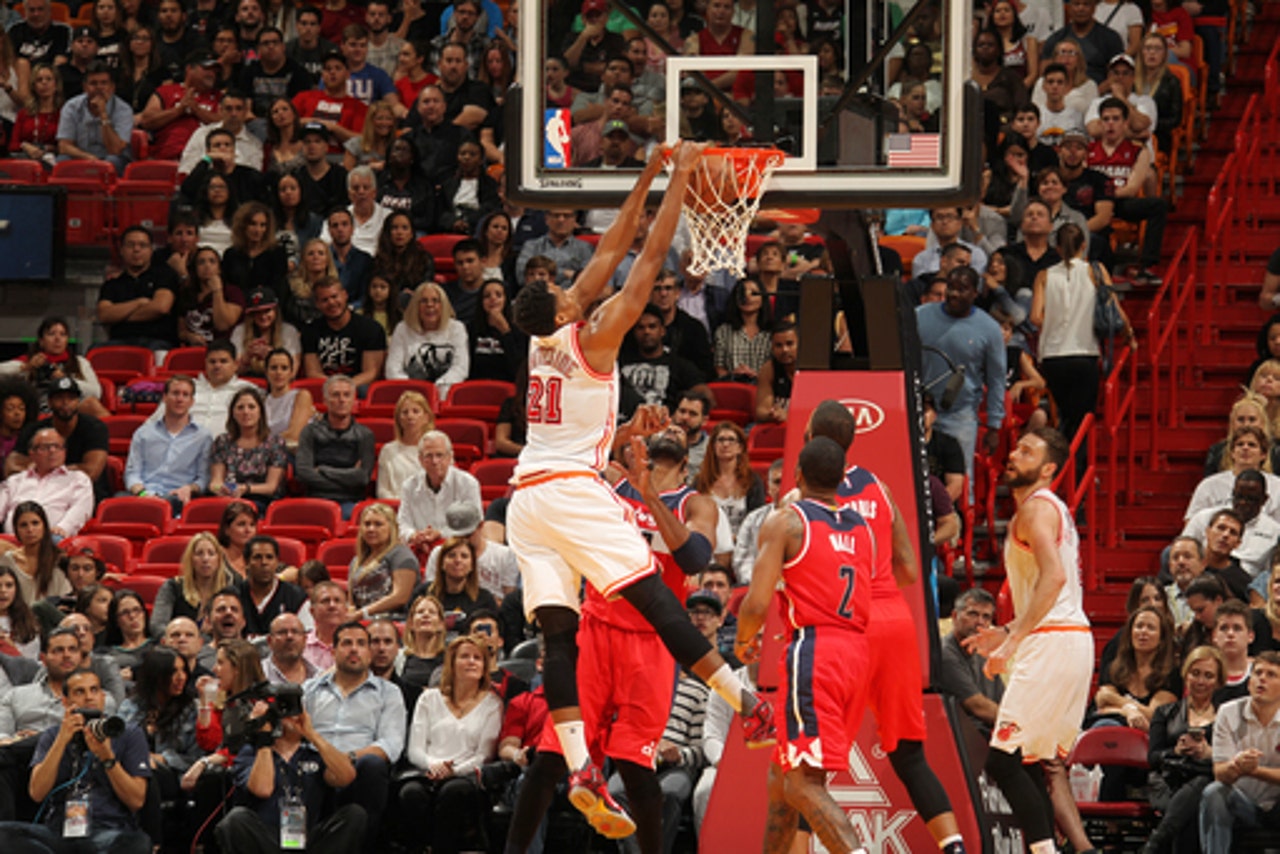 MIAMI — Hassan Whiteside liked the fast pace the Miami Heat played with the night before in a victory in Atlanta — and wanted to be a part of it.
Whiteside had 25 points and 23 rebounds in his return from a one-game suspension to help the Heat beat the Washington Wizards 114-94 on Saturday night.
"I couldn't wait to get back out here," Whiteside said.
Whiteside was suspended for throwing an elbow at San Antonio center Boban Marjanovic's head on Feb. 9.
"I'm just excited to be back in front of Heat nation," Whiteside said. "I made a mistake. I'm not perfect. I use that as a learning experience. I'm still learning."
It was only the 11th time in NBA history that a player has had at least 20 points and 20 rebounds in a game off the bench. It was Whiteside's second 20-20 game in his career. He had 24 points and 20 rebounds at Minnesota on Feb. 4, 2015.
"The next challenge for him is the consistency," Heat coach Erik Spoelstra said. "Now does he have to do a 20-20 again on Monday? No, that is not what we're asking for. It's the not the statistics. It's his approach. His walk-through was fantastic and his detail and effort and focus during the course of the game was probably close to a season-high."
Luol Deng had 27 points a night after scoring 30 points at Atlanta, and Goran Dragic added a season-high 24 points and had eight assists and seven rebounds.
It was the first time the Heat had scored at least 110 points in back-to-back games all season.
"We wanted to play a faster pace," Spoelstra said. "I know fans love to see this and I know our players like to play in it."
The Heat played without All-Stars Dwyane Wade and Chris Bosh for the second consecutive game.
Wade has a sore left knee.
"He had an MRI this morning," Spoelstra said before the game. "Everything came back negative. He'll be day-to-day from here. He's already starting to feel better."
Bosh is out indefinitely because of a blood clot in his left leg.
Bradley Beal lead the Wizards with 19 points.
Washington played for the third consecutive day and was looking for a rare third win in as many days after beating Utah and Detroit, but the Wizards fell behind by double digits early.
"They outplayed us," Wizards coach Randy Wittman said. "You've got to give credit where credit is due. They played harder than we did. They played with more bounce in their step right from the start. We didn't come out with that same zip and they took advantage of it."
The Heat jumped out to a 15-5 lead with Dragic scoring seven points in the fast start.
"We're a whole different team when he's staying aggressive," Whiteside said.
Miami stayed out in front of Washington as Whiteside converted a three-point play and moments later had a lay-up to give the Heat a 50-30 lead, their largest of the first half, as they were up 59-44 at the break.
"At the end of the day, people can say we were tired but we still should have competed at a better level," Wizards point guard John Wall said.
The Heat led by double digits the entire second half and finished shooting 49 percent (47 of 86) from field while holding Washington to 40.4-percent shooting (40 of 99).
"We were playing well Chris and Dwyane in the lineup and once they return I think we'll still be playing great defensively and also beautiful basketball on the offensive end," Heat center Amare Stoudemire said.
TIP-INS
Wizards: The last team to play three games in three nights was Indiana, on Feb. 4-6, 2013. The Wizards were scheduled to be off Thursday, but started their post-All-Star schedule a day early by hosting Utah in a game that was rescheduled from last month because of a snowstorm.
Heat: The game was only Miami's third at home in February. ... Miami extended a club record with its 225th consecutive home regular-season sellout, a streak 100 games longer than the franchise's previous best.
WALL'S ASSIST STREAK SNAPPED
Wizards All-Star John Wall came into the game with 19 consecutive games with at least eight assists, but had just four against the Heat. Wall finished with 12 points on 5-of-17 shooting.
WHITESIDE MAKING HIS MARK
Whiteside blocked two shots giving him 300 with the Heat in 94 games, which is the fastest a Heat player has reached the 300-block mark. Alonzo Mourning was the previous fastest as he needed 108 games to accomplish the feat.
UP NEXT
Wizards: Host New Orleans on Tuesday night.
Heat: Host Indiana on Monday night.
---
---